Before I get into a recap of my afternoon/evening (and an awesome freebie I had), I wanted to share with you the latest scoop on organic food.
Organic Food Is Not As Healthy As It Seems!
If you are one of the nearly 75 percent of Americans who pays extra for organic food thinking it is healthier, you may want to save your money. New evidence suggests that organic foods hold no added health or nutritional benefit compared with nonorganic foods.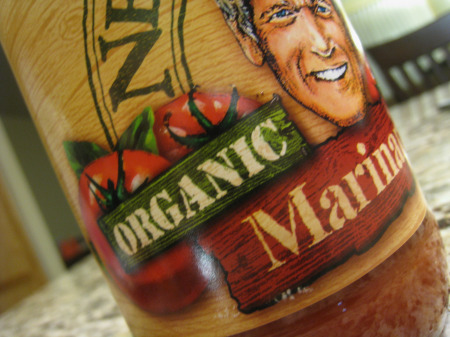 In a study published this week in the American Journal of Clinical Nutrition, researchers from the London School of Medicine found no differences in most nutrients in organically or conventionally grown crops, including vitamin C, calcium, and iron. The same was found for meat, dairy, and eggs.
Some consumers also believe that organic foods provide a significant benefit over ordinary foods because they are grown without the use of synthetic pesticides and artificial fertilizers, among other things. However, some experts believe there is insufficient research on the long-term effects of pesticides on humans.
RWC Note…. Although I strive to eat all-natural foods, I don't necessarily choose organic over nonorganic because it's better. When I do go organic, it's because: 1) organic food may be the cheaper option (but this is rare) or, 2) among some all-natural food brands, organic may be your only option (so was the case in my Newman's marinara seen above.)
So, the next time you're deciding between organic and non, you may want to base your purchase on cost value rather than health-related value.
Back to may day….
I ran more errands this afternoon but did manage to get out to a local park to stretch my legs a little more. I also made an awesome sausage-pasta dish for dinner: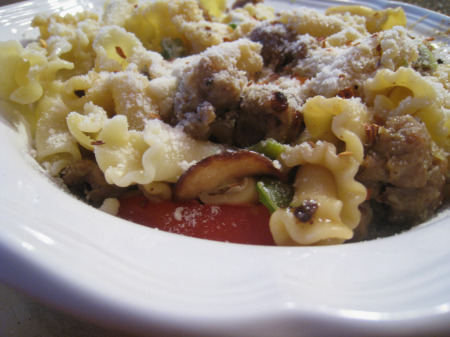 I call this dish my Italian Sausage-Pasta with Leeks. It is absolutely yummy and has become a standard in the RWC household. Here's what you need to make it:
RWC Italian Sausage-Pasta With Leeks Recipe

3 links Italian sausage, casings removed
1/2 small carton of button mushrooms
2 tbsp olive oil
2-3 large leeks (white parts only, sliced length wise, then crosswise into 1-inch half-circle pieces – rinsed)
2 bell peppers (any color you like, cut in long thin strips)
8 oz of short pasta, cooked and drained (rotini, shells, or campenelle)
1 tbsp butter
1 shallot, minced
1 cup chicken stock/broth

Add the oil to a large saute pan. Add chopped Italian sausage and mushrooms to the pan and saute until sausage is thoroughly browned and mushrooms are cooked through, stirring constantly so meat does not burn. Add leeks and bell peppers and saute until veggies are tender (but not mushy) about 8 minutes. Add butter, shallot, and broth, and cook on medium-high for 5-8 minutes or until some of the juice has evaporated a little. Add cooked pasta (that has been drained) to the sausage mixture and mix thoroughly. Serve sprinkled with parmesan cheese.

Serves 4 people.
If you like Italian sausage, I can almost guarantee you will make this dish more than once! I have used turkey Italian sausage before and it tastes just as good (although my husband would argue this point). I also like to change up the color of my peppers to give the dish a little variety. You can really add more than 2 peppers if you like, because they give the dish so much flavor!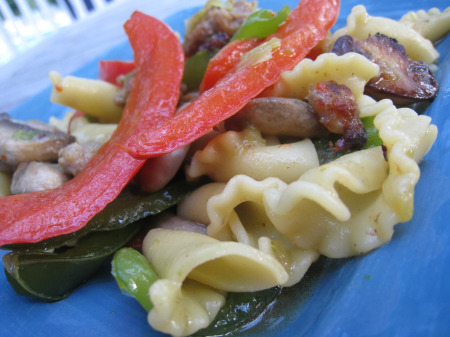 My husband and I were pretty full, so we decided to head up to the local outdoor mall to walk off some of our dinner. We also decided to get a little treat for ourselves – ice cream!
We went to Cold Stone Creamery – which we love but don't go there very often because it's so expensive. I had a kid's size French Vanilla with chocolate cake – fantastic! And, to make things even better, our ice creams were free because they made a mistake on our bill (overcharged us by more than $4.00 – how does that happen?) The manager said it's store policy to comp the order if they make a mistake on your bill. I was very impressed by this great customer service and especially appreciate that I didn't have to shell out $10 for ice cream.
Now, I'm off to bed. Yoga starts at 8 AM tomorrow!