Oh my, the weather is just awesome today. It's supposed to be 85 degrees and sunny. I would love nothing more than to be home laying out by the pool eating watermelon, but there is work to be done as always.
After my morning run, I munched on a little breakfast…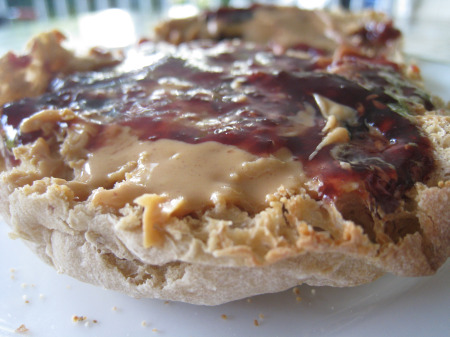 I made a 100 calorie Thomas' Multigrain English muffin and topped it with all-natural raspberry preserves and all-natural creamy peanut butter. I love peanut butter in the morning. It's a great source of protein and I can't get enough of the creamy texture and taste. I'm tempted to buy freshly-made peanut butter from Whole Foods or Fresh Market….hmmm, maybe I'll pick some up on the next trip to the store.
I also had a bowl of super juicy seedless watermelon that I bought yesterday for only $2.50!! I was so excited a the deal that I bought two watermelons!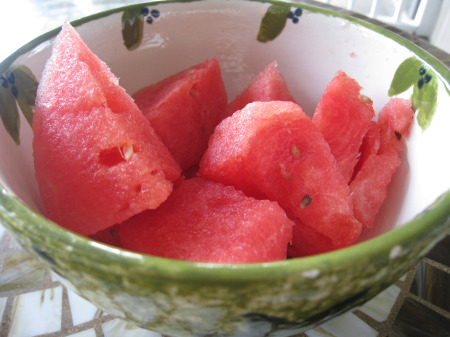 I realize that two watermelons may be a little overkill, but in our case, two watermelons are better than one. Whenever we've bought two watermelons in the past, my husband and I have eaten ALL of it in about 10 days. The trick is to only cut up as much as you are going to eat in the first few days (such as 1/2 of a watermelon) and leave the rest uncut on the rind. Put the uncut melon in a huge bowl or just put foil over the top and stick it in the fridge. This method seems to keep the uncut melon fresh, so when you do want more, it still tastes great.
And, I never feel bad about eating more than my share of watermelon. A full cup only has about 50 calories and is a great source of both vitamins A and C.
Alright, I'm off to get some tea, then it's back to work for me!