Hey All!
As most of you know, I have been trying to stick to 1,600 calories a day for at least the last week. I'm not trying to lose a bunch of weight, but I'm trying to "shrink my stomach" as my husband would say.
What does it mean to shrink your stomach?
It doesn't mean that I want six-pack abs (very hard to get for women). What "shrinking your stomach" means to us is the process of training your body, your mind, and, hence, your stomach to need and want less food. For instance, after traveling twice in January, I grew accustomed to eating out, eating bigger than normal portions, and eating many, many sweets. However, even when I stopped traveling, I found that my stomach still wanted me to eat like that. If you don't catch this vicious cycle in time, this can mean big trouble in the weight department.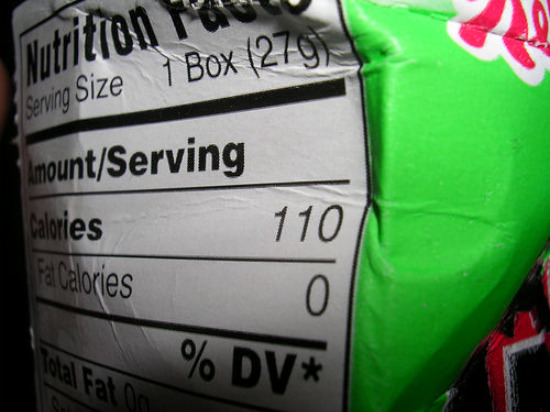 Although I may have put on a pound or two while traveling in January :-(, the real reason why I'm watching calories is to retrain my brain and appetite to not eat so much, stop eating before I'm full, and not snack as much. Plus, we are leaving in just a few weeks for Disney. I've mentioned before that we opted to buy the dining plan, which pretty much means you can eat ALL the time, or what seems like it. Between buffets and fancy plated dinners, to fast food and snacks, we are going to have calories thrown at us faster than the teacups can spin. So, I'm trying to preempt those temptations by making my body not want to overeat.
I figured that by sticking to 1,600 calories a day (about 300-400 less than normal), my body would become more full on less food. And, in just about 10 days, this has actually happened! I find that after just one bowl of soup or one small serving of dinner, I'm pretty satisfied. Dessert is still something I enjoy too, I just eat less of it and make sure it fits into the 1,600 calories (or around 1,600 calories) per day.
So how did I do today?
After my fab run on the treadmill (running an extra 5 minutes), I had about 3/4 a container of Trader Joe's vanilla Greek yogurt with a few walnuts…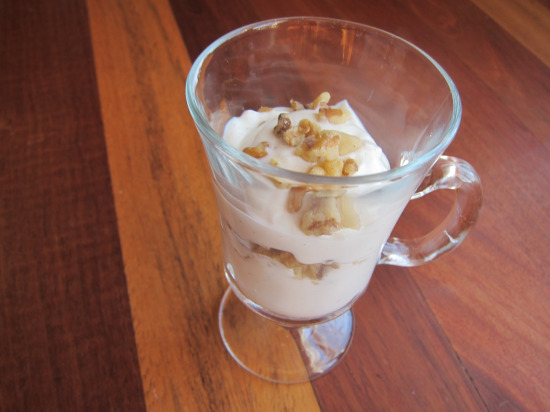 Plus I had a 1/2 cup of OJ (actually measured to be sure), just because I was craving something citrusy…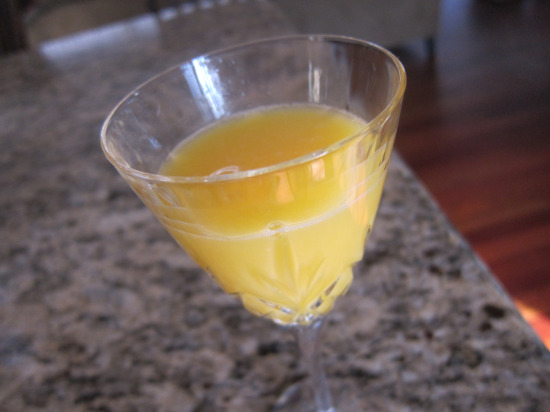 For lunch, we headed out to a restaurant (we had a free meal!) where I had 1/2 an Italian sandwich plus about 1/2 my French fries…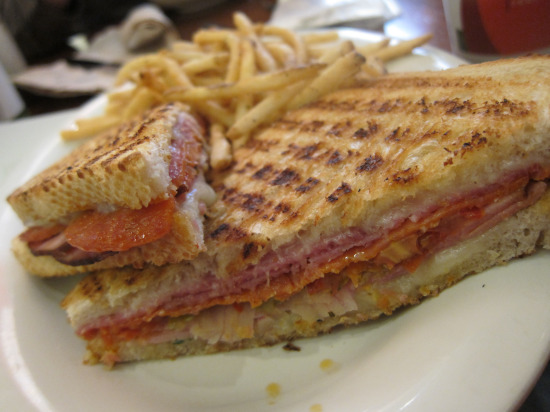 This ended up being the most calories I ate at one sitting today. I really do prefer eating heavier at lunch than dinner. This gives my stomach more time to digest the food. After lunch, I took my son to yet another 5-year old birthday party. Then, I stopped at Starbucks to pick up a tall mocha frap. My stomach wasn't feeling so great after a while, so I only drank about 1/3 – 3/4 of it and threw the rest away.
Dinner ended up being about 1 1/2 cups chicken soup – that's it! Because I just wasn't very hungry. And then finally, a small (1/2 slice) of birthday cake (unpictured).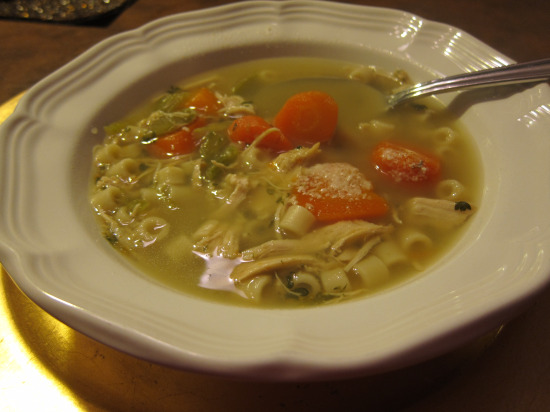 Let's see how the numbers add up…
4 ounces Nonfat Greek Yogurt and walnuts = 200 calories
4 oz Orange Juice = 50 calories
1/2 serving French fries = 200 calories
1/2 Italian Panini with spinach = 500 calories
3/4 Tall Mocha Frap with no whip = 175 calories
1 cup popcorn = 100 calories
1 1/2 cups Chicken and Veggie Soup = 150 calories
1/2 slice cake – 200 calories
Total = 1,575 calories
Obviously, the choices I made today were not the greatest as far as nutritional value. For instance, I need to eat more fruits and veggies and fewer sweets – duh! But, I still came in under 1,600 calories and I feel FULL! After doing this for about 10 days, I HAVE actually lost 2 pounds and am now down to my pre-January business travel weight (108 pounds). What I am more happy about is that I don't want food all day long and I don't find myself eating mindlessly – aka the Brian Wansink theory.
I'm hoping that I can stick to this way of eating on vacation. But, after all, it is vacation, right? 😉
Have a great night everyone!