Hey there! 
I'm writing to you from sunny San Diego – well actually, it's dark now, but it was definitely sunny earlier! I arrived in San Diego about 11 AM local time. But before I get into that, let's start from the day's beginning…
Very early this morning I had a dream that I woke up late and the car service guy was knocking at my door to pick me up – yikes! I woke up in a sweat and realized that it was only 5:00 AM, about an hour before I really intended to get up. Well after that dream, I couldn't really sleep so I got out of bed to get ready and finalize my packing.
I arrived at the airport sans drama and had a pretty calm 3 1/2 hour flight. During the ride, I snacked on one of my all-time favorite airport snacks/breakfast…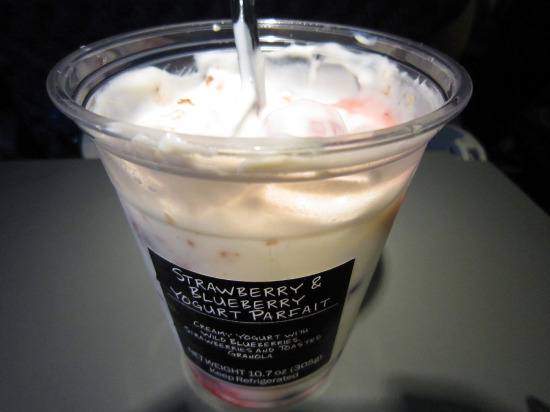 You can't go wrong with vanilla yogurt with fresh fruit and granola, although I still prefer Greek yogurt.
When I arrived in San Diego it was about 70 degrees and amazingly bright here immediately when we landed – how perfect – did they order this weather just for me, or do they do this for everyone? 😉 I would take this weather any day over the cold/rainy weather I left in Chi-town.
After checking into our very fancy hotel, my colleagues and I lunched at Harbor House, a seafood restaurant located in a cute little shopping district on the water.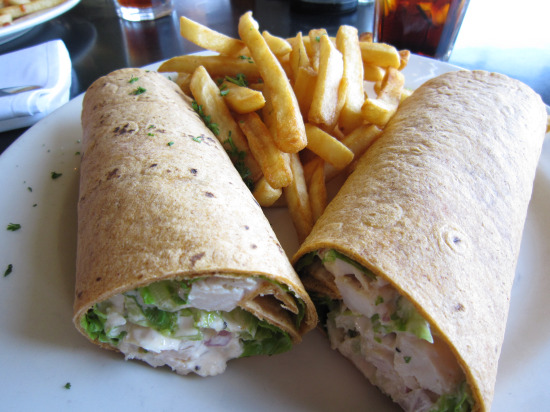 The yogurt was filling but man was I starving by the time I ate lunch. I ate about 3/4 of my chicken salad wrap and most of the french fries as well (I know I've been so bad lately with the fries 🙁 )
After lunch, my colleagues and I had to tend to a few work-related duties, then we took a walk to a very close-by Pinkberry yogurt!! When we work our annual event, we rarely have time to do anything else but work, eat, and sleep. So today was a special treat to be able to walk around the city a little. And of course, Pinkberry was top on my list to try in my limited free time. Yes – this was my first ever Pinkberry yogurt EVER…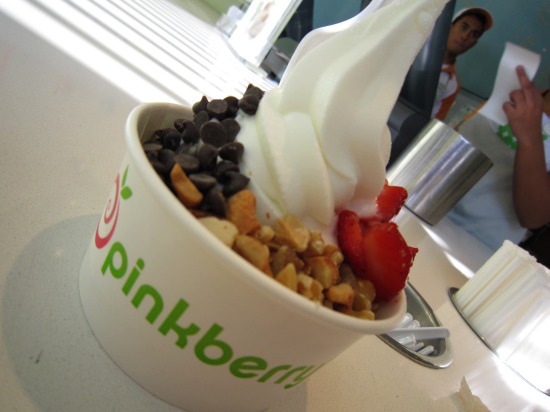 How cute is that! I had the small original flavor topped with chocolate chips, mixed nuts, and strawberries. It was amazing! I think I may have to venture there late in the week to get another fix before I return to Chicago.
When I arrived at my room a small package had been delivered to me…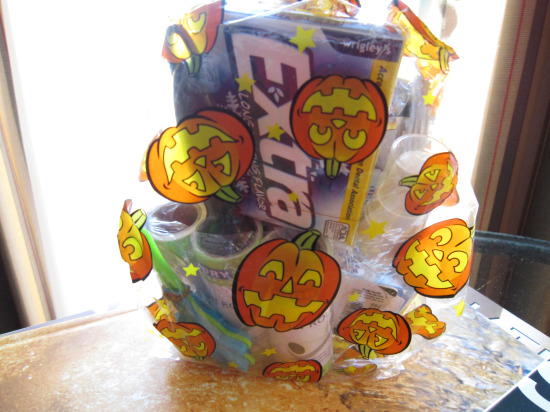 It was the "welcome bag" that my training team and I made last week. It has all sorts of goodies in it like gum, a lint brush, a plastic hand clapper, and hand sanitizer. What a nice touch!
In the evening, all staff were asked to attend a special wine/cheese reception with some of our members. It was actually quite fun because I was able to see many of our VIP members who I adore and hadn't seen since last year. 
After some polite chit chat, my brother and his wife Liz picked me up at the hotel to take me to dinner in Del Mar. We ate at a charming bistro called Sbicca, which was again, on the water (or close enough to it!). Unless you're really far inland, it seems that everything in San Diego is "on the water".
At Sbicca's, I started with a mixed green salad with tomatoes, feta cheese, and lemon pepper dressing.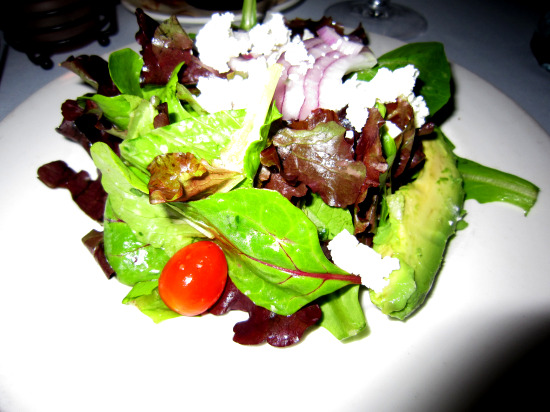 Quite good, but then again, what salad isn't good with feta?
For dinner, my sister-in-law and I split the garlic chicken with mashed potatoes and feta cheese…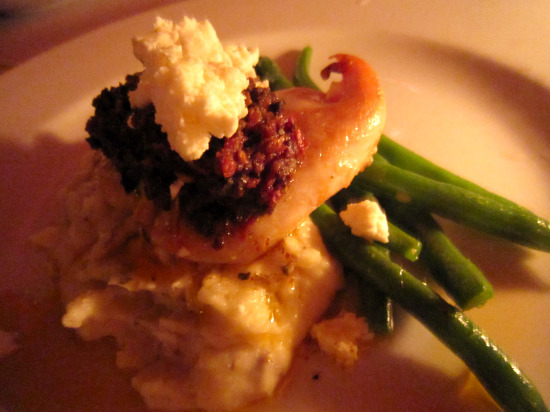 This dish was fantastic! It has a ton of flavor and the presentation was equally as good. Thankfully I split this dish because I know I could not have eaten all of it.
Plus, I wanted to save room for dessert….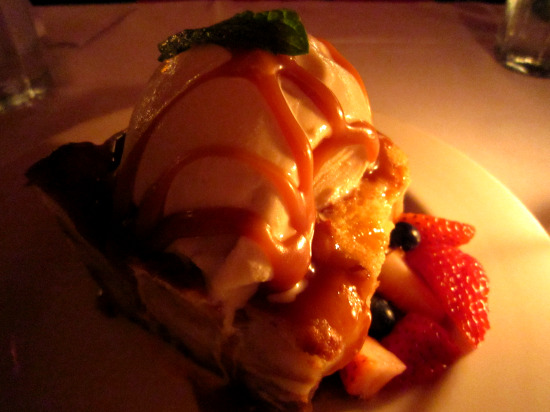 Pecan bread pudding in a caramel sauce topped with caramel gelato. Oh my, this was way too good to be true! Luckily, this was another split dish because, as you know, 1/2 the food = 1/2 the calories. Besides, i was too full to eat a full dessert by myself.
Ok, I'm starting to fall asleep. It's now 11 PM Pacific, but really 1 AM my time, which is way too late for this chica to be up and blogging. 
But, before I go, I will leave you with a view from my hotel room…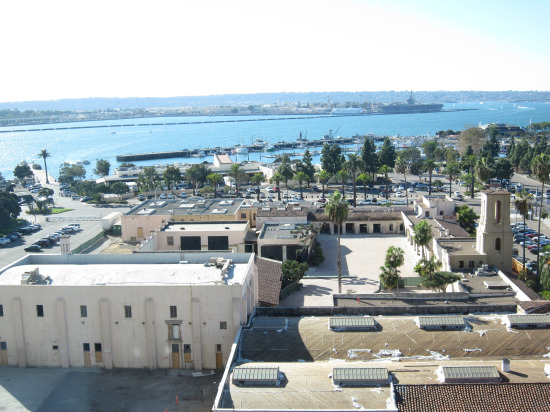 Ahh, I love where i work!
Have a great night!