Hi There. 
Well, so much for trying my new Yogi Bedtime tea. I ended up not being able to fall asleep until after midnight last night and then woke up at 5 AM and couldn't fall back to sleep! I swear that tea bag had a shot of caffeine in it!
After laying in bed for an hour trying to fall asleep, I debated on whether I should just get up and go for a run, although it  was technically my rest day. I opted to not run thinking that my body my stage a revolt. 
For breakfast, I made a bowl of fluffy clouds – aka Trader Joe's organic nonfat Greek yogurt in vanilla flavor, topped with Kashi Go Lean cereal and…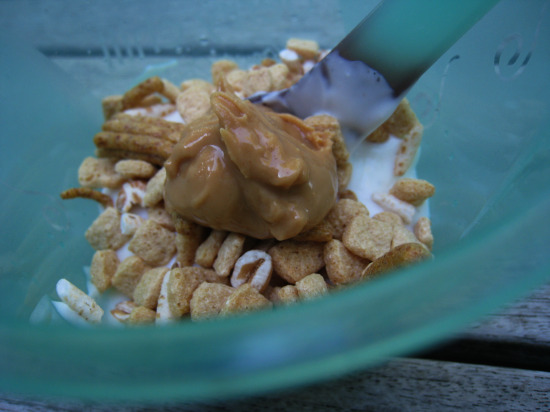 A spoonful of MaraNatha all-natural creamy peanut butter. When you mix it all up, it looks like a bowl of fluffy, peanut buttery clouds…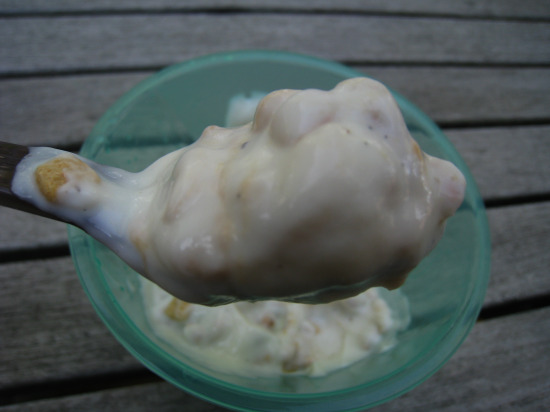 After a fun-filled morning at work, I grabbed a quick lunch at my desk…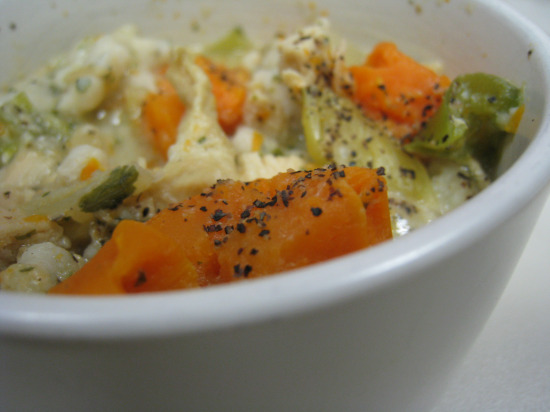 A cup of chicken and dumpling soup with extra pepper. This soup really hit the spot today because it was really chilly outside and even colder by my desk! I'm not kidding either, I have to have my little space heater on in JULY because it's so cold in my area. 
I jetted out of work around 5:20 PM and, after a long 50-minute commute with a headache the entire way, I finally made it home. Scott had a very simple and healthy dinner ready for us when I arrived. However, because of my headache, I took some Tylenol and laid down for about 30 minutes. Then, after feeling a little better, it was time for some dinner…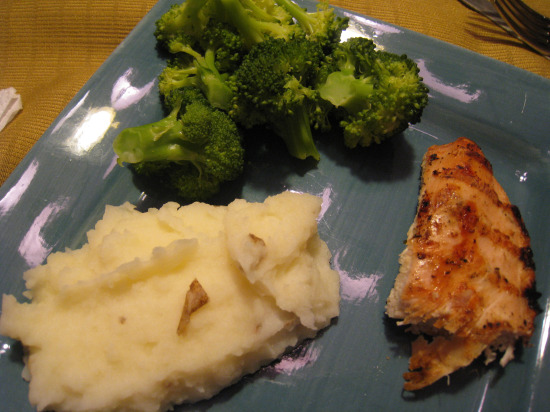 We had grilled chicken – which I proceeded to drench in Famous Dave's BBQ sauce! – mashed potatoes, and steamed broccoli. Ah, I love home-cooked meals, especially when I don't have to do the cooking!
Now I'm relaxing, listening to some Bach on Scott's iphone. I'm also enjoying a little treat that my husband so nicely drove out to get especially for me…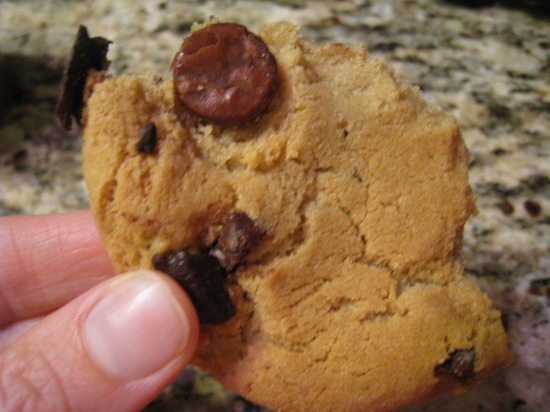 A huge chocolate chunk cookie from Barnes and Noble – sooo good! We split the cookie tonight because there was no way I was going to eat all of it myself. We used to consume these cookies like they were going out of style a few years back. I think we single-handedly kept that B&N cafe in business with how much we bought there.
I'm headed to bed in a few minutes to see if I can't shake this headache for good. Tomorrow's my running day, so I hope I sleep better.
Have a great night everyone!