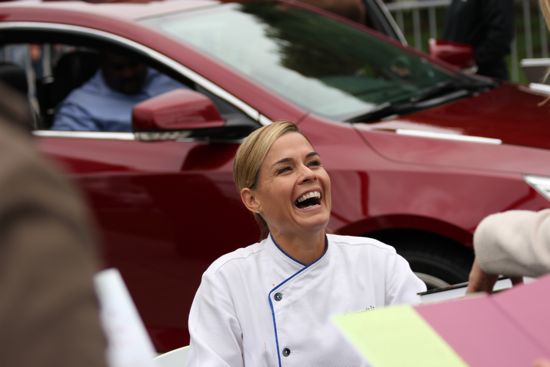 The Chicago Gourmet held last weekend played host to many of Chicago's famous chefs, including Rick Bayless and Jimmy Bannos, Sr. But the event also brought in other, more international chefs, including one Iron Chef – Cat Cora. During this event, I had the pleasure of chatting with Cat Cora about her latest book, how she gets her kids to eat new dishes, and about her new show on OWN – the Oprah Winfrey Network.
5 Minutes and 5 Questions with Iron Chef Cat Cora
1) When you're not doing cooking shows and book tours, what's a typical day like for you?
I get up with my kids (four boys under age 6), we eat breakfast together, get lunches ready for school, get everybody dressed, then wrangle everybody together to head to school. After that, I go to work in my home office. I also try to get in a workout, maybe a little yoga. Then we end up back at home and done with everything by 5 PM to eat dinner and spend some quality time together.
2) In your latest book, Cat Cora's Classics With A Twist, you have a variety of flavor combinations and ethnic foods. How do you get your kids or kids in general to eat these ethnic foods and try different things? My kids don't eat everything that I cook for them in this new book. There are some things that they're just not ready for. It's about getting them involved in meal planning and mealtimes, gearing the food toward them and actually getting them invested in the meal. If you get kids invested in the meal, they tend to eat more and eat more often, and they feel empowered because they can help make decisions about the meal. And this whole discussion with kids should be a 5-minute conversation not a two hour negotiation – give them two options and have them pick one.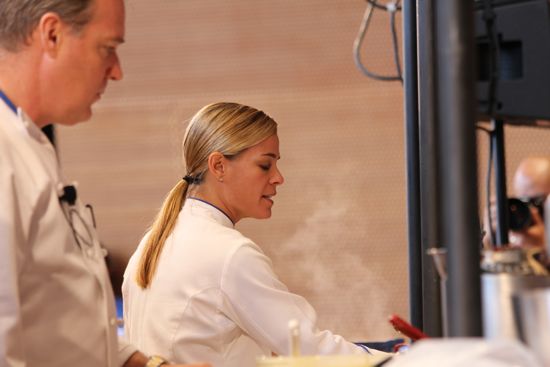 3) How do you decide if/when a new recipe will be added to your restaurant menu?
You need to decide who your audience is first, which helps narrow things down. Then, you need to think about the style of restaurant you have and your concept. When we started the restaurant at Disney, we really had to look at things that were familiar to people. We couldn't get too crazy or too out-of-the box because it is Disney. You get people from all over the world and there are a lot of different things that they like to eat. We're about to open a sexy lounge with small plates at the Virgin America terminal at the San Francisco airport. That's a whole different dynamic and a whole different audience.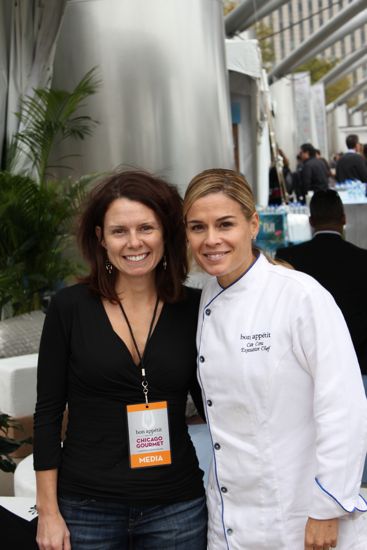 4) If you weren't a chef, what would you be doing?
I definitely know that I would want to perform. I would have definitey tried to go into acting of some kind. I also love to write, so maybe a novelist – and I can still do that, it's in the future plans!
5) What's on the horizon for Cat Cora?
I have a new show coming out in January 2011 on Oprah's network – OWN (which stands for Oprah Winfrey Network). It's an hour-long show, once a week. We can't announce what it is or what the name is just yet, but it's really about bringing families together about food and solving people's dilemmas in the kitchen – very similar to an intervention show. I'm super excited about it.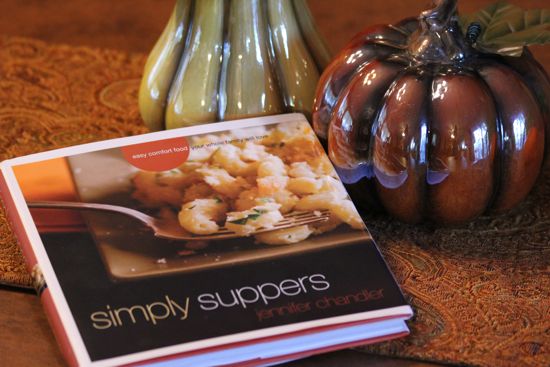 Cookbook Giveaway
In keeping with the chef/cooking theme, I'm giving away a brand new book by another notable chef and author Jennifer Chandler. Her book Simply Suppers features homestyle comfort foods, such as potato soup and enchiladas, with a southern flair.
To enter the giveaway, you can either…
Leave a comment on this post about who your favorite celebrity chef is and why OR
Tweet/Retweet this post
You have until Tuesday, October 5 at 9 PM Eastern to enter. Good luck!