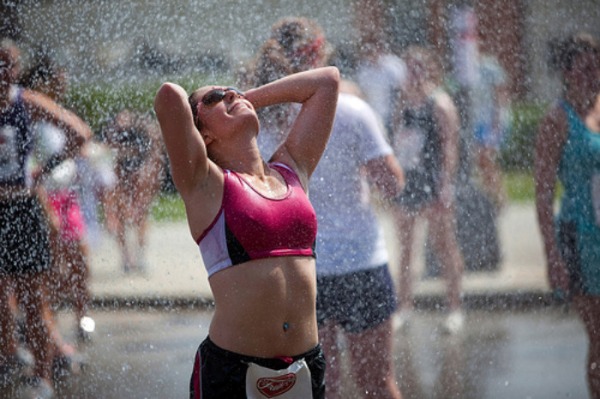 (Photo source)
Some people hate doing abdominal workouts – I love them! To me, ab workouts are almost as addicting as running. Although many of you may be shocked at my love for belly burn, as a runner, this view is not uncommon.
Strong abdominals go hand-in-hand with strong running. Abdominal muscles support the torso and stabilize the pelvis while you run. Runners with weak abs tend to tire quickly. Also, they tend to have a less stable pelvis which can lead to lower back pain and hamstring injuries. Runners with strong abs tend to have better posture, a more stable gait, and have fewer lower back problems. Furthermore, the stronger your abs are and the more they can endure, the better you will run.
On the flipside, running also help strengthen and flatten your abs. Think about it, have you ever seen an experienced runner with a large midsection? Running burns more calories/fat, including that which is stored in the belly. Plus, to keep our balance while running, our ab muscles must stay contracted – in a constant state of flexing.
However, don't rely on running alone for flat abs. Women Fitness reports that running works your hip flexors and your lower back more than your abs. If you don't stretch these areas, you could develop an imbalance known as excessive anterior pelvic tilt – a fancy way of saying runner's pouch, which makes your stomach protrude and look much bigger than it is.
Obviously, not all runners will have six-pack abs. Besides, it is harder for women to achieve the six-pack goal than men because we have more body fat. Still, female runners who strengthen their abs (and hence, their core) can expect to see improvement in running, not to mention a tighter tummy.
No need to rely on crunches alone for your ab routine. Try to incorporate a mix of ab exercises that work all abdominals – obliques, upper, lower, etc. For a great ab workout sans the typical crunch, try Shape magazine's 4-Week Ab Makeover, a workout that utilizes pilates to build ab muscles.
Even if you've hated ab workouts in the past, I encourage you to give them another try, especially if you're a runner. You may not love them at first, but when you start seeing results – look out!
Happy Running!