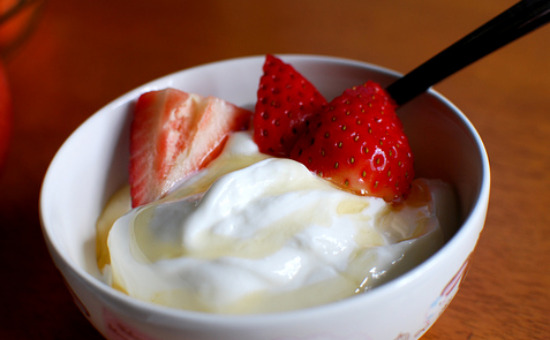 (Photo Source)
In my early 20s, it seemed like I could eat whatever I wanted and still either lose or maintain my weight. Sure, I was exercising on a regular basis back then, just like I am now, but in college, losing and maintaining my weight just seemed easier. I'm sure I'm not the only one out there who has finally acknowledged that our metabolism does slow down as we get older. On average, women gain 1.5 pounds a year during adulthood, which can easily translate into 30-5o extra pounds by the by we reach 50! Ugh – that's not what I wanted to hear either!
Luckily, there are ways to prevent this age-related weight gain. There are obvious ways to help keep the weight off, including reducing daily calorie intake and increasing cardiovascular exercise. However, according to Prevention magazine, there are other sneaky things that can do to help rev up our slow metabolism and help us avoid mid-life weight gain, including:
10 Ways to Increase Your Metabolism
Eat More

– It's true, we do want to reduce our calorie intake as we get older, but we don't want to drop below 1,200 calories a day. Consuming less than 1,200 calories can cause our body's metabolism to slow down and burn precious muscle for the energy that your diet is not providing.

A Cup of Joe

– Caffeine stimulates the central nervous system and helps speed up metabolism. But, like anything else, you don't want to go overboard on the caffeine either.
Go Whole or Go Home – We all know that white breads, pastas, and carbs in general have very little nutritional value, particularly in the fiber area. But what you may not know is that fiber can help increase our fat burn by 30%! So, limit the white carbs and go for the fiber-rich whole grains. How can you tell if your bread is whole grain?
Embrace the Cold – Drinking cold water and other calorie-free beverages may help to raise our resting metabolism – possibly because we expend more energy to heat the cold water within our bodies.

Avoid Pests

– Research has shown that people who consume large amounts of food treated with pesticides may experience a dip in their metabolism and may be more at risk for weight gain. Although it's unrealistic to assume that you can always buy organic produce, you may want to consider buying the more pesticide-heavy produce in their organic form. What are the best foods to buy organic?

Eat Your Protein

– Research shows that protein can increase our postmeal calorie burn. Furthermore, our body needs protein to maintain lean muscle, which also helps increase our metabolism and calorie burn.

Pump Some Iron

– No, I don't mean weight-lifting, although that's important too. I'm talking about the mineral iron. We need iron-rich foods to carry the oxygen our muscles need to burn fat. By nature, women lose iron each month during menstruation. If we don't replenish our iron stores, we run the risk of having low energy and a sluggish metabolism.

Get Your Vitamins

– Vitamin D helps preserve our muscle tissue that speeds up our metabolism. Afraid you're not getting enough? Try these great sources of Vitamin D: fortified milk and cereal, salmon, tuna, and eggs.

Limit Booze

– Alcohol burns less fat and what it does burn, it burns more slowly than most foods/drinks.

Increase Calcium

– Research shows that calcium deficiency may be linked to slow metabolism in women. So make sure you're drinking your milk and eating your yogurt! What has more calcium, Greek or regular yogurt?
Now, get that metabolism cranking!