Morning everyone! I was so excited when the mail arrived with my new SHAPE magazine! I am sooo looking forward to a relaxing read this weekend. We had an awesome dinner last night – mainly because I didn't have to cook! Not to mention that I was so hungry from running around all day – busy, busy!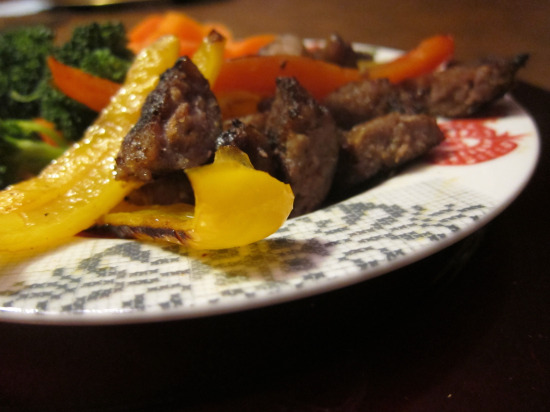 Scott cooked up some Italian sausage and yellow and red peppers – a true Chicago dish! He also steamed a bunch of veggies – carrots and broccoli …
Very satisfying and fairly healthy – about 300-400 calories total – not bad. Although dinner was great, we basically have no treats in the house, so it was a no dessert night for me – blah!
This morning, I got up early in order to get a jump start on the day – although I did NOT start with a run. I ran Sunday-Thursday this week so I decided to give myself a break yesterday and this morning – I did a ton of walking though! I also decided to treat myself to a decadent breakfast considering I missed out on dessert last night…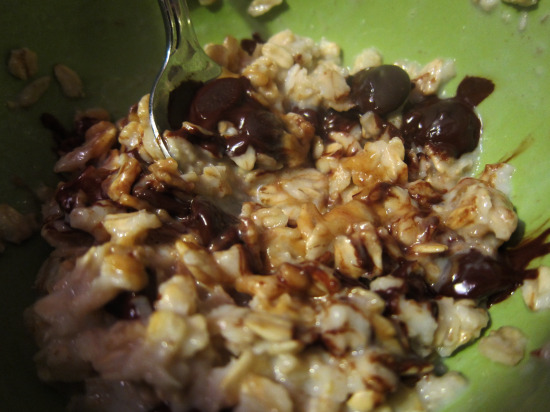 Doesn't that look awesome! I threw together some slow-cook oats and added all-natural peanut butter and Ghirardelli dark chocolate chips. It was my own breakfast triad and it was a completely gooey and yummy mess! It was surprisingly healthy too, considering oatmeal, peanut butter, and dark chocolate are all good for you 🙂 I've had a very busy day, so now I'm off to bed.
Catch ya all later!