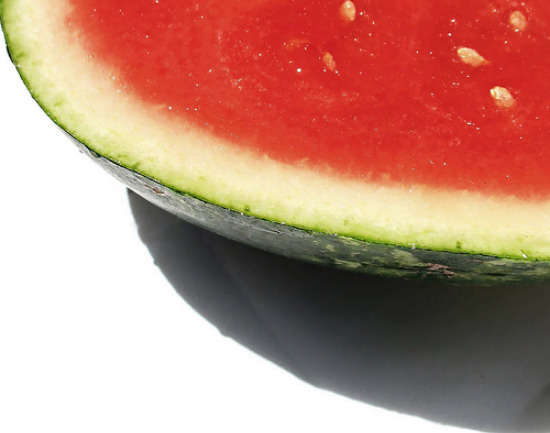 (photo source)
I did something today that I haven't done in weeks, maybe months. Instead of eating a sugary, calorie-filled dessert, I opted for a bowl of watermelon. Why the change? After being outside all day yesterday in the heat followed by this morning's hot run, I'm pretty sure I'm dehydrated. Not only have I been drinking water like crazy, but I've also been craving cold, watery things like fruits and vegetables, per my temporary watermelon addiction.
Although you don't want to eat huge amounts of watermelon at one sitting (or you may wind up in the bathroom all day), regular portions of watermelon can provide many health and nutrition benefits, including:
Hydration Station – Watermelon is approx 92% water so it is great for hydration. No wonder they served it at the Chicago Triathlon yesterday!
Protects Our Organs – Watermelon is full of antioxidants which help neutralize the free radicals in our body that can damage our tissues and organs.
Cancer Fighter – Watermelon also contains these two powerful antioxidants that have been noted to help prevent cancer.
Low-Calorie Snack – Watermelon tastes super sweet but it is very low in calories – less than 50 calories per cup!
Although many people know watermelon as a summer fruit, it actually peaks here in the Midwest in August and September. And further South, watermelon can grow all year round, making it easy, albeit expensive, to enjoy this juicy fruit well into the Fall and Winter months.
Have a hankering for watermelon? Try one of these cool and crisp watermelon recipes from The Food Network.
Enjoy!