I recently had someone ask me what health magazines I read. Oh my – there are so many! I am a magazine fanatic, but I especially love health and fitness magazines. I just love getting a bunch of little tidbits of health information all wrapped up in a nice, portable, easy to read package.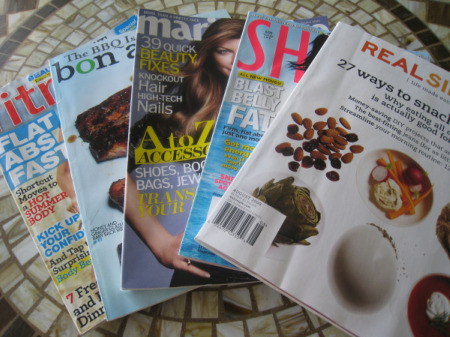 As for subscriptions, I subscribe to several magazines, mostly health-related, including:
Shape
Self
Fitness 
Real Simple
Marie Claire
And, there are many more that I don't subscribe to that I frequently read, whether I get them from the library or read them while relaxing at Barnes and Noble. Here are just a few that I read (although do not subscribe to) on a regular basis:
Body and Soul
Yoga Journal
Natural Health
Fine Cooking
Cooking Light
Bon Appetit
Runner's World
Health and fitness magazines are not the end-all, be-all in wellness information, but they provide a nice overview of what's new and different in the wellness world, as well as new twists to old favorites. They also provide great ideas for recipes, new fitness or food products, and continued motivation to stay healthy. Although every magazine reguritates information, or at least topics, at some point, I can honestly say that I learn something new each time I read a new issue of my favorite magazines.
Now, on to my day….
What a difference a day makes! Although I still don't feel completely rested, I woke up with way more energy than I did yesterday – maybe it's because today is my day off! By the way, I did not do my Yoga Download last night. I became too engrossed in writing and watching Harry Potter at the same time. I've seen the first HP movie a dozen times but it never gets old.
I started my day with a 4 mile run, then walked for a short time. The weather was just perfect too, low humidity and 70 degrees. 
I had an appointment early this morning so I had to make a quick breakfast and get out the door.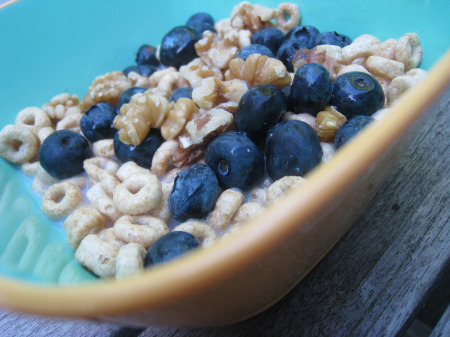 I had a little cheerios with about 2 tbsp walnuts and, what else? Blueberries! I'm still trying to use up the monster-size blueberry container I purchased from Costco. It's been almost 2 weeks and they are still in the fridge and still fairly fresh. 
I headed to may appointment then onto the grocery store where I picked up a ton of fresh fruit – bananas, pears, apples, etc. Can't wait to dig in..
I was super hungry by the time I returned from the store – I'm really surprised I didn't buy more groceries considering I was so hungry.
Time for lunch…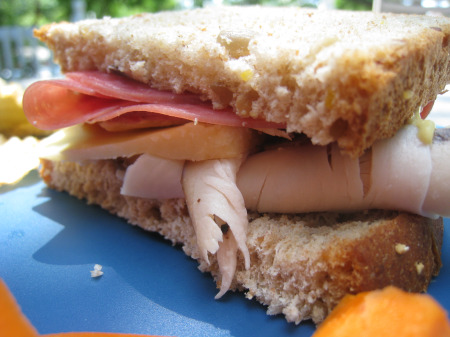 I had a 1/2 sandwich made with peppered turkey breast and low-fat hard salami, a little white cheddar cheese, and some dijon mustard, all on a piece of 12-grain bread. I also had a few carrot sticks, grape tomatoes, and some Kettle's Salt and Pepper chips on the side. Perfect for a hot summer lunch.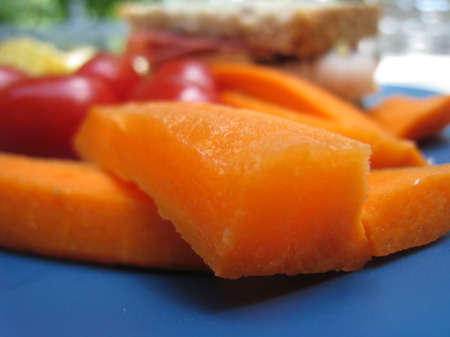 After lunch, I took a quick dip in our pool. Once I was used to the cool water, it was quite refreshing on a hot day. 
Now, I'm off to write more articles. Chat with you later.