Hello All. Hope you had a wonderful day. My day was crazy busy with meetings. I also sat in our office library for about 4 hours reviewing more video footage for a tribute video I'm working on.
Even though I was heads down for most of the day, I did take a break for lunch. I had planned on going out to eat but I honestly was not very hungry. I decided not to waste my money and calories on restaurant food when I knew I really wouldn't enjoy it. Instead, I had another yogurt-fruit bowl.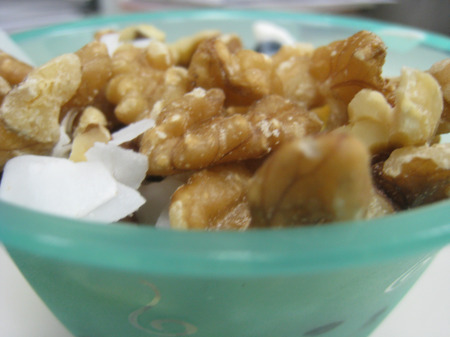 My yogurt bowl was made with a base of Trader Joe's Organic Greek Yogurt in vanilla flavor. I just want to clarify that I do not eat organic food because it's better tasting or better for you (more on this topic in another post). I try to choose foods that are all-natural (organic food falls into this category) and sometimes organic is the only choice at the time.
To my yogurt, I added a ton of chopped walnuts (great source of omega 3's!), a few flakes of coconut, dried pineapple and bananas, and a handful of fresh blueberries (love those antioxidants). It was awesome and looked very cool in the new bowl I scored from the concert a few days ago. The bowl even came with a matching spoon.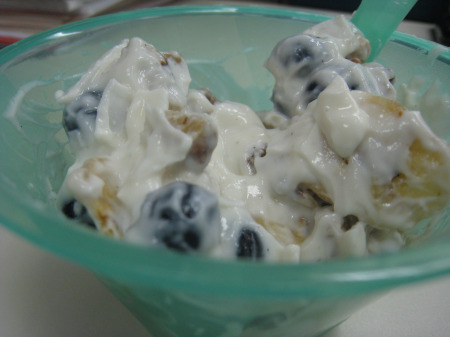 And that my friends was the only thing I ate for the rest of the time I was at work. That's how filling it was! 
When I finally arrived home from work around 6:30 PM, I still wasn't that hungry. I made a simple and small taco salad bowl. I threw in a a bunch of lettuce, some turkey taco meat from Monday's dinner, cheddar cheese, and grape tomatoes.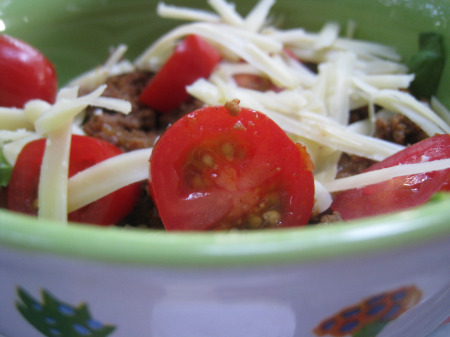 It was just ho-hum, but satisfying. But, now that my stomach has settled a little, I'm off to do some yoga.
Night everyone!