Hey All – Remember to enter the first ever Running With Cake giveaway!
Scott and I made an impromptu trip to downtown Chicago today, and what a day it was!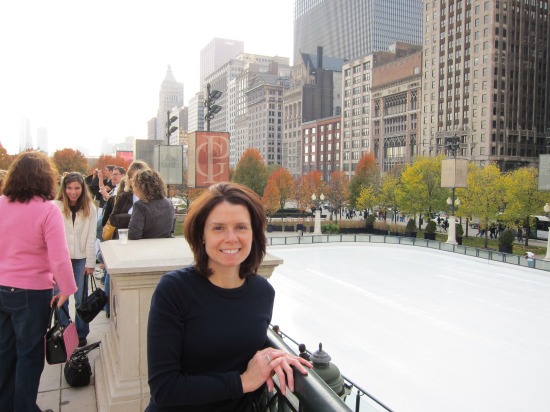 That's me in Millennium Park overlooking the newly frozen outdoor skating rink! I wonder how they keep it frozen during 60 degree weather?
Before heading out on the train, I fueled up on a big bowl of Cheerios..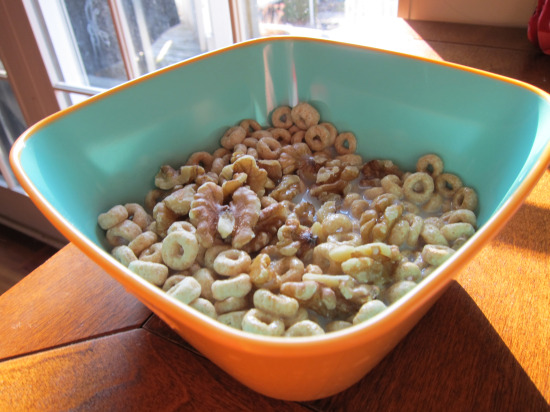 Good thing I did because we ended up not eating lunch for at least another 3 hours after that! Needless to say, I was starving by the time we arrived at the downtown Nordstrom Cafe for lunch. I seriously wanted to order one of everything. I started with some carbs to take the edge off…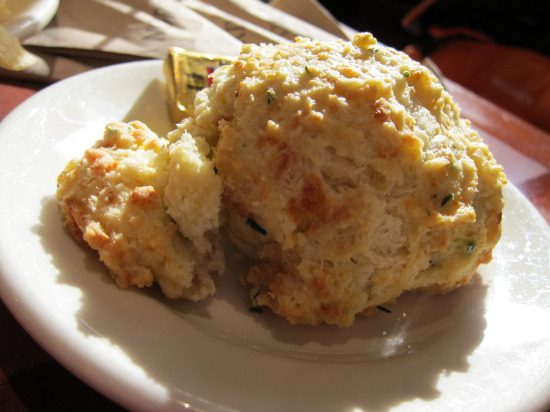 This was an awesome cheddar and chive scone – absolutely delish! It would have gone GREAT with a bowl of soup, but I decided to order the Cranberry Turkey sandwich instead…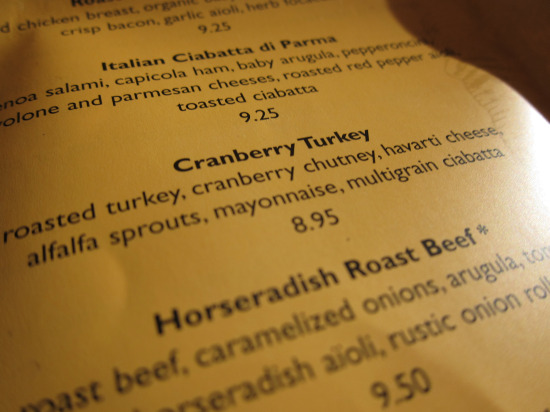 Yes, Thanksgiving came a little early this year in the form of a sandwich and it was good! Too bad after I ate most of it I turned the sandwich over and noticed some questionable green "element" on the bread. Could it have been mold? The server insisted the bread was baked fresh that day and said it might have been guacamole – although guac was not part of the sandwich. I guess we'll never know..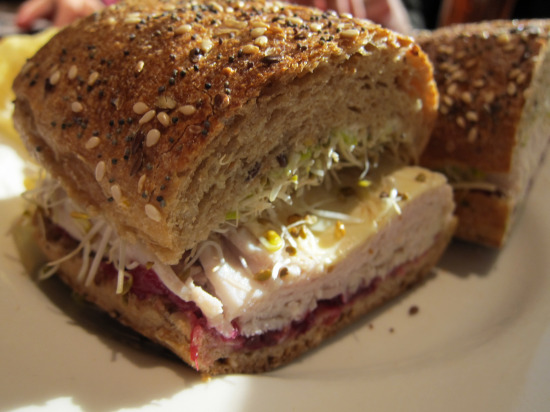 After lunch, we headed to "The BEAN" or as one little boy called it "The Giant PILL".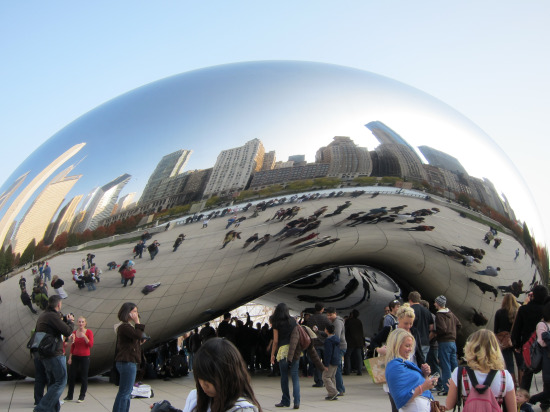 The "BEAN" has actually been around for a few years but it's still way cool to view, even when you live in Chicago. Because it was such a nice day there were TONS of people outside, which made the reflections that much cooler.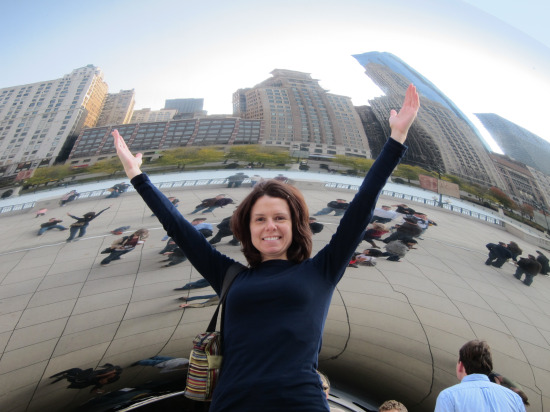 I also tried taking a picture of myself in the BEAN…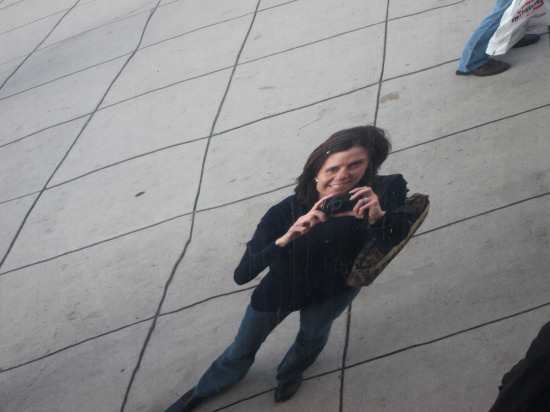 It came out all warped and crazy!
Next up, we did a little walking through the gardens of Millennium Park. Too bad all of the flowers were already gone for the season. It was still a lovely fall setting with all of the gold and amber hues in the gardens…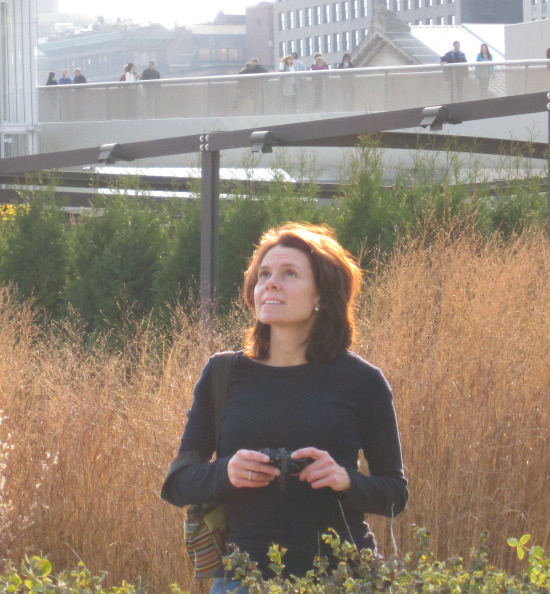 I was even able to catch a certain handsome guy contemplating the meaning of life at one point…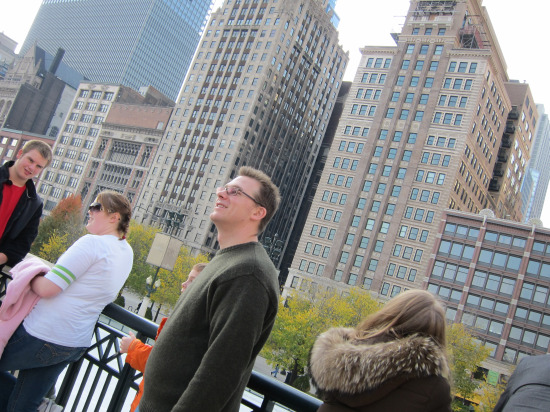 He was actually checking out the Bean's backside!
After our Millennium Park jaunt, we decided to make our way to Macy's for some window shopping. Chicago doesn't officially turn on its huge holiday lights display until next weekend. However, Macy's had already starting displaying all of its holiday decorations, including its famous holiday window scenes…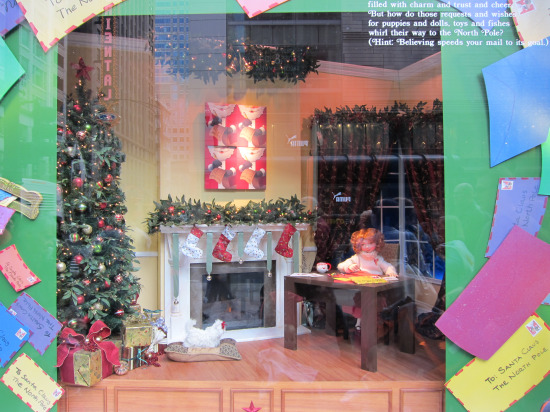 This year's theme is "Believe", based on (I think) the story "Yes, Virginia, there is a Santa Claus". It was 60 degrees outside but seeing these displays made me feel like it was Christmas Eve and snowing outside!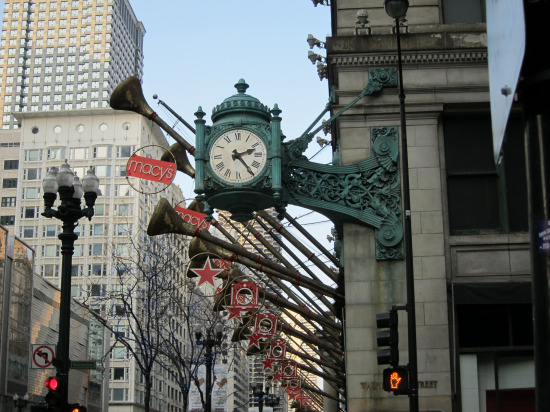 Aside from its window displays, Chicago Macy's on State Street also showcased a little indoor holiday magic – ok, it was a LOT of holiday magic…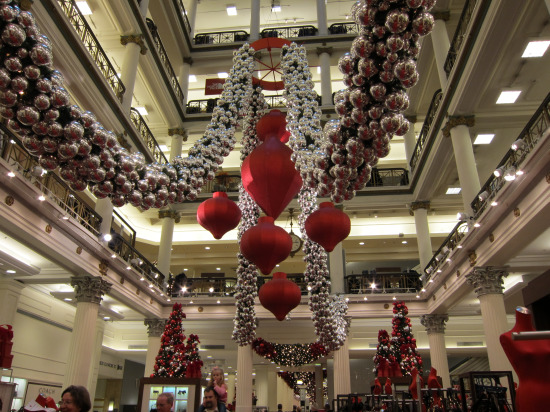 Can Macy's ever do anything small?? Upstairs in the famous Walnut Room, the huge Christmas tree was also displayed in all of its twinkling glory…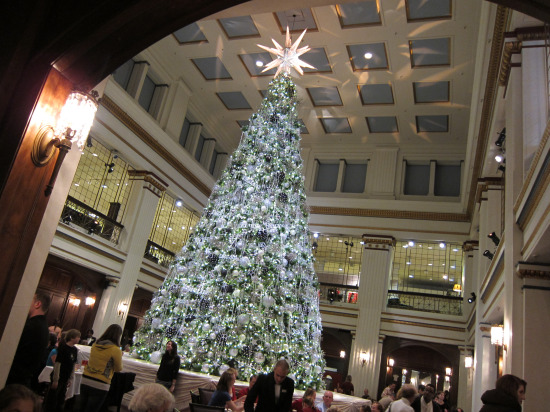 A thousand points of light indeed! I left Macy's feeling very much in the holiday spirit as you can imagine. As we were headed out the door to catch the train, I also grabbed a froyo to go…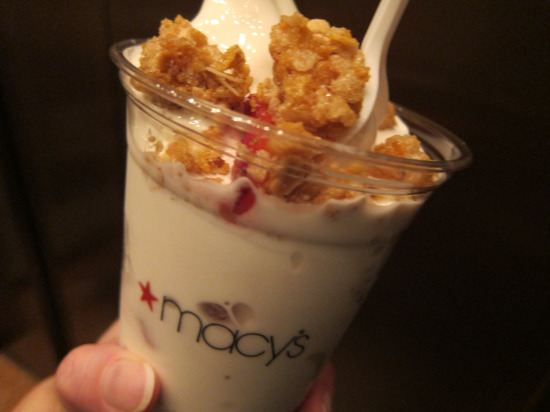 Not the greatest, but then again, we were practically running to the train while I was eating it! I think we walked a total of 2 hours today (no cabs for us!) so we were exhausted and a bit sweaty by the time we plopped ourselves on the train.
We ended our fabulous day with an equally fabulous dinner prepared by Scott, but I'm saving that for tomorrow!  
Have a great night all!