Morning Friends! I went to bed last night thinking that I may have to run indoors this morning. Most of the weather reports called for rain in the early morning. But, I was very happy to wake up to find that it was only a light mist.
I woke up very early this morning – around 4 AM and just couldn't fall back to sleep. Maybe it's the Autumnal Equinox causing an imbalance in my life and sleep patterns – he he! I stayed in bed trying to go back to sleep but that did not work of course. So, around 5:45, I got out of bed and on the computer. It was still dark outside, otherwise I would have hit the road right away. It did not get light enough for me to run until around 6:15.
After my misty 4-miler, I enjoyed a familiar breakfast…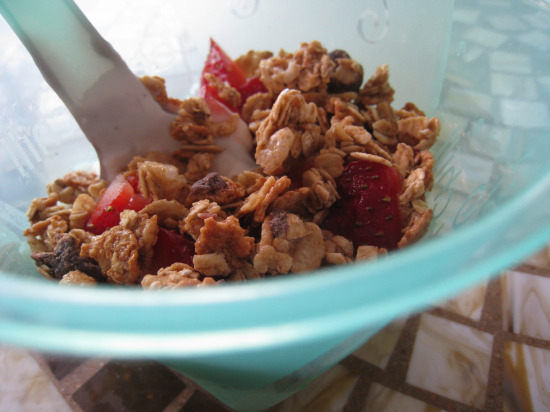 Trader Joe's nonfat vanilla Greek yogurt! After nearly a week of  not having any yogurt, this was definitely a welcome change from cereal. A girl can only go so many days without her Greek yogurt (a week max) before she starts to go through yogurt withdrawal.
I topped my yogurt with about 1/4 cup of Cascadian Farm organic dark chocolate almond granola. If you haven't had this granola, it really is worth a try. It has a great flavor and has chocolate in it!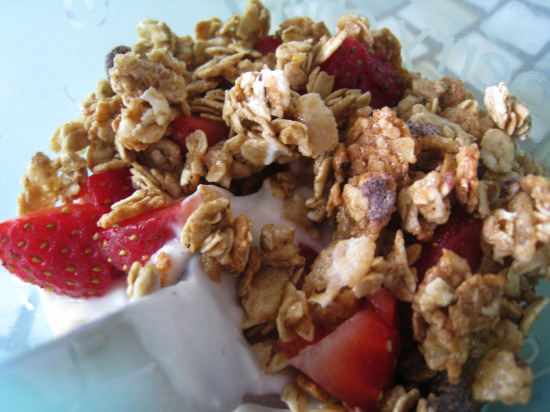 I also added a giant strawberry to my granola bowl for added vitamin C and other healthy antioxidants. I have been eating a ton of blueberries, strawberries, and raspberries this summer – all of which are great for the immune system and your skin!
I topped off my breakfast with a shot of daily wellness from Zola. This was day 21 in my RWC Daily Wellness shot challenge. I must say, it has become kind of a habit to drink this juice shot every day. I wonder if I'll miss it when I run out at the end of the month?
Have to get to work. See you all after dinner!