Good evening everyone. Hope you had a great Sunday! Scott and I did a little house cleaning – OK, I did the cleaning while he made an apple pie – but that definitely counts as work.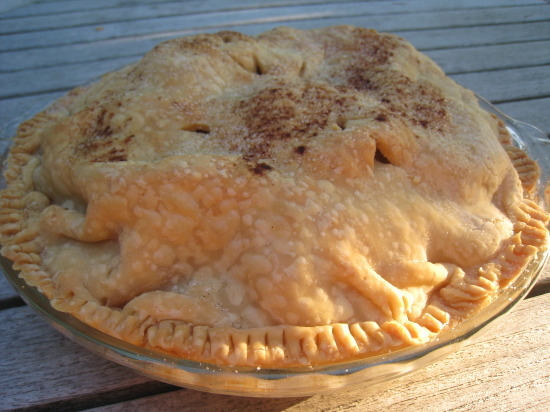 Scott comes from a long line of pie-bakers so I was highly anticipating the first apple pie of the season. Except for the crust, my husband made this pie from scratch – even peeling all of the apples himself. But, at the end, I had the important job of taking the pie out of the oven.
With the pie cooling at home, we headed for lunch at the local Italian eatery.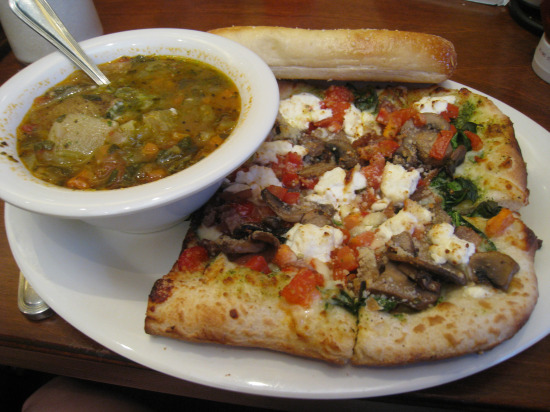 I had a cup of minestrone soup and a veggie-goat cheese personal pizza. I was getting full after the soup and two slices of pie (pizza, not apple) so I saved two pieces of pizza for lunch later in the week.
After lunch, we headed to Williams Sonoma so that I could sign up for my first-ever cooking class! It's not that I don't know how to cook (although Scott may disagree), but I've always wanted to take a culture-specific cooking class. This one, which is next Wednesday, is all about French cooking. So cool! And anyone who reads my other alter-ego blog knows how much I love France and Europe in general.
The rest of the afternoon was full of more shopping with a trip to Barnes and Noble and a highly worthwhile trip to Ann Taylor Loft! They have these new very feminine t-shirts in all different colors. I may or may not have bought the shirt in a few different colors, as well as a few camis.
For dinner, I made homemade chicken soup with orzo soup (see I can cook!).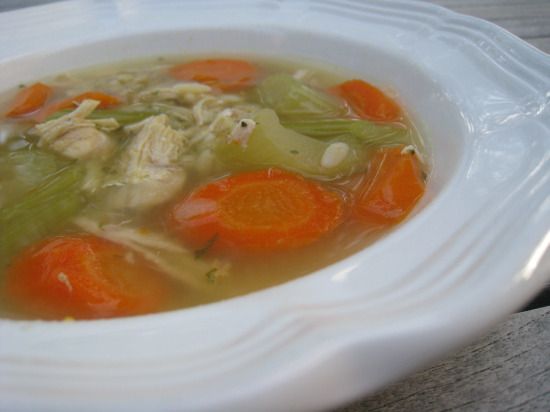 The soup was really easy to make, full of flavor, and very low in calories. 
After soup, I got busy making homemade caramel sauce for the apple pie. I've made caramel sauce before but just couldn't find the recipe anywhere. So, I found a simple recipe on the Internet and went to work. Well, the first batch I made burned so bad it turned back into hardened sugar. Not fun. The second batch turn out ok, although I did not let the sugar brown as much as I could have and the color looks more like dulce de leche, rather than caramel. But, it still tasted good over the apple pie…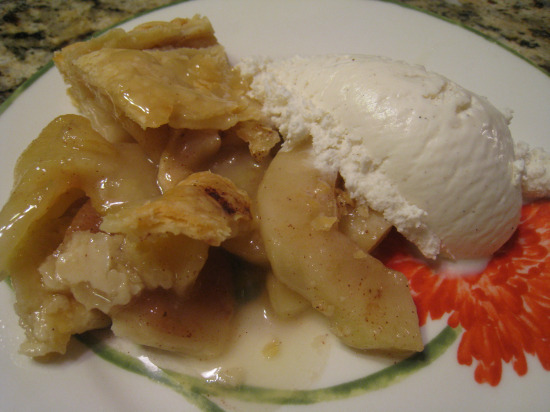 So messy, gooey, and yummy – all at the same time! The flavor of the caramel was fantastic! Along with sugar, water, and cream, I also used a very posh vanilla that was sent to me called Nielsen-Massey Mexican Vanilla. Oh my gosh, if you've never had high end vanilla, this is so worth it! Nielsen-Massey also sent me several other extracts – coffee, lemon, etc. – which I can't wait to try this holiday season! FYI – you can get the extracts at Williams Sonoma but they are expensive!
Now, it's off to bed for me. Monday mornings have been coming very early these days.
Night all!