As I'm sure you can tell, Running With Cake has a new look! My husband worked all day on setting up the new theme, graphics, colors, etc. and it looks fabulous. I do plan on adding a couple new features in the next week or so, including a few pics of me. Stay tuned for more health, fitness, and fun with RWC. In the meantime, let me know what you think of the new look.
Even though my husband was locked up on the basement for most of the day (don't worry, we have a walk-out basement, so there is natural light) working on my new theme, he managed to help me make an awesome dinner.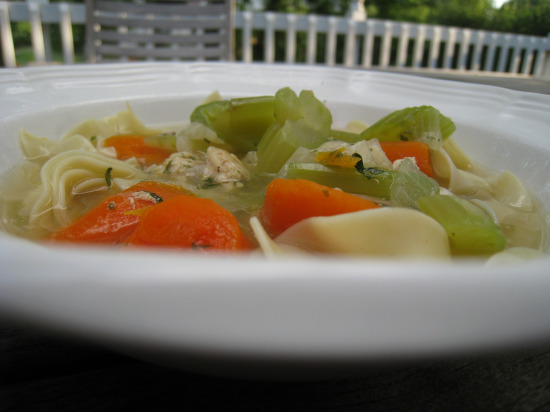 Chicken soup? Yes, chicken soup even tastes great in the summer, especially when you've been sick. But, the biggest reason we decided to make this homemade specialty is the weather. Being from the Midwest, we know that the weather can change on a dime. But, I was so surprised today, when it went from 85 to 65 degrees in about 2 hours. Because of this drastic change, and the fact that we still had the central air on in the house, we were both freezing. Chicken soup sounded like a perfect meal to warm us up.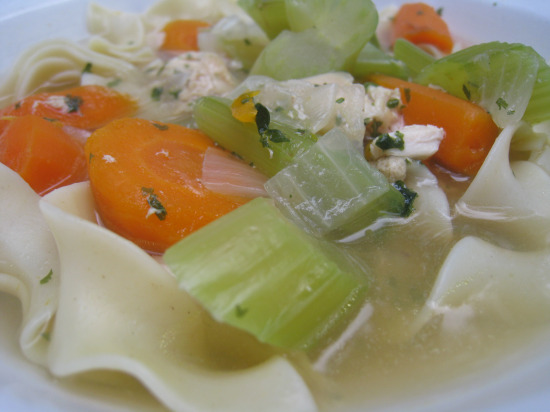 My husband's chicken soup includes all sorts of healthy goodies, not to mention it's a very low-calorie dish.
Scott's Chicken Noodle Soup

2 chicken breast halves, thawed
4-5 carrots, chopped in large chunks
3-4 celery stalks, chopped in large chunks
1/2 medium yellow onion, chopped
9-10 cups chicken broth/stock
2-3 tbsp dried parsley
3 cups wide no-yolk noodles, cooked and drained

Add all ingredients (except the noodles) into a large stock pot or soup pot. Bring to a boil over the stove burner, then let simmer on medium-low heat until the chicken is cooked all the way through. Carefully remove the cooked chicken from the soup and either shred or chop it. Return the chicken to the soup pot. Add cooked noodles. Ladle into bowls and serve with crusty bread.
Just as I mentioned in the recipe above, this soup is great alone or when paired with crusty bread for dipping. Tonight, we had our soup with a 1/2 loaf of multi-grain bread with oil and balsamic vinegar for dipping.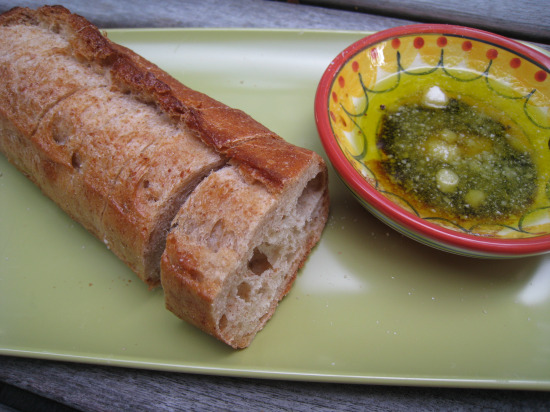 I also add a little sprinkle of parmesan cheese to my soup. It's just a habit after working at an Italian catering hall for 4 years in high school. It gives the soup a whole different flavor!
Well, after warming up a bit with our soup, my husband had to run out to get gas for one of the cars. It just so happens that one of our favorite ice cream parlors is right by the Costco gas station. So, not only did he get gas, but he came home with ice cream for both of us…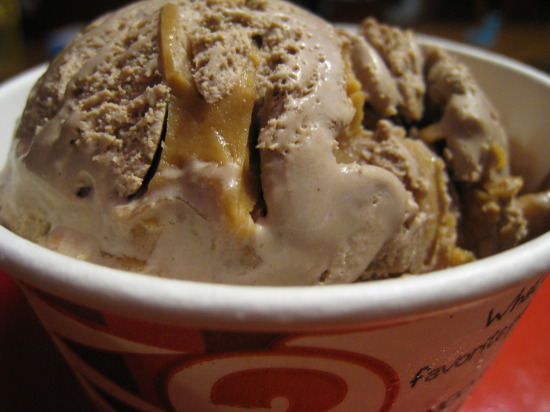 Scott had a huge chocolate malt, but I ended up with a mere kid's scoop of chocolate peanut butter ice cream – hmmm, that's doesn't seem very fair to me. No, I'm just kidding of course. The ice cream was an awesome treat and a great way to end our day, and our weekend.
Now, I have to get ready for bed. Monday morning seems to be hitting me extra hard these days. Have a great night everyone!