Ahh, the first snow of the season in Chicago! Although it barely stuck to the grass, the snow falling seemed to put everyone in the office, including yours truly, in a chatty and holiday mood. Guess it's time to Get Jolly!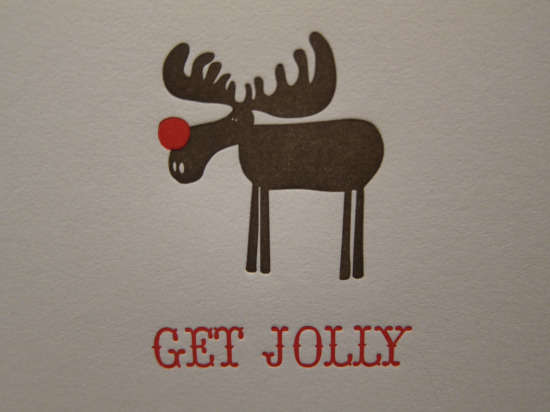 Before I chit chat about my day, I wanted to fill you in on an exciting surprise! When I arrived home from work a few days ago, I was so excited to receive a small package from Linda & Harriett, maker of high-end stationary products. The wonderful team at Linda & Harriett had sent me a few samples of their new "Moose" line. I can't tell you enough how much I like this new line of stationary! I am a stationary, particularly notecard, fanatic. Although, I have toned down my obsession a bit due to email, in my notecard heyday, I would buy new and interesting cards every few weeks, just because. Of course, I had way too many to actually use – even in a year, but I loved to take them out and look at them. 😉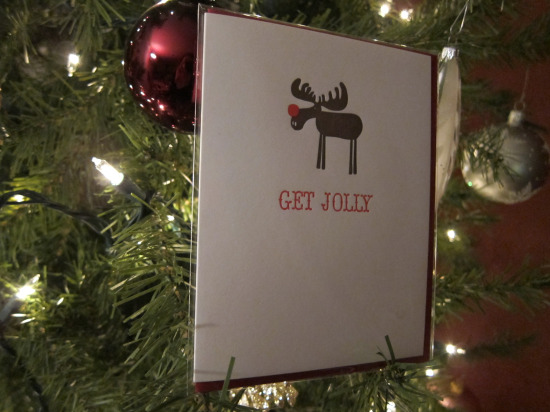 Linda & Harriett's new line reminds me of the great outdoors, but with a holiday twist – a shiny red nose on the moose! This new line is perfect for anyone who wants to get a little wild with his or her holiday greetings. It's also perfect for me since I'm going for a more woodsy theme this year for my holiday wrapping.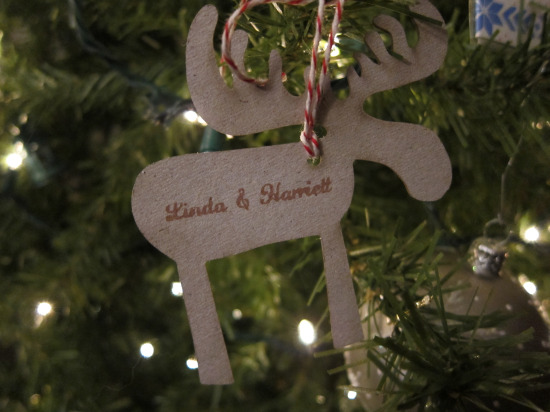 Aside from the new moose line, they have MANY other designs that are very simple, tasteful, yet have a playful touch. I mean, who in the world would think of putting a hedgehog on a notecard? But, it works. Although they are a bit pricey as far as holiday cards go, sending a card of this quality can make someone feel extra special. Sorry – no giveaway :-(, I only received a few samples.
Running and the 10 Percent Rule
Anyway, onto my day! I had a pretty rough morning, waking up about 1 1/2 before my alarm went off. Despite being tired from waking up at 4:30 AM, I hopped on the treadmill for a 4 1/2 mile run. As I'm sure you know, I usually only do 4 miles a day during the week, but I've been wanting to build up my mileage over the winter. So, to do this, I'm following the 10% Rule – the idea that you can safely increase your running mileage or time spent running by 10 percent each week. I've been doing this on/off for about 3 weeks and so far so good 🙂
After my run, I enjoyed some of my awesome homemade granola on some Honeynut Cheerios…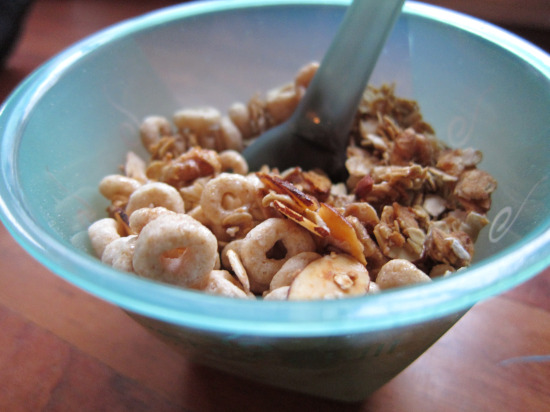 For lunch today, our boss took us out to a local family diner. Although they served Diet Rite (What's up with that? I didn't even know it still existed!), the food was really good. I had a huge Greek salad with olives, feta, cucumbers, and grilled chicken. It was superb! Sorry, no picture – I have yet to master the art of taking food photos in front of my coworkers.
Dinner happened to be leftovers of the chicken and dumpling soup kind…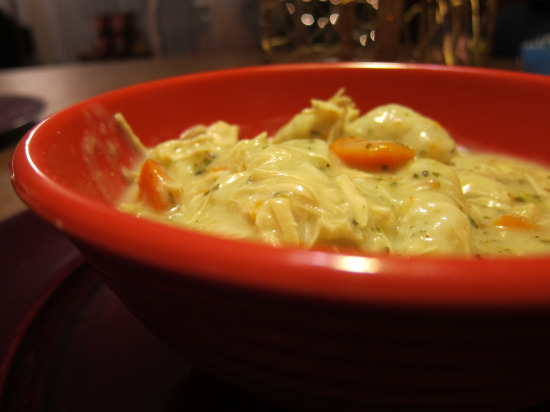 This was so filling I couldn't even finish my bowl!
Ok, off to study. I am almost finished with Chapter 3 of my personal training book. I want to get through chapter 6 by the end of Sunday – that's a tall order because the chapters are very long! Wish me luck 😉