Hello everyone! I'm feeling so much better than I was earlier today. I've decided I'm not going to let a few sour apples spoil my work endeavors!
Even though I only had one piece of not-so-good pizza and a little salad for lunch, I just wasn't hungry for dinner. I came home around 6:30 PM, cleaned up a bit and then debated on dinner. I knew I needed to eat something. Then, I remembered my special delivery from a few days ago…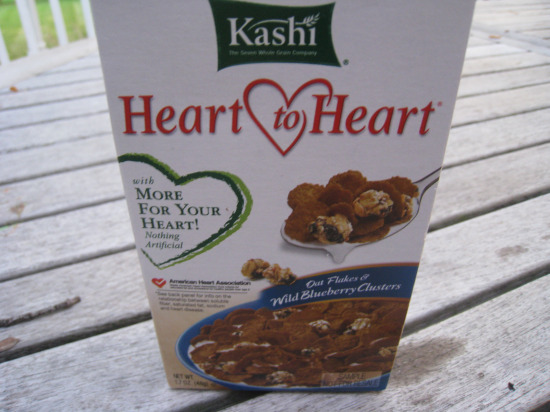 My new Kashi Heart to Heart cereal finally arrived! This was a single serving size box – even though it looks full size. It was just perfect for a light dinner, but still full of nutrients. The cereal has 130 calories per serving and 4 g of fiber. Plus, it has little clusters of blueberries!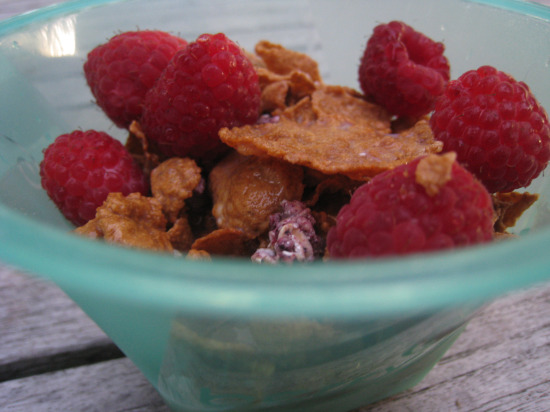 I added raspberries to mine to give my cereal a little more kick, but you can clearly see the blueberry cluster right up front. Holy yum this cereal was fantastic! The blueberries even made my milk turn blue! I would definitely buy this cereal – even when it was not on sale – he he! I just wish it had more fiber like their other cereals.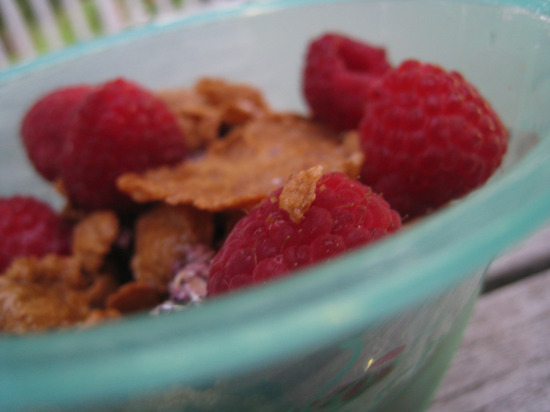 If you want to try a box of Kashi's new cereals, just go to the Kashi Web site to sign up for your free sample. How fun is that? Kashi has SO many awesome cereal products that it's hard to choose just one. But I know I'm preaching to the choir on that one!
Question – How do all of you feel about cereal for dinner? I don't eat cereal for dinner very often, only when I'm not hungry or there's absolutely nothing else in the house.
After my very long and tiring day I am really ready to curl up with a good book. Aside from Harry Potter re-reads, I haven't read a book for fun in sooo long! I used to be really into the Shopaholic books, but stopped after the first chapter of the Sister book. Now, I'm psyched to read….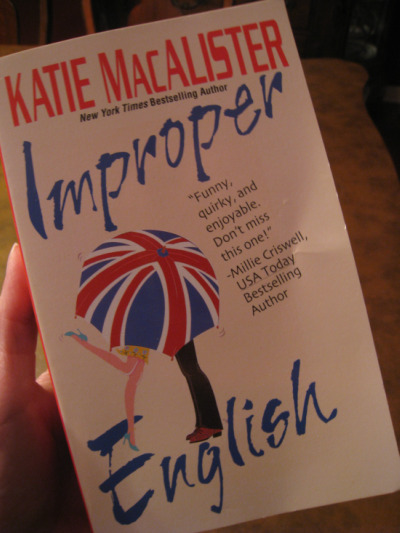 It's another book set in England, but this time with an American heroine. I just love books set in Britain, especially when there's a young British heroine. I mean, who didn't love Bridget Jone's Diary?  I also plan to have a little snack while reading my new Brit Chic-Lit…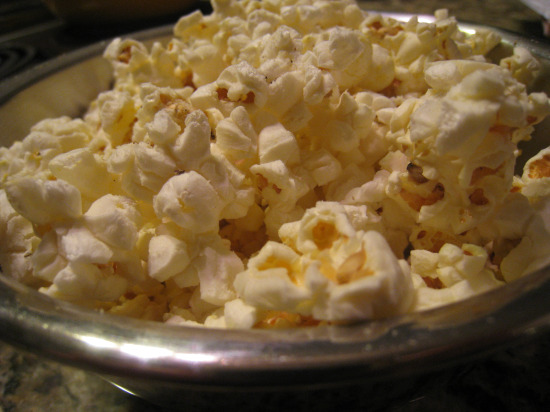 I decided that a new fun book needed a fun book snack – enter…100-calorie microwave popcorn!
Ok, enough chatter. Must get reading before I end up falling asleep! 
Night everyone.