Wow, what a day! We went nonstop from about 1-9 PM and had so much fun! Right after lunch, we headed to Brookfield Zoo just north of Chicago. The zoo itself is amazing but it's also featuring a traveling exhibit, Dinosaurs Alive!, until the end of September. A friend of mine had given us free tickets to the exhibit so we decided to go today.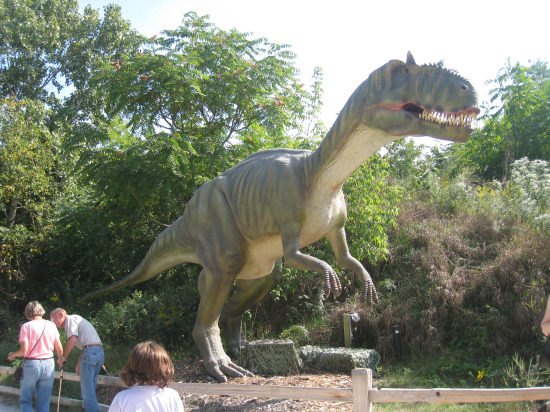 The exhibit had about 10 life-size, animatronic dinosaurs, that moved and roared when you pushed a button. It was pretty neat – kind of like being on the Dinosaur ride at Disney World. The rest of our zoo time was spent viewing the animals – bears, gorillas, penguins, etc. While walking around, I got a little hungry so I tore open my third and final Odwalla bar…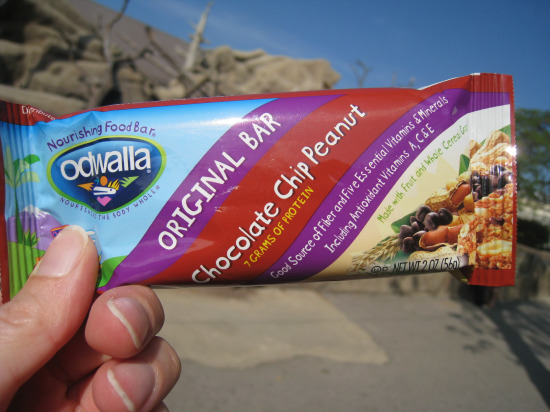 Once again, I really did not care for this power bar so I only ate 1/2 of it. It was overly chewy and really did not have much of a flavor and what flavor it did have was not very good. I don't plan on buying these bars again – unless I have no other options – give me a LUNA or LARA bar any day!
After the zoo, we headed to dinner at Antico Posto, an Italian restaurant, for dinner. We started with the typical Italian restaurant starter – bread and oil. But I do have to admit, this bread and oil combination was exceptionally good.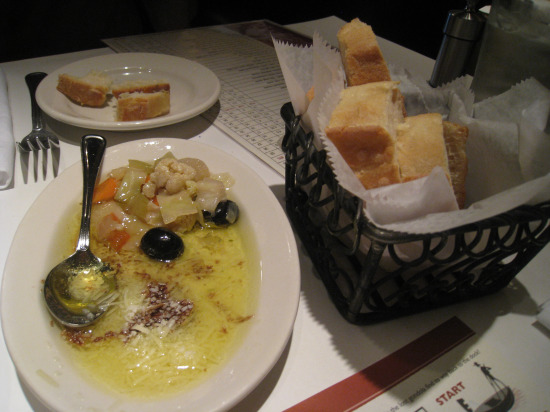 That is my excuse for eating way too much of it! The bread basket is my #1 downfall at restaurants. I still haven't figured out a way to control my bread habit. I always tell myself to only eat 1 or 2 pieces then push the rest away, but somehow I don't hear that little voice when I'm actually munching on the bread.
For my entree, I ordered the cavatappi pasta with roasted chicken, fall veggies, and parmesan cheese all in a chicken-based broth.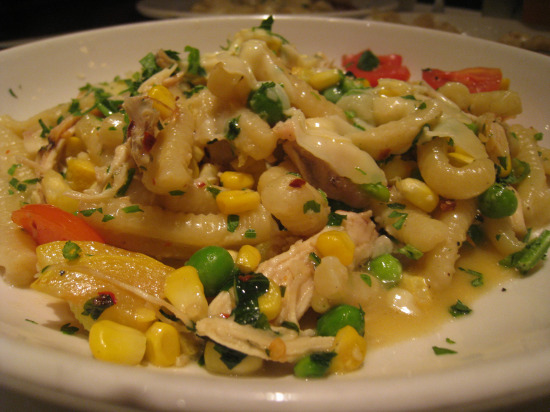 The dish was very good, although it seemed like it was missing something. I think a few red peppers or spinach would have made the dish even better. I ate about 2/3 of it then gave the rest to Scott.
After dinner, we did a little shopping. We hit Anthropologie, Lucy, and Nordstrom but didn't manage to find anything within our budget to buy. For all you Foodie bloggers out there, Anthropologie had a ton of new dishes (plates, bowls, etc.) in all different designs and colors. They're a bit expensive but worth a look if you're wanting to spruce up your food shots.
On the way home, we stopped at Red Mango! I have been wanting to go to this place for months now. I've heard so many great things about it (as well as pinkberry) and really wanted to try it. I decided to get a regular size original yogurt with watermelon chunks and bits of Ghirardelli chocolate.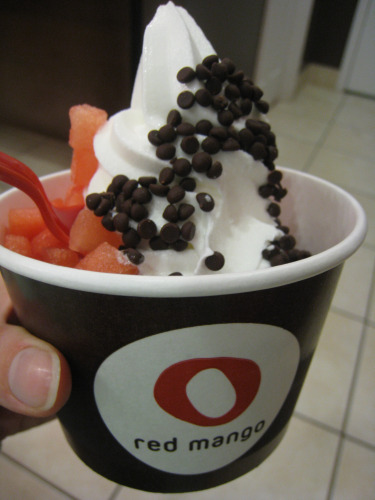 Oh my gosh – this tasted like pure Greek yogurt – and you all know how much I LOVE Greek yogurt! I loved this new treat and could easily see how a person could become addicted to the creamy, sweet taste. On the other hand, my husband did NOT care for the froyo at ALL. But then again, he does not like yogurt – Greek or any other kind. Thankfully, he tried a sample before buying a full cup. He opted for one of their flavored iced teas instead.
I am so tired now from walking around for hours and hours today – but it was great exercise! Tomorrow, I'm planning an 8-miler which should take me just over an hour to complete (hoping for no more than 65 minutes). So I'm off to bed.
Night All!