My Barnes and Noble trip was less than productive. I had planned on reviewing a bunch of videos for a project I'm working on, but realized that I forgot my headphones. Obviously, it would have been very rude of me to listen to the videos out loud at B&N cafe. So, I worked on a few other small things then headed for home. 
On the way home, I stopped at Fresh Market to pick up a loaf of freshly-baked whole-grain bread and some garlic French rounds – both for the awesome split-pea soup my husband and I made for dinner.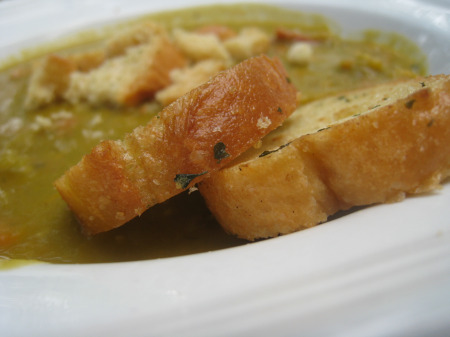 I thought the split-pea soup was fantastic. The ham hock I used gave it a ton of flavor and the sweet potato gave the soup some added color, and an extra boost of vitamins A and C. Even peas themselves offer great nutritional value, because they are packed with protein.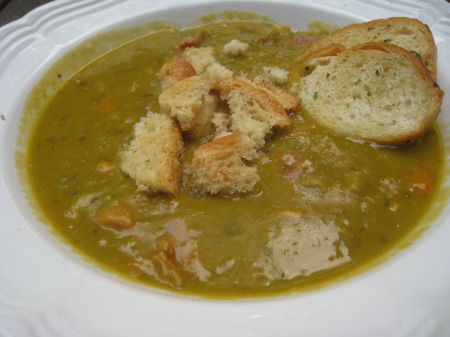 I've loved split-pea soup since I was a kid but only started making it homemade as an adult. To make the soup, here's what you'll need…
RWC Split-Pea and Ham Soup 

1 yellow onion, chopped
3 large carrots, chopped
2 celery stalks, chopped
1-2 tbsp olive oil
14 oz dried green split-peas
64 oz chicken broth/stock
1 sweet potato, skin removed and cut into small cubes
1 medium ham hock (about the size of a full chicken breast
4 tsp dried parsley
1/2 tsp dried marjorum
1/4 tsp oregano
a sprinkle of rosemary

Heat oil in a large sauce pan. Add onion, celery, and carrots and saute on medium until just softened. Add the split peas, chicken broth, sweet potato, ham hock, and the spices to the sauce pan. Bring to a boil, then simmer for 60 minutes. Remove ham hock, and slice meat off the bone, cut into small pieces, and set aside. Discard ham hock. Puree up to half of the soup mixture in a blender, then return blended soup to the sauce pan. Add ham pieces, and salt and pepper to taste. Garnish with croutons or French bread rounds.

Serves 8 people.
This recipe makes way more soup than needed for just 2 people. But we usually freeze one or two quarts to make as a quick mid-week dinner.
We were especially full from dinner because, in addition to soup, we had baked feta cheese with fresh multi-grain bread.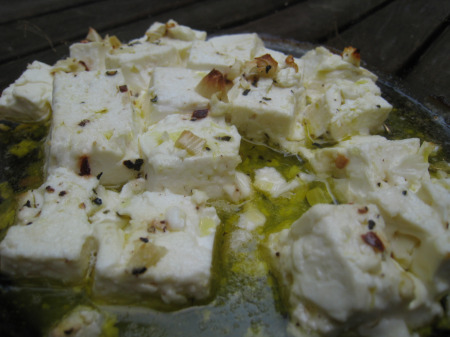 I've had baked feta a couple times before and LOVED it both times. Tonight was the first time I made it at home. Here's what I did:
Spicy Baked Feta

4-8 oz block of feta
1/4 cup olive oil
1 garlic clove minced
1/4 tsp red pepper flakes (or more if you like it hot!)
fresh ground pepper

Pre-heat oven to 375 degrees. Cut the feta into large chunks (or leave as one big chunk if you like) and place in a shallow oven-safe bowl.. Mix oil, garlic, red pepper, and ground pepper in a separate bowl and pour over feta. Bake for 10-15 minutes until cheese is slightly brown. Spread warm cheese on fresh bread or French rounds.
Baked feta is so much better when it's served warm, mainly because you can easily spread it on your bread. Although my baked feta tasted good, I let it cook for nearly 25 minutes because I was preoccupied. This was way too long and the cheese was a little rubbery and hard to spread on the bread.
I have sooo much to get done tomorrow, it's not even funny. So, I'm outta here. Hope you enjoy the recipes. Chat with you later.