Hello All! I had a very productive morning and afternoon at work, getting things ready for a big meeting I have in the next month or so. But, I wasn't too busy to enjoy a nice, wholesome lunch! Unfortunately, I ate lunch at my desk – I was just too busy to leave my office – ugh.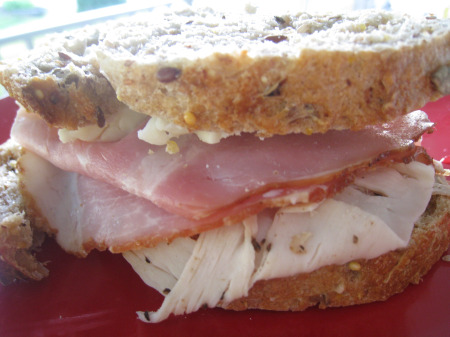 I enjoyed a nice size sandwich made with all natural 12-grain bread from Fresh Market, a high-end grocery store near my house. I absolutely love shopping at high-end markets and grocery stores like Fresh Market, Whole Foods, and Trader Joe's. It feels a little like shopping in a quaint market in Paris or London. But, what's even better about these stores is that they specialize in high quality, all natural foods and their products just seem to taste better. You can also find a wider variety of specialty foods, like gourmet cheeses, meats, and super fresh produce. But a HUGE caveat is that these stores tend to be more expensive than a typical grocery store, so I can't shop there as often as I like.
Anyway, I enjoyed the bread – it was very dense but you could still see all of the seeds and grains popping out – can you say holy fiber? My sandwich consisted of lean ham and a slice of peppered turkey breast with a smear of French brie. Of course, I had to throw in some raw veggies on the side.
After my stomach settled, I went for a 30 minute walk. I know, I know, I have work to do, but all work and no walking makes Jen a grumpy chic. I headed out with my cell phone which doubles as a radio and walked just fast enough to not break a sweat in my "work" clothes. It was just the thing I needed to clear my head and face the afternoon. I also burned a few calories which doesn't hurt either.
Although my sandwich seemed filling at the time, I could tell that it just wasn't enough to get me through the afternoon. About 3 PM, my stomach was growling like crazy, even though I had plenty of water and tea after my walk. I'm so glad that I brought an emergency snack – a homemade blueberry oatmeal muffin. It was pretty small, but hit the spot with some green tea with lemon.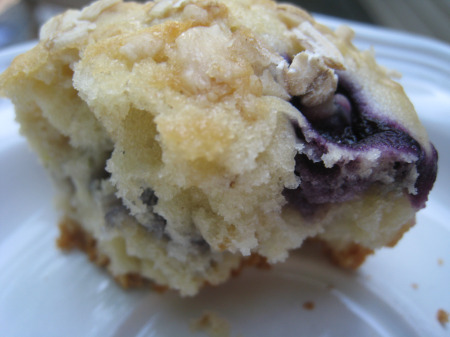 Sorry to say, the recipe was not really my own recipe – it was an adaptation from a Better Homes and Gardens cookbook. Although my father-in-law has an awesome blueberry cake recipe that I'm dying to try. The recipe was handed down from his father who actually won awards with it. I think it's safe to say, I will not be sharing that recipe anytime soon!
I raced out the door about 5:15 and made it home around 5:45, not bad for a Monday. I started preparing a little dinner – it was a stir-fry kind of night.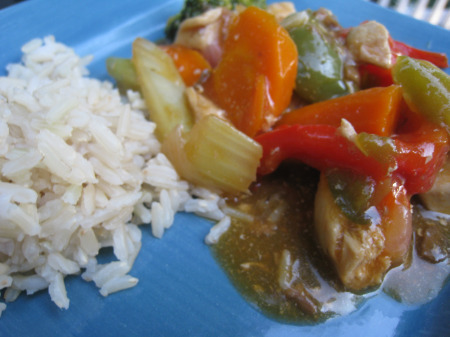 This stir-fry recipe is homemade, courtesy of my mother-in-law. I won't give away the super secret sauce, but the stir-fry itself included boneless chicken breast, red bell peppers, celery, carrots, onions, and broccoli (added at the very last minute). My husband and I put this on a bed of brown rice for a super Monday night meal. By the way, if you haven't already heard, brown rice is a more nutritious choice than white rice – it has more fiber which fills you up more so you eat less.
I had about 1/2 cup of rice and about 1 1/2 cups of stir-fry, which ended up being a pretty low-calorie, very filling dinner. But, I had enough room for dessert!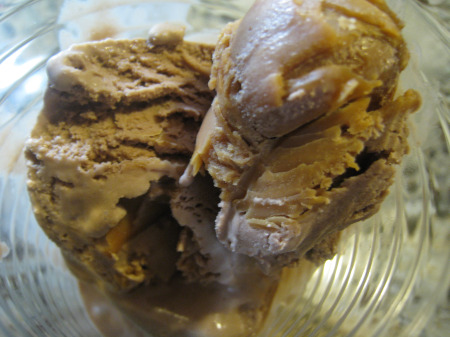 Alright peeps, it's off to bed for me. I have a jam-packed day at work tomorrow and need to fit in a run in the AM or else I won't make it through the day. By the way, Starbuck's is offering a free pastry tomorrow with the purchase of any drink from open until 10:30 AM. Starbuck's states that it's pastries contain no trans fat, no high fructose corn syrup, no artificial dyes, and no artificial flavors. I know where I'm going tomorrow morning!