I was really on a roll this afternoon – but I still have a ton more to accomplish this week. 
A few hours after lunch I was feeling a bit hazy from staring at the computer screen. I woke myself from the trance with a little snack. I nibbled on a few thin pieces of Tillamook's Vermont White Cheddar Cheese. As "block" cheeses go, this is one of my and my husband's favorites. I put the cheese on this baby!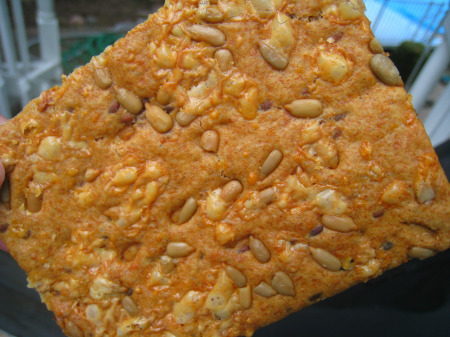 You might think this is just a cracker but really this is no ordinary cracker, it's a Dr. Kracker flatbread piece – Sunflower Cheddar flavor. If you've never had Dr. Kracker flatbreads, they are organic crackers made with spelt flour (wheat-free flour) and all-natural ingredients. The crackers are huge, so at 105 calories-3 g fiber, one is sufficient.
Although they are expensive, I prefer this cracker over all others because the flavor is amazing. And, the cracker is so sturdy you can load just about anything on it, from cheese to dips, and from meats to salsa. They also have to be the crunchiest cracker I've ever eaten.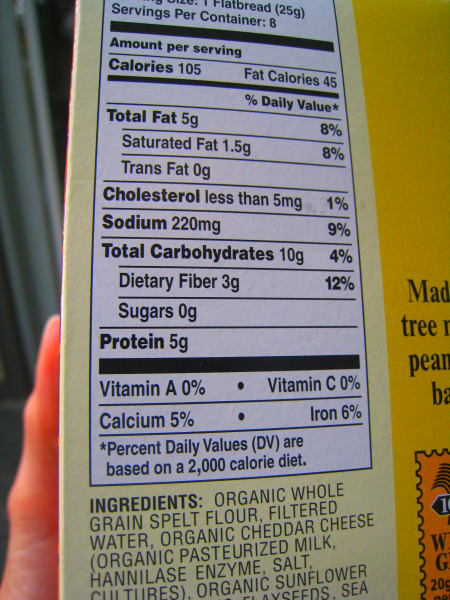 I've seen Dr. Kracker products at Whole Foods Markets and Fresh Market, but I've also heard that Costco sells them – I'm still searching for them in their miles of aisles! Plus, if you've ever been to Jason's Deli, they have individually wrapped Dr. Kracker crackers in their salad bar. I always snag one extra for a work snack the next day.
For dinner, I finished the homemade chicken and rice soup that I made on Saturday. It was probably a little too warm out for soup but who am I to let good, healthy food go to waste?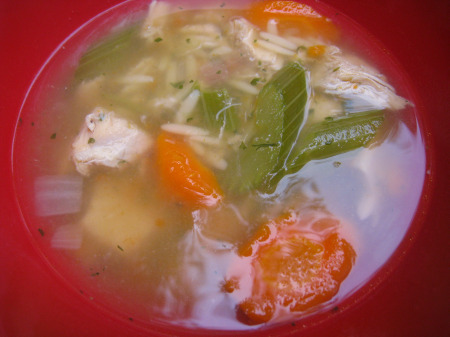 I enjoyed the soup with a side of 12-grain artisan bread from Fresh Market, with a little of the dynamic duo – Trader Joe's olive oil and balsamic vinegar. So yummy!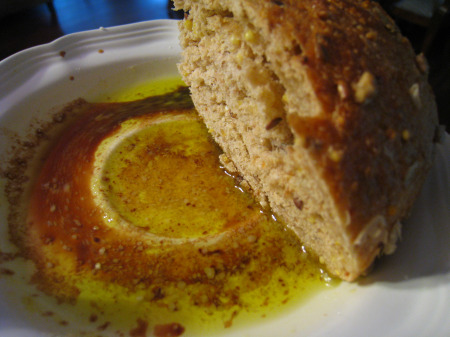 With just a small bowl of soup and a little bread in my belly, I left plenty of room for dessert. I finished off the chocolate peanut butter ice cream in the freezer (about 1/2 cup) and had mixed feelings about seeing the bottom of the carton. I was sad to see it was gone, but happy that it would not be in my house anymore!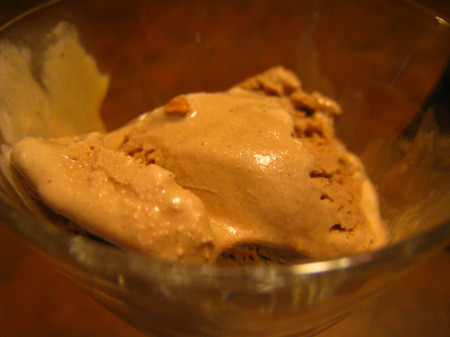 This time, I enjoyed the ice cream in a martini glass. That may seem a little eccentric, but my husband and I have a load of glassware that we received for our wedding that has basically gone untouched since we put it in our cabinets. I often wondered why we were waiting for a big dinner party or the president to come for dinner to use our fun glassware. So, I decided to live on the edge a little and use our fancy stemware –  martini, margarita, and wine glasses –  for everyday use during meals. Also, these glasses are typically smaller than regular drinking glasses and much smaller than bowls (such as those for ice cream). So it's really difficult to overfill them, a technique that helps you eat less but enjoy what you do have to the fullest.
Besides – chocolate ice cream in a martini glass – now who wouldn't drink to that!