Hello All! Thank you all so much for all your sweet and concerned comments about my lost camera. I am liking the new one – the Canon SD 980 IS, however, I may have my sights set on an even better one!! Hopefully, I'll have more details about that in the coming weeks. But, let's just say that one camera is NOT enough for this household!
After my split run (2 miles on the t'mill and 2 miles outside) I came home and enjoyed a bowlful of fluffy goodness…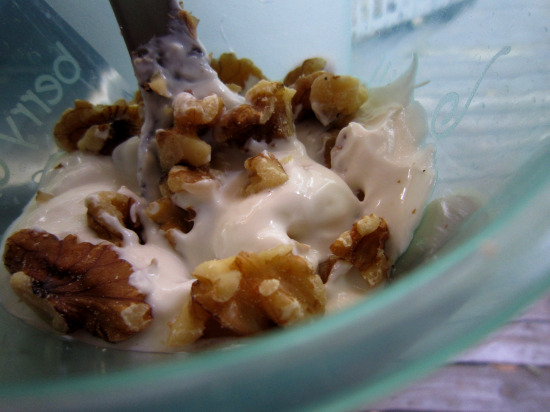 Today I tried Chobani's fat free vanilla Greek yogurt topped with walnuts for extra crunch and MUFA. This yogurt was pretty tasty, but I still prefer Trader Joe's Greek yogurt to most.
I arrived at work about 9:15 AM, Starbuck's skinny vanilla latte in hand, and promptly got down to business. For nearly 4 hours straight I barely left my cube. I was so entrenched in work that I didn't even feel like eating lunch – just wasn't hungry. Instead, I munched on some homemade chex-mix, full of chex cereal, mixed nuts, and pretzels (what, not chocolate?), that was found in our staff lounge. I have a very strong feeling I should have eaten lunch, because around 4 PM I was cursing that chex-mix big time – ugh! Please note that I do NOT normally skip lunch completely. It's only on these very rare occasions when I'm just not hungry that I do actually forgo a lunchtime meal. I do not recommended it at all, because most of the time, I will end up eating junk or over eating later in the day.
Anyway, now it's on to dinner with Scott, which is always event. Tonight, I came home to a very clean house (thank you!) and a huge pot of potato soup!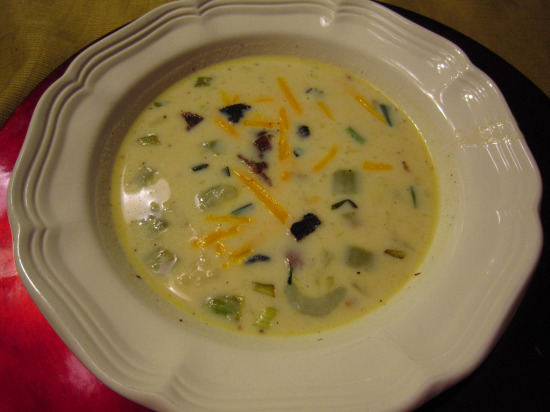 Hmmm….sooo good on a cold day! I will have to admit, I do like my version of the potato soup a tad better. I think it may have to do with the carrots and leeks that I add – they give my soup a ton of flavor. But this version is still quite tasty.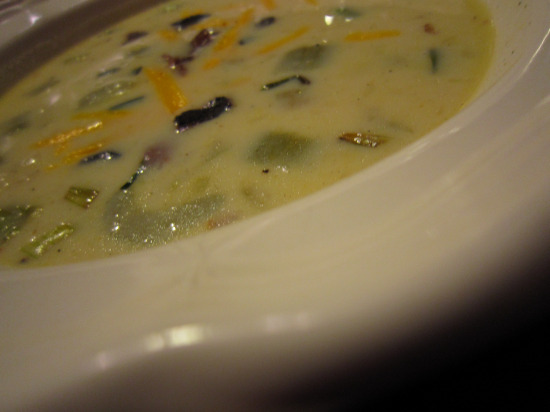 While we were waiting for the soup to finish cooking, I decided to finally break into the Trader Joe's pumpkin bread…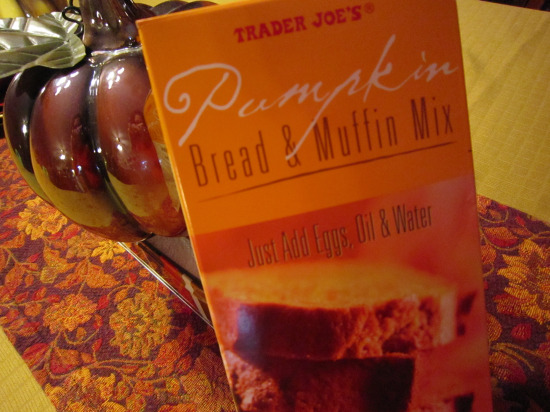 I simply followed the recipe on the box, only I added about a cup of chopped walnuts right on top…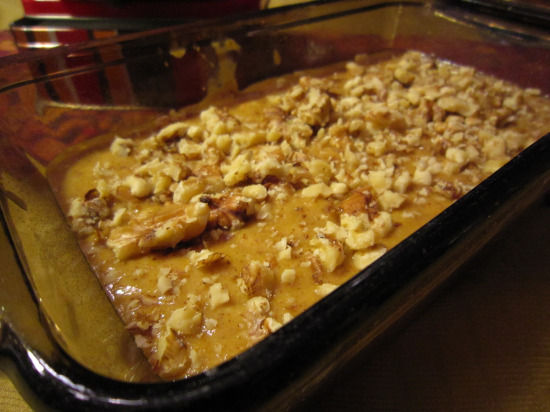 The smell of this batter was just heavenly! It's amazing what certain food scents can conjure up in your mind. I felt like it should be Thanksgiving or at least November.
About an hour later, the sweet bread was finally puffed and fluffed and ready for me to take out of the oven…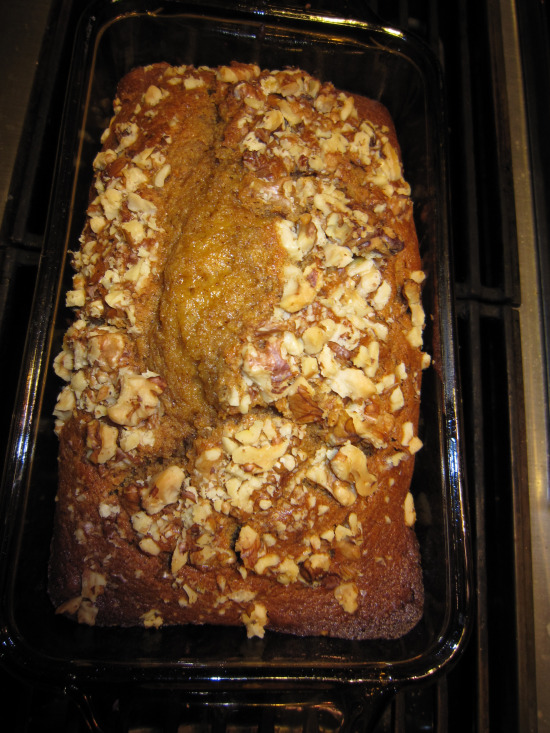 Next came the taste test….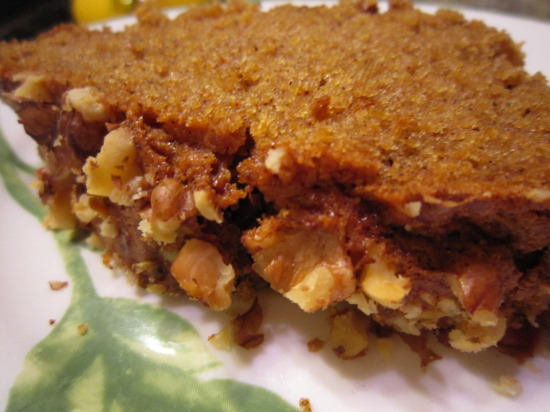 This bread was really good, although I felt like there was something missing. I can't put my finger on it just yet, but I can assure you that if it just had a little something more, it would have been fantastic. Scott, on the other hand, liked it "enough to have a second piece". I think I'll try homemade next time….
I am completely spent for the night. Have a great evening and see you all tomorrow!