This afternoon, I was in deep thought looking out our back window when I noticed this scene…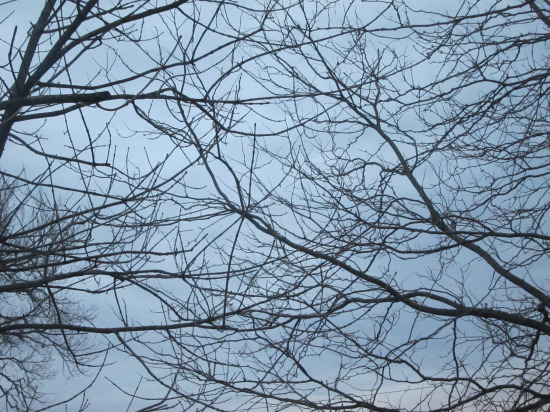 A spiderweb of trees in our backyard! It was amazing and kind of creepy all at the same time.
Earlier in the day, I went for a cold run for which I had to bundle up in layer after layer. After the run, I thought I'd give Greek yogurt another try after my spoil-sport yogurt yesterday…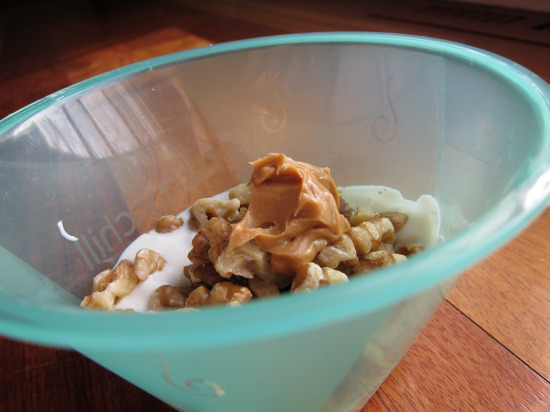 I mixed Trader Joe's vanilla Greek yogurt with a handful of walnuts and a dollop of all-natural peanut butter..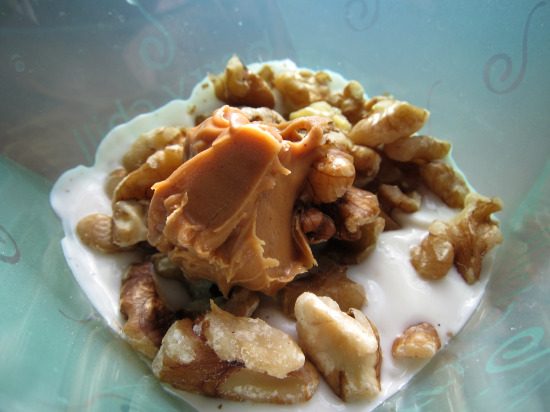 When you mix it all together it's like peanut butter fluff with a whole lot of crunch! I also enjoyed some super yummy tea..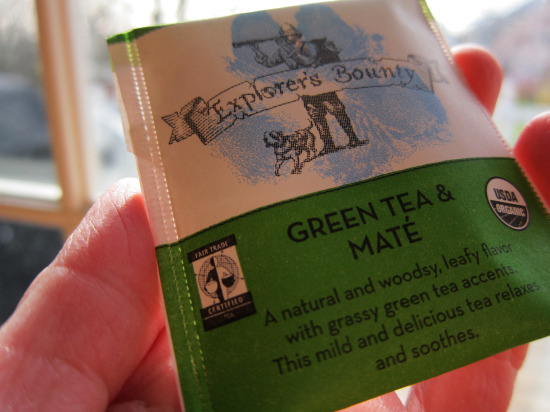 About a month ago, the nice folks at Explorer's Bounty sent me a big package with a bunch of all-natural organic goodies, like chocolate covered nuts and puffed fruit. I did end up tasting several of the products and was not a huge fan of the food. Don't get me wrong, the products were not horrible, I'm just not a puffed fruit eater and am not a lover of organic chocolate. But, if you are, you're in luck.
Running With Cake is hosting its FIRST EVER GIVEAWAY!! I have several unopened packages of Explorer's Bounty products, including puffed fruit, crackers, and chocolate-covered macadamia nuts. To enter my giveaway, please do the following:
Visit the Explorer's Bounty site to check out their story and products, AND
If you have a blog, mention the Running With Cake giveaway on your blog, AND
Leave a comment on this RWC post letting me know your favorite organic chocolate brand (any brand) and what you like about it (I'm hoping to find one that I actually like!)
Please have all entries to me by 9 PM Eastern on Tuesday, November 17. Then I will pick a winner randomly and announce the winner to all. OK, ready, set GO!
Although I didn't care for Explorer's Bounty organic food, I LOVE their tea!!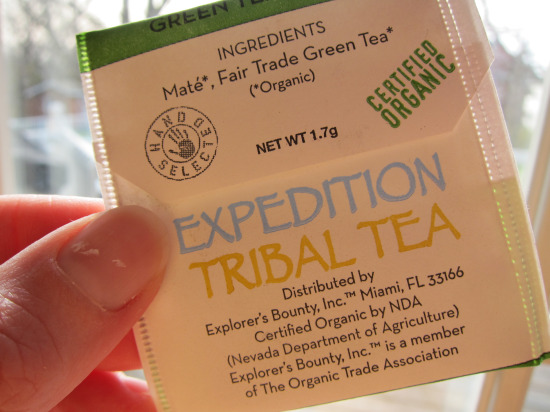 They sent several types of herbal tea for me to try and today I gave the Green Tea a whirl. Let me tell ya, I am not a big green tea drinker (although Scott loves green tea) but this tea was great! I liked it so much I almost made another cup. I even gave Scott a taste and he said – "yeah, it's good" – that says a lot for him since he's super particular about his teas. What I really liked about it was the light flavor – even after steeping it for over 5 minutes. I think that's why I haven't liked most green teas in the past because they are too strong tasting to me. I am definitely looking forward to trying the of my tea samples – yum yum!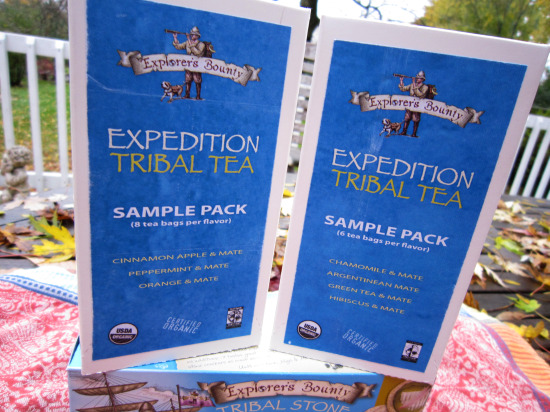 After breakfast, instead of doing the early Christmas shopping that I intended to do this morning, I ended up not leaving the house until 11:30 AM to run to Costco and the grocery store.
Scott was working at home today, so when I arrived home from shopping we made some sandwiches for lunch…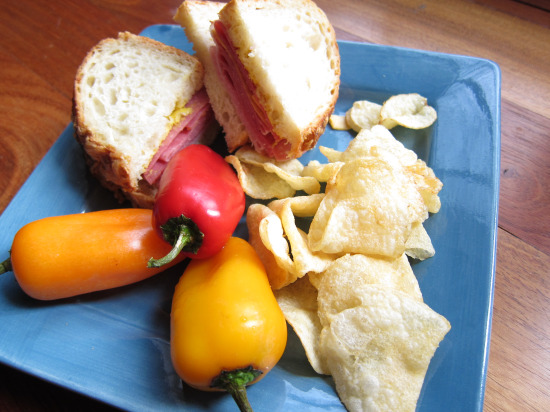 I love little bell peppers! They are a) convenient because you don't have to cut them up to take them to work, b) they are sweet, and c) they are so darn colorful and cute!.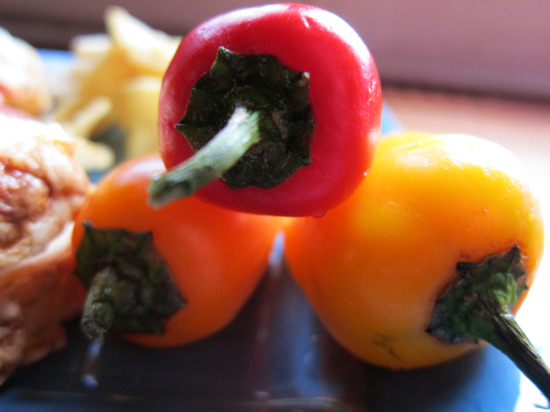 All three reasons were enough for me to buy a jumbo size bag at Costco. I just hope I can eat them all before they go bad! By the way, Costco was rockin' the samples today – from sausage, to cake, to mozzarella cheese, I could have made a meal out of everything they were having. I wasn't really in the mood for snacks luckily because I probably saved at few hundred calories.
It was my turn to make dinner tonight. Scott often says that whenever it is my turn to make dinner I always decide that we should go out to eat. Well, I really attempted to make dinner tonight. I even went to defrost chicken and realized that we were on our last 2 chicken breasts. I was really weighing the option of defrosting chicken and not having any for the rest of the week or going out to eat. You all know where this is headed…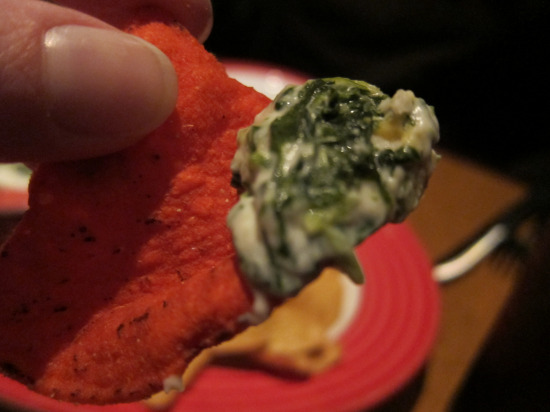 Yes, we ended up at Friday's, where we had the obligatory spinach and artichoke dip. I used to love Friday's but now have a more luke warm feeling towards the restaurant. As for my entree…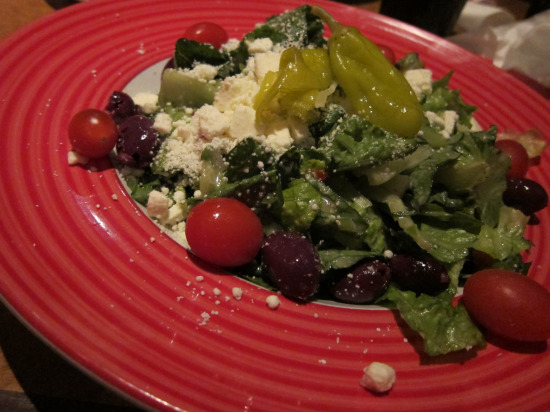 I'm just not having luck with foods these days, especially Mediterranean/Greek salads from restaurants. Tonight, although my salad looked good, after a few bites I realized that it was completely loaded with dressing, so much that it was soggy. Yuck! I really dislike eating my salad when all I can taste is dressing – no matter how good the dressing is. I ended up eating about 1/4 the salad then pushing it aside. I left Friday's a little perturbed and hungry. I'm having serious thoughts of eating a big bowl of Kashi right now.
Remember to enter the Explorer's Bounty giveaway by 9 PM Eastern Tuesday!
Have a great night everyone!