Hey out there in Bloggerland! Hope all is well. I just came back from a whirlwind shopping excursion. In just 1 1/2 hours, I went to 4 stores, including Target. But, before I get to the shopping details, I want to tell you about the awesome dinner I had…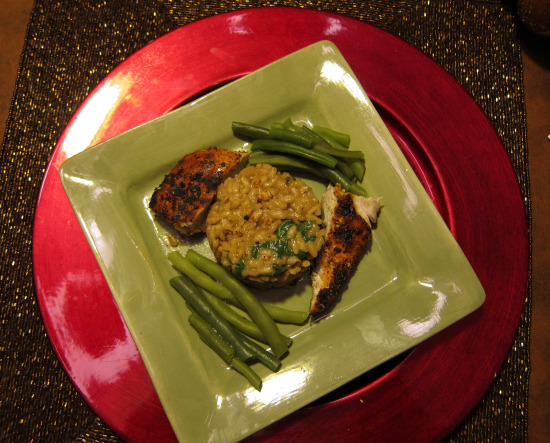 Scott made mesquite-rubbed chicken with crisp green beans. But, the real star of the show was the spinach risotto! He browned the rice just right which gave the whole dish a ton of flavor, plus adding spinach was a great way to get more veggies into the meal, and add a little color to the risotto. As far as the recipe, we just follow the recipe on the box – but when sauteing the rice, we add some onion; then we add spinach at the very end. Perfect!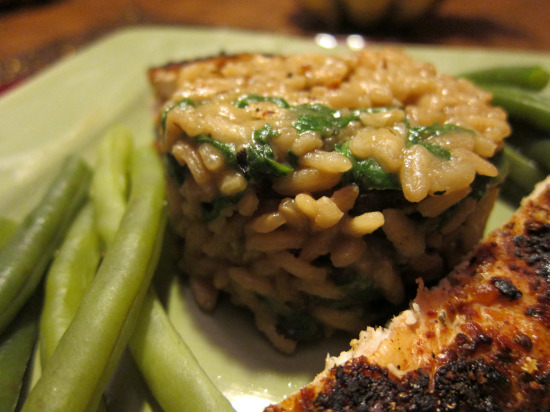 Now, back to shopping! Around this time of year, I start thinking about Christmas presents -who to buy for, what to buy, and what paper to wrap the gifts in. You may think it's a little early to buy wrapping paper. However, in the past, when I've waited until after Thanksgiving to buy my paper, I'm left with a bunch of crap not-so-nice paper that just screams Black Friday leftovers.
Each year, I try to go with a different theme for wrapping paper, such s Toile, whimsical, Victorian, etc. Some years, I even try to match my decorations (tree, table, etc.) with my wrapping paper – that's when we're not in a recession of course! But, for my wrapping paper this year, I chose….woodsy!
I almost always buy my Christmas wrapping from Hobby Lobby, but tonight I arrived at the store later than expected (20 minutes before they closed), so I started grabbing every roll that I liked, with no theming strategy al all. But then, I finally listened to my inner voice telling me to put everything back and just come another day when I had more time to really think about my theme.
Then, it was on to Target to pick up a few essentials – LUNA bars etc. Since I was already there, I just so happened to mosey over to the wrapping paper section. That's when I saw all of the outdoor/tree/pine cone themed paper. I knew instantly, that was the theme for me!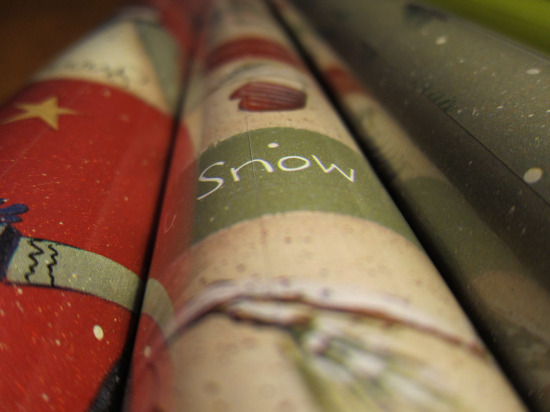 It's kind of odd that I should choose to go with a woodsy/outdoor theme. I don't like camping, hunting, or fishing, but I do love me a good pine cone! Now, all I need is some matching ribbon or twine and I'll be all set!
So, I just have to ask – Do any of you go with a theme for your holiday wrapping? And/Or, Do you go with a particular theme for your decor or tree ornaments? If so, what themes have you done in the past and what are you going with this year?
I'm starting to fall asleep as I type, which is a very good sign I need to get to bed, don't ya think?
Have a great night everyone!