Hi All!
It felt awesome sleeping in this morning! I didn't get up until 7 AM. I'm sure I'll get a reality check on Monday when I go back to work.
Today started with a big bowl of Kashi Go Lean Crunch – I'm making up for lost Kashi from last week – he he!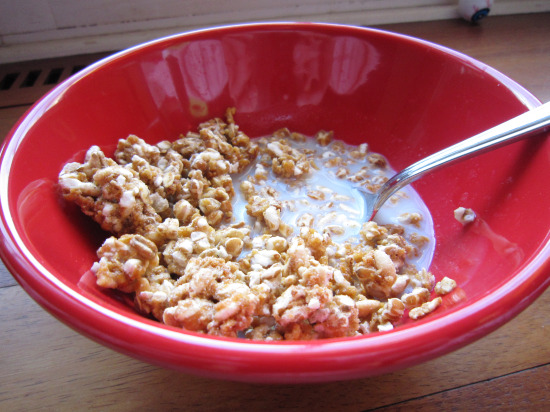 After a morning of more cleaning and shopping in 70 degree weather, Scott cooked up some burgers on the grill for us…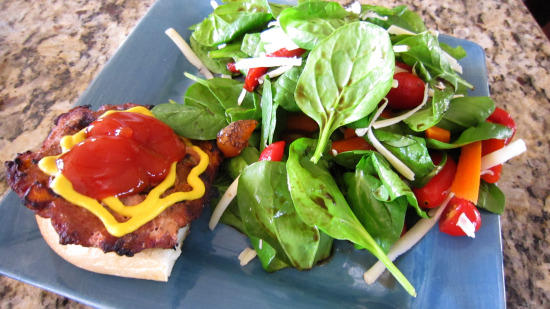 I can't believe that it was 70 degrees out day!!! It's like I never left San Diego!
In addition to the burger, I also made myself a small spinach salad with…
2 cups of baby spinach
1 chopped carrot
1 tbs Mezzetta jarred red peppers
10 grape tomatoes
white cheddar cheese
And I topped it all with a little EVOO and balsamic vinegar.
Later in the day I ran to Trader Joe's to pick up a few things for dinner tonight. While in San Diego, I picked up the latest issue of Every Day With Ray. It has so many fabulous recipes, including the one I tried tonight…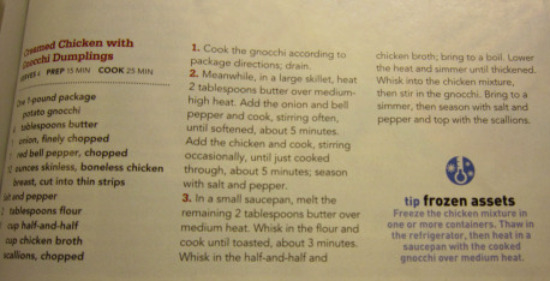 Sorry about the fuzzy photo. Scott thought it would be a good idea to at least show you what the recipe looked like but you can actually get the full recipe on Rachel Ray's site.
The main ingredients of the recipe are chicken and store-bought gnocchi which I so conveniently purchased at TJ's. Surprisingly, Trader Joe's only had one type of gnocchi and it wasn't even whole wheat. The actual recipe was super easy, although be very careful when simmering the sauce, my first attempt boiled over!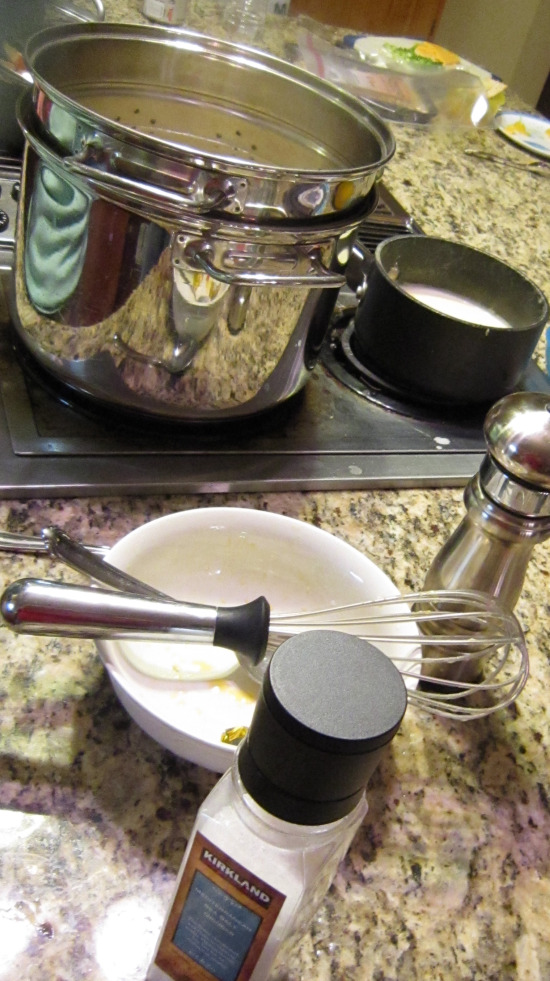 My second try went much better, especially because I watched it much more closely. And now, the final product…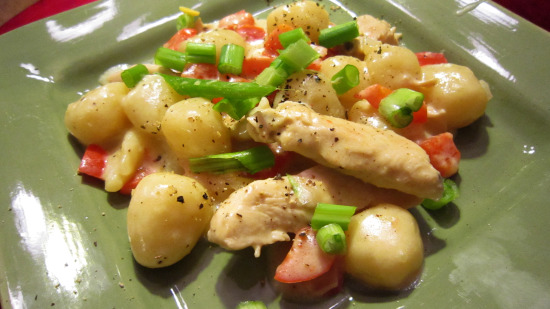 This seriously looks just like the photo – which means I done good! And, not only did the photo turn out well, but the dish tasted awesome! However, I would NOT eat this dish on a regular basis. Between the gnocchi and the cream sauce, this dish was very heavy and I'm sure not very low in calories either!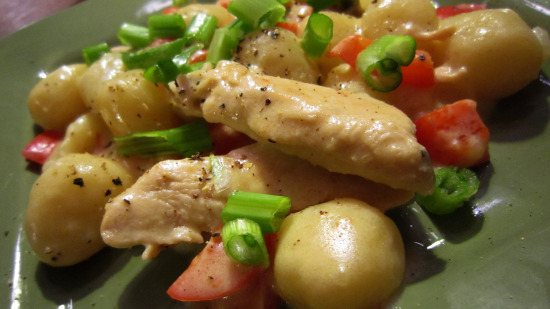 I just finished watching (or glancing at) the Fantastic Four on FX. This is the first time I've really seen Jessica Alba act. I've heard so many good things about her so was surprised that her acting skills in this movie were less than great.
We are in for another 70 degree day in Chicago tomorrow – can't wait! We're still debating on what we'll do to enjoy the weather, but I guess you'll all find out tomorrow!
Have a great night!