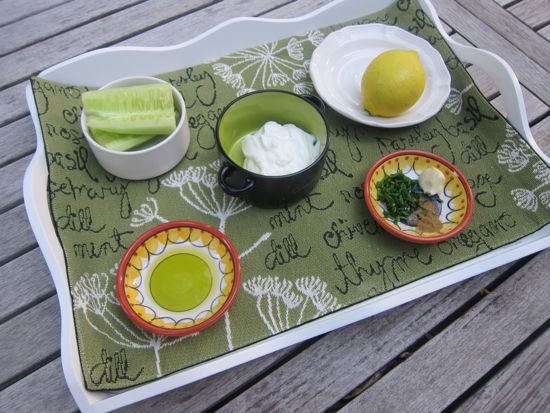 When I attended the Healthy Living Summit, I was fortunate enough to go on a tour of the Frito Lay plant in Wisconsin. I learned so much about Frito Lay chips and was quite impressed at all of the steps they are taking to make healthier and greener products.
Now, you all know I'm a chip addict. But I also love dips! I love dips of nearly every kind – bean dips, fruit dips, taco dips, veggie dips, chips dips, etc. However, I'm quite aware that dips often contain high amounts of calories, fat, sugar, and sodium. That's why I was so glad the girls at Frito Lay sent me a fantastic dip recipe made out of plain Greek yogurt.  Take a look at the recipe – it's so much healthier than most dips. Hint – it only has 45 calories per serving!
Greek Yogurt and Cucumber Dip

Serves: 8; Serving Size: ¼ cup

Ingredients:

1 English cucumber, peeled, halved lengthwise, and seeded
1 ½ cups nonfat Greek yogurt
2 tablespoons chopped fresh chives
1 to 2 cloves garlic, minced
1 tablespoon freshly squeezed lemon juice
1 tablespoon extra-virgin olive oil
Kosher salt and freshly ground pepper to taste
Cumin to taste

Directions:

Grate cucumber halves by hand or chop in a food processor until coarse, but not mushy. Place grated/chopped cucumber in a strainer and cover with a paper towel to squeeze out the excess juice. You may need to change the paper towel a few times.
In a medium bowl, combine the yogurt, chives, garlic, lemon juice, and olive oil. Fold in the cucumber and season with salt and pepper. Add cumin to taste.
Refrigerate until chilled, about an hour.

Nutrition Information (per ¼ cup serving):

45 calories, 5 g protein, 3 g carbohydrate, 0 g fiber, 2 g fat, 0 g sat fat, 0 mg cholesterol, 91 mg sodium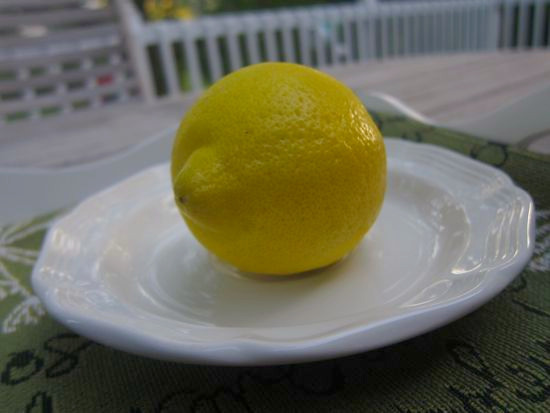 The other day I was craving something crunchy and salty, so I promptly made this dip and paired it with some Frito Lay SunChips. Fantastic! The creamy, spicy dip was a perfect combo with my SunChips, although I probably ate more chips than the dip! But hey, they have 18g of whole grains per ounce!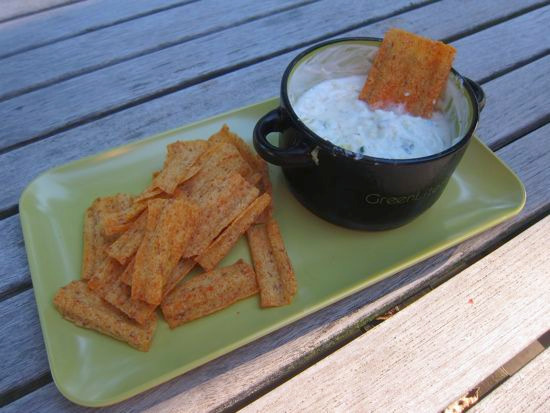 Frito Lay Giveaway
As I mentioned last night, I will be doing more giveaways in the future. And guess what? I have another one for you right now! Frito Lay has graciously offered to give one of my readers a fabulous Crate and Barrel chip and dip bowl, with extra dip bowls. Plus, they are throwing in a bag of Lay's, SunChips, and Tostitos Scoops!. And all of this just in time for Labor Day weekend! I sooo wish I could enter this giveaway myself! But because I can't, I'm giving it to one of you.
How to Enter
All you have to do to enter is either:
Leave a comment on this post telling me your favorite Frito Lay product OR
Tweet/retweet this post on Twitter
You must enter the giveaway by 9 PM Eastern on Wednesday, September 1, 2010. After that, I will pick a random entrant and post the winner on the my blog. Easy peasey, don't ya think?
Good Luck! Now, let's get snacking!