If you're old enough to remember the old Dunkin Donuts commercial, you will get the reference in my title 😉 Hope this isn't dating me – I was VERY young when I heard/saw this on television!
So anyway, late last night, I got the urge to make a little homemade granola. I've never tried Mix My Granola or other mail-order brands because I'm a little skeptical about their convenience and cost-effectiveness for my budget (why would I want to get addicted to something that I have to wait for in the mail?) And, I usually don't buy store-bought brands because they are typically loaded with sugar, fat (aka calories) and inevitably contain something that I don't like (raisins).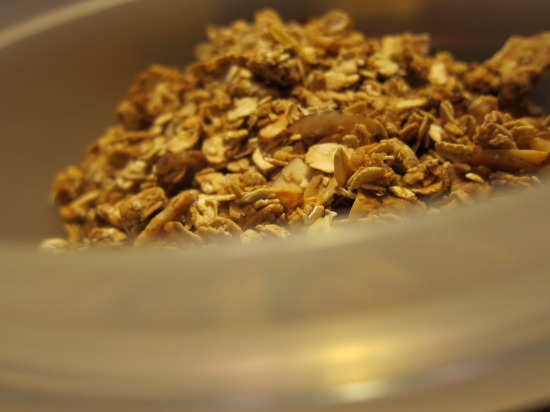 That's not to say that I will never try Mix My Granola (heard great things about it) or something similar, but all of these reasons made want to try making my own granola at home. And so the Running With Cake granola was born!
Running With Cake- Sweet and Crunchy Granola
1/3 cup light brown sugar (more or less depending how much sugar you want)
1/4 cup water
1 tbsp either honey or maple syrup
1 tsp vanilla
2 cups plain oats (not the quick kind)
1/2-3/4 cup of chopped nuts (walnuts, pecans, almonds, etc.)
Dried fruit (optional)
Preheat oven to 275 degrees. Mix the first four ingredients (through the vanilla) in a microwave safe dish (I use a glass measuring cup) and microwave for about 1 minute or until sugar dissolves. Combine oats with nuts. Then combine dry ingredients with the warmed liquid mixture. Spread the oat mixture on a cookie sheet and bake until golden brown, 50-55 minutes. Remove from the oven and immediately scrape the granola into a bowl. Add dried fruit and mix well. Store in an airtight container. Makes about 3 cups of granola.
And so, you will start with this…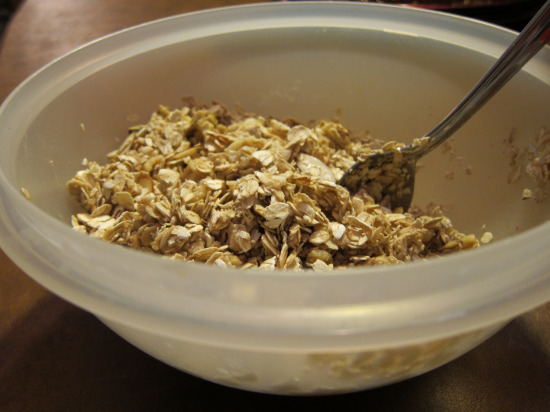 And end up with this!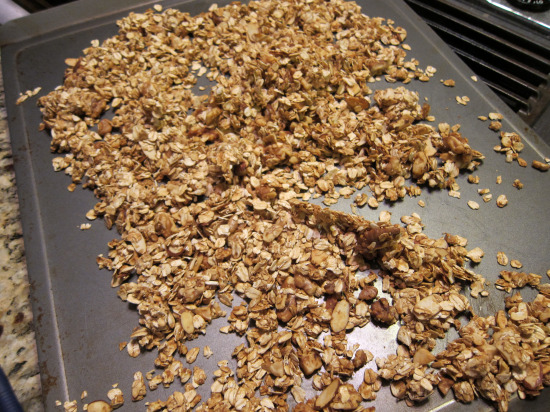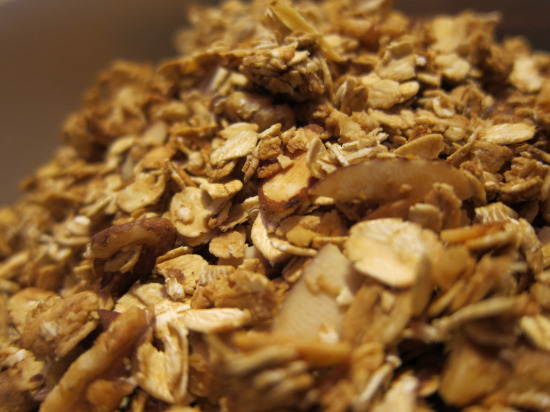 Totally yummo! It's also super versatile – you can add just about any nuts or dried fruit that you want, and even omit the honey/maple syrup if you're trying to watch calories. 
Try it in yogurt, oatmeal, cereal, and on ice cream, you won't regret it!