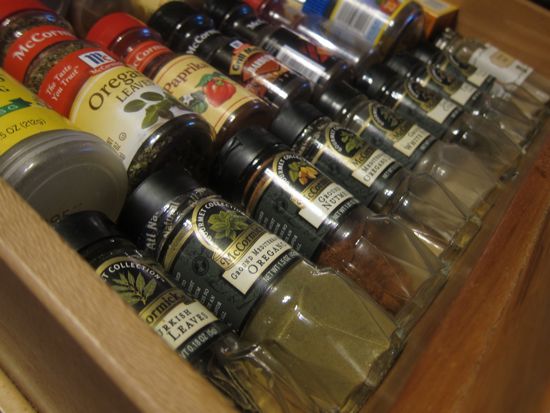 What's an easy way to add flavor to a dish without adding calories or fat? Spices of course! Scott and I regularly cook with spices, herbs, and rubs. Although our spice drawer is far from being complete, I think it would stand to impress any Food Network Chef. From exotic curries to fragrant chili powder to cracked peppercorns, our spice drawer is quite a site and one of the best aspects of our kitchen.
But our spice drawer didn't start out this way. I remember a time when our spice drawer wasn't even a spice rack. It was no more than a jar of garlic powder and cinnamon – those were rough times in the kitchen. But over the years, we've built a stock of many of our favorites like oregano, Italian seasoning, and cumin. In fact, we have so many herbs and spices that they can't all fit in one large drawer – we keep the overflow in the cabinet!
Aside from adding taste without calories, spices can also turn an ordinary meal into something extraordinary. Seriously, a full spice drawer can do wonders for a pound of meat, poultry, fish, pasta, or even tofu. Lemon pepper chicken – no problem! Spicy turkey chili – coming right up! When it comes to spices, the possibilities are endless.
If you're just building your spice drawer or would like to expand it, start with your basic spices and then build from there, depending on your tastes and favorite recipes. Good Cooking also provides a great guide to herbs and spices and their suggested uses. Go on, add a little spice to your life – your tastebuds will thank you for it!
Hmm, I think if I had to be a Spice Girl – I'd be Chili Spice – what about you?