Evening girls! I just returned from my first Williams Sonoma cooking class! It was more of a scaled down cooking show really…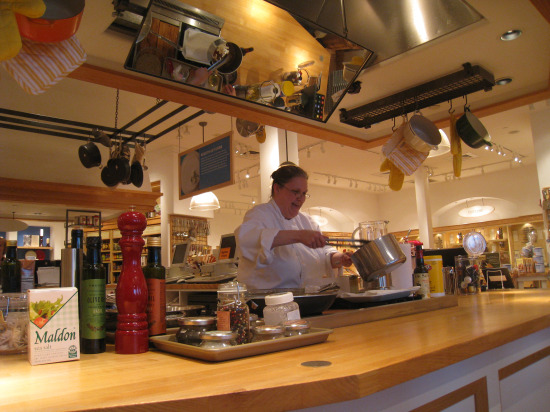 where the Chef stood behind the counter/stove and prepared a variety of dishes while giving us step by step instructions. There were about 10 people in the class, sitting in chairs in front of the stove, 3 men and the rest women. I was one of the youngest people there!
Tonight's themed menu was French Weeknight Dinners and included:
Citrus marinated olives
Lentil, bacon, and frisee salad
Pan-seared chicken with mustard sauce
Apple tart
I asked the chef what made the dishes "French" and she said that olives, lentils, mustard, and anything with puffed pastry (like the tart) are all considered French. 
First up, were the marinated olives, which were quite tasty, although I would do the recipe with all green olives. I can't divulge the recipe for copyright reasons but you can find the recipe in Williams Sonoma – The Weeknight Cook.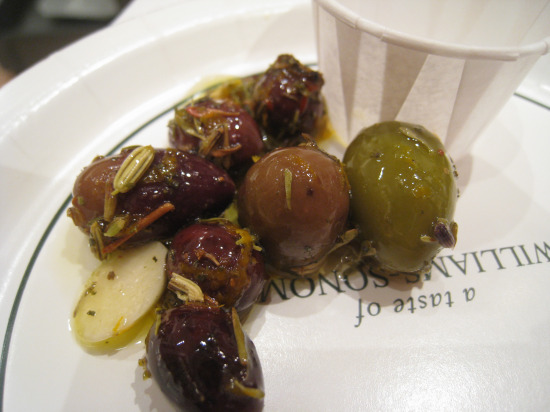 Next, was the lentil, bacon, an frisee salad…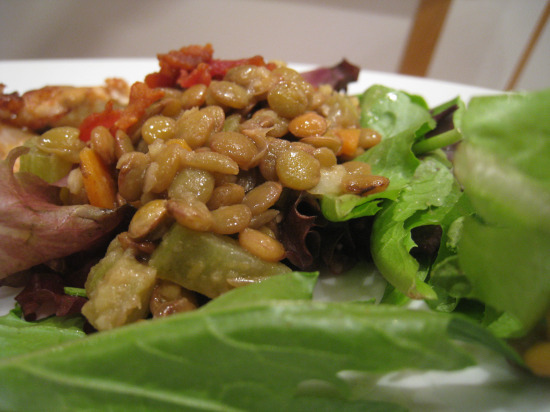 This salad was fantastic! It was made with brown lentils, carrots, and celery (among other things) and placed over mixed greens (the chef chose not to put it over frisee like the recipe called for because she said it was too bitter).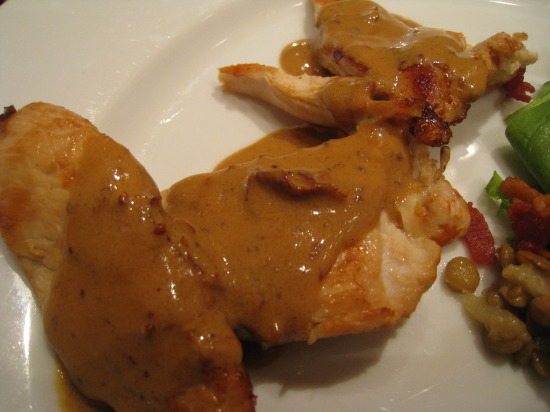 The chicken was cooked at the same time as the salad. It was thinly pounded (or bought thinly slice) and then pan-seared in butter. The mustard sauce was then made from all of the drippings and spooned over the chicken. Again, I can't give you the recipe but this chicken dish was amazing – especially if you like mustard flavor!! Everyone in the class was raving about the chicken.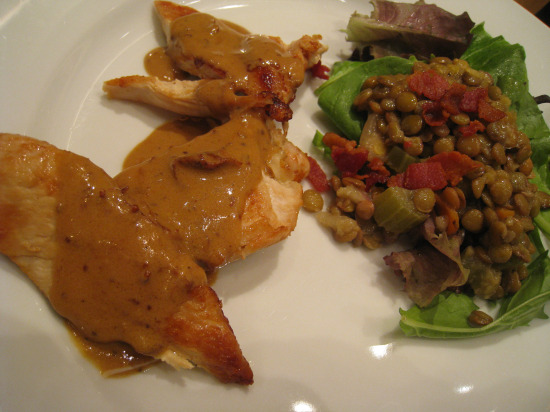 I think both the salad and the chicken recipes are keepers! If you want to try them, the lentil salad can be found in Williams Sonoma's Food Made Fast, Salad and the chicken dish in The Weeknight Cook.
While we were watching the demonstration, we were encouraged to sample WS's many varieties of sea salts. I didn't know there were so many varieties! I tasted the Pink Sea Salt – loved the color and the taste!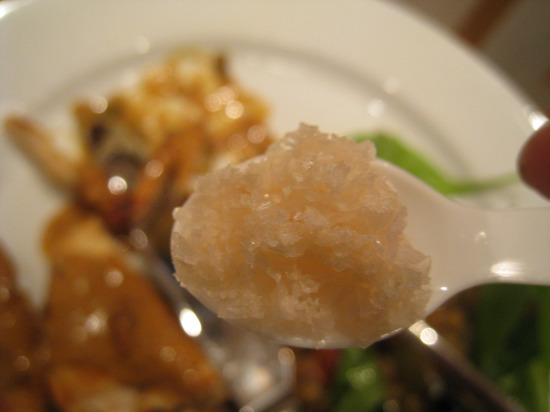 I liked it so much I even sprinkled a little over my chicken and salad.
Finally, the apple tart – I am kind of appled out these days between all of the apple cake, apple pie, and apple slices I've had the last few weeks. So, apple tart was not high on my list to sample tonight. It was made with puff pastry, apples, and sugar – no more, no less. This recipe was very simple, easy to prepare, and tasted light and fluffy. I thought it was tasty, but I still prefer something chocolate for dessert.
After eating a modified three-course meal, I was pretty full at the end of class. There was even food left over if people wanted more, but no one seemed to want to indulge too much at 8 PM and with everyone else watching.
I have to admit, it was pretty cool and quite relaxing watching someone else cook. And, just taking a cooking class is very different than my usual forms of entertainment and self-indulgence. I would definitely recommend the WS's classes if you're interested in trying something new and fun. 
Ok, all, I have a very early morning run planned for tomorrow so I must get to bed.
Night all!