Morning Girls!
Did you miss me last night? If feels weird not posting in the evening – like I'm forgetting something. If you were all wondering why I didn't post last night it was because I was out to dinner with my husband celebrating our anniversary! 
My husband and I love tapas restaurants. A few years ago we traveled to Barcelona and had authentic tapas which were just amazing! So last night, we decided to try a new tapas restaurants called Emilio's Tapas. The whole restaurant was Spanish-themed, including these little windows on the outside…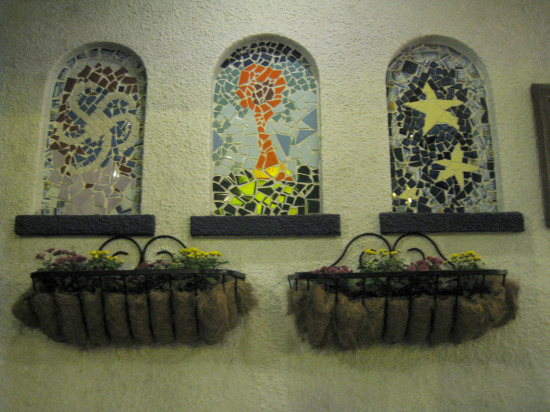 Seriously, if you've ever been to Spain, this is just how the windows look! 
For dinner, we started with a complimentary appetizer…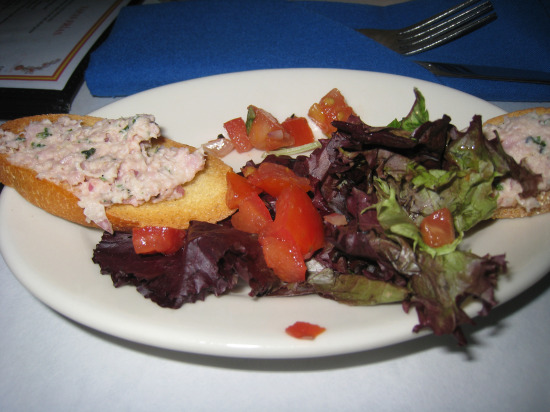 I don't remember the exact name of the dish but it consisted of two pieces of crusty bread topped with a ham and veggie pate.  
While we were eating our very tasty appetizer, we also had some lovely Spanish cocktails. I ordered white wine sangria – LOVE this stuff!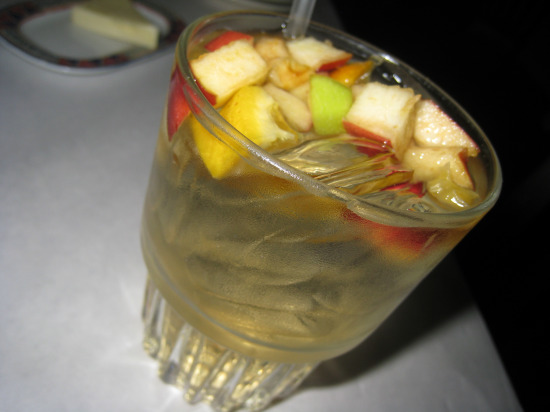 In keeping with tapas tradition, we ordered our tapas in "courses", or two by two. We started with tapas frias (cold tapas) first…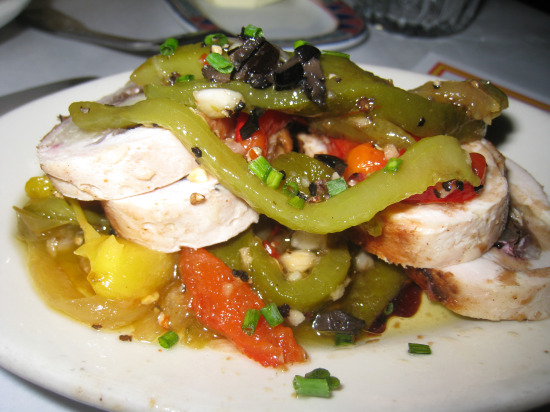 We had a small plate of pollo al caserio (chicken from a small village?), which was cold chicken stuffed stuffed with mozzarella cheese serve with roasted bell peppers. This dish was so good I could have ordered it again!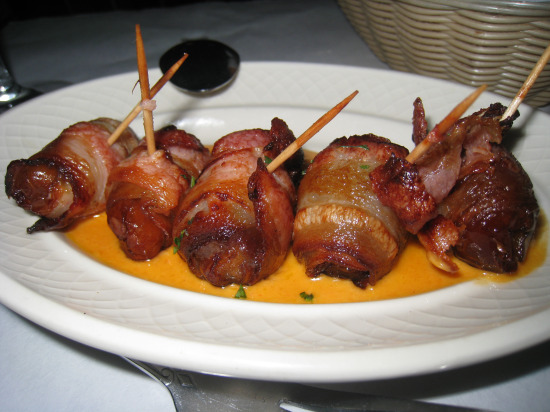 Then came another Spanish specialty – dates wrapped in bacon! I can't recall ever having a date before tonight but if I was ever going to have one again it would be wrapped in bacon – 🙂 The combination of the savory bacon mixed with the sweet, plump dates was perfect – as well as the red pepper aioli sauce for dipping!
After that, 'twas a Mediterranean salad for me. This was not the best Mediterranean salad I've had, but I haven't had a salad in like 10 days so it was very nice to eat lettuce again. I really don't know why I haven't eaten much salad – could be that it's so much trouble to make! The salad last night had shredded lettuce (not a big fan), hearts of palm (Love!), onions, cherry tomatoes, and feta cheese. It probably sounds good to most people and it did taste fine, I've just tasted better. The presentation was also a little blah.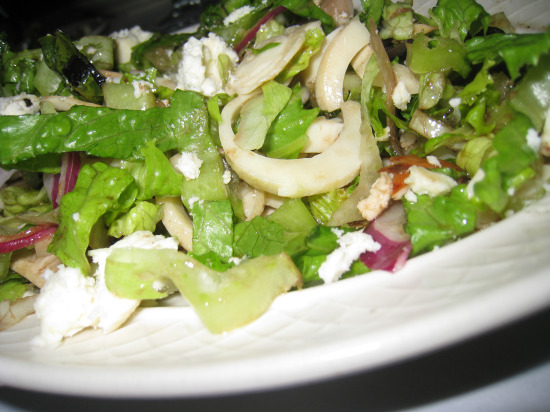 Anyway, my husband proceeded to order and eat by  himself, two more dishes – the gambos a la plancha (shrimp cooked in a skillet) and the lamb with Spanish potatoes. Because I don't eat seafood or lamb, I just kept enjoying my drink while he ate.
We opted to not get dessert there but came home and had ice cream, mostly to save money but also so that we could watch our favorite show – Psych!
I woke up this morning at 7:50 AM – this is sooo late for me even on the weekend! There was no way I was getting to the 8 AM yoga class and besides, I was feeling a little queasy. I'm not sure if it was something I ate or the fact that I had very little food last night to soak up the alcohol that I drank 🙁
Now, we're off and running again – this time to do a little shopping.
See you all later!