Evening everyone! Don't know about you but I had a wonderful day, eating, shopping, and eating some more!
Scott and I started our day with 45 minute power walk – it was a great way for us to catch up and unwind after a stressful week. We didn't get back until about 10:30, so we just grabbed a quick breakfast and headed out the door…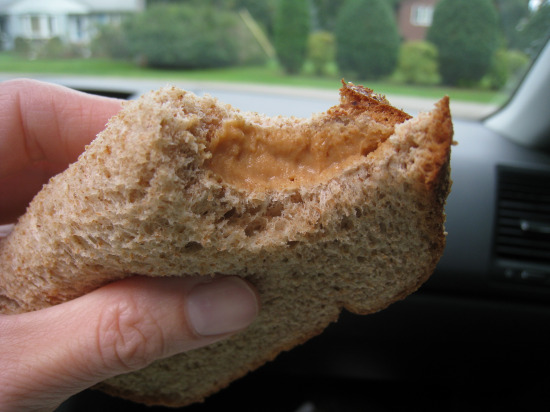 I had 1/2 a peanut butter sandwich made with MaraNatha all-natural creamy PB and Brownberry whole wheat bread. We had a ton of errands to run, so I just ate it in the car. 
First up was a trip to the eye doctor so I could pick up a comp pair of contacts. I'm on my last pair and they wouldn't let me reorder unless I came in (and paid for) another eye exam, which will happen next week. Next was a stop at my hair salon to pick up some styling products, then it was off to lunch!
Keeping with our anniversary celebration, we dined at a very cool steakhouse called Wildfire. We've eaten there before and have always had great food and service – today was no exception!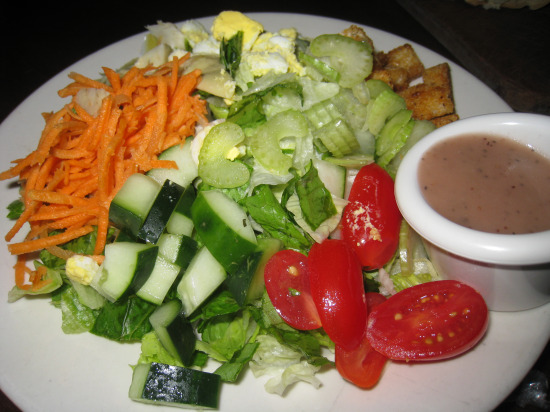 We started with a simple side salad – but really, this salad was not simple at all. It had mixed greens, carrots, tomatoes, cucs, eggs, and artichoke hearts, all with a red wine vinaigrette dressing – fantastic! I'm really glad we split the salad, otherwise, I might not have been able to eat my entree which was a HUGE turkey burger….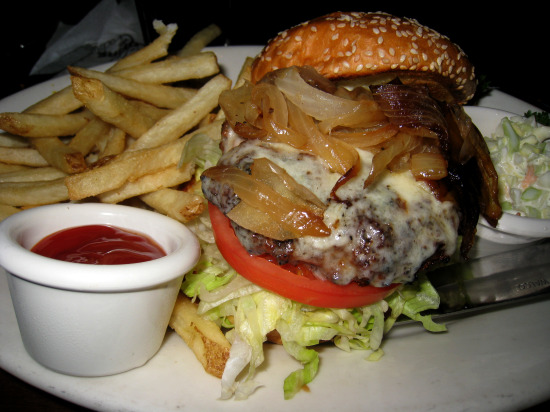 This burger was crazy messy with white cheddar cheese, caramelized onions, and lettuce, and tomato. There was no way in the world I was going to be able to pick this baby up gracefully, so I cut it right in half. This burger was outstanding! I really would have eaten the WHOLE thing but I stopped at 1/2 because I didn't want to stuff myself – having the super yummy fries didn't help either 😉 
Stopping when I was content enabled me to enjoy one of my favorite desserts – banana cream pie!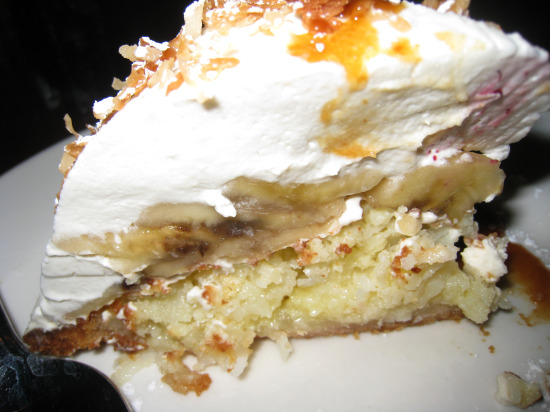 Can you believe this is only a 1/2 piece of pie? That's all I wanted so that's what they gave me. I absolutely adore banana creme pie but I rarely see it on menus these days. So, when I do see it, I jump at the chance to eat it. The pie was the perfect ending to a perfect meal in perfect company of course!
By this time, we were both ready to roll out of the restaurant (the pie really put me over the edge), so we headed out to do a little shopping. Today, we were in search of birthday presents for 3 different people which took us to Target, Toys R US, and the mall. Thank heavens too, because all of that walking really helped work off the food from lunch.
Nearly 7 hours later, we were finally hungry enough to actually eat more food. We opted to not go out to dinner – I'm not one for eating two big meals in a day. Instead, we warmed up some of our homemade pasta sauce…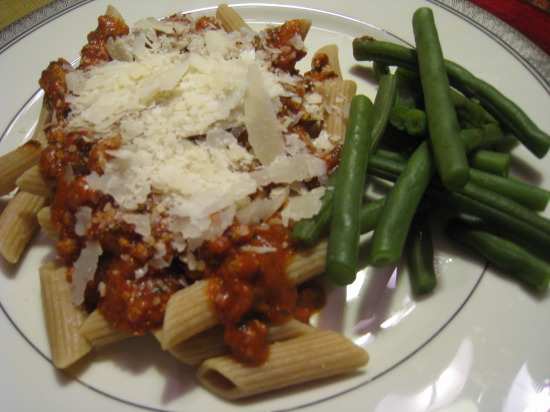 This really is one of our favorite meals to make. Even though we ate dinner at home, we tried to make it a little different by using our fine china that we received from our wedding. I think this is only the second time we used it in 8 years!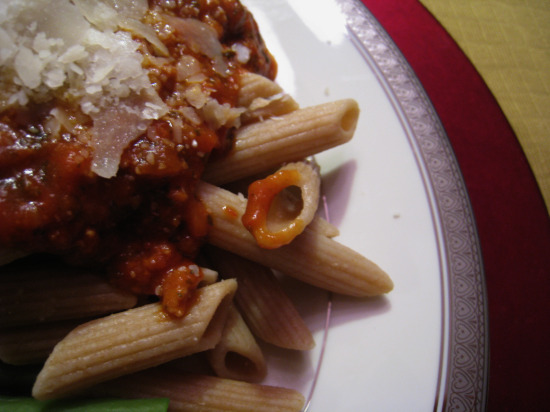 The red pasta sauce was a great contrast to the white china with silver trim – very chic for a dinner at home! After our stomachs were full once more, we headed out to finish our shopping for the day. Then finally, we ended up at Barnes and Noble. I nearly always buy something at B&N when I go there, whether it's a book, magazine, or a Starbucks drink. Well, tonight we didn't buy anything! I think I was all shopped out by the time I got there and didn't have the energy (or money) to buy anything else.
I have an early date with my running shoes tomorrow morning, so let me say goodnight to you all!