Hello Girls! Wow – what a beautiful day it was here! It was about 72 degrees and sunny – just perfect! 
Well, in honor of my 8th wedding anniversary, I thought I'd give you a preview of the anniversary photos for tomorrow's post….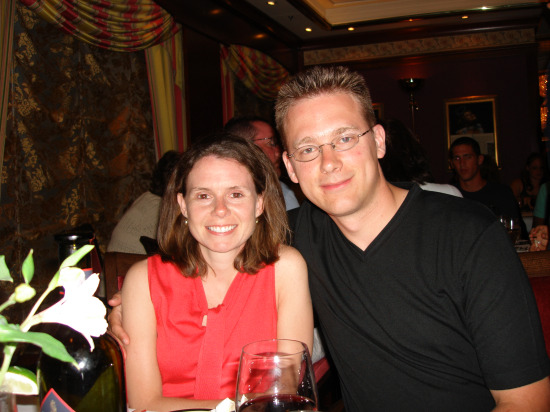 This is Scott and I while on a cruise a couple years ago. You might not be able to tell, but we were quite tipsy from all of the wine! Believe it or not, I ran 5 days on our 7 day cruise – even in choppy waters! As for my husband, I don't think Scott saw the inside of the fitness center at all that week – he he! Ahh..good times! Stay tuned for more pics tomorrow….
Now, onto today…
I was out the door by 7:30 AM to go for a fast 6 mile run – it took me just over 48 minutes – yeah! I love when I have really good runs, they usually put me in a great mood for the rest of the day.
I did have a 1/2 Luna bar just prior to my run which I think helped with my endurance and speed immensely…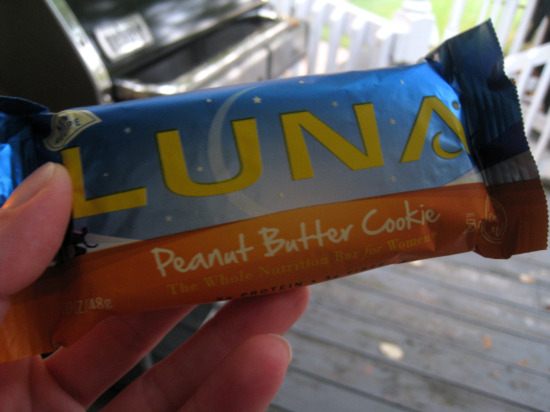 This Luna bar was pretty tasty with a great peanut butter flavor. It only has 3 g of fiber though which is not terribly high for a power bar. After my workout, I was running late to make 9:30 Mass, so I ate the other 1/2 of my Luna bar in the car. I was so glad that I did because Mass ended up being nearly 25 minutes longer than expected. I think I would have passed out if I wouldn't have eaten ahead of time!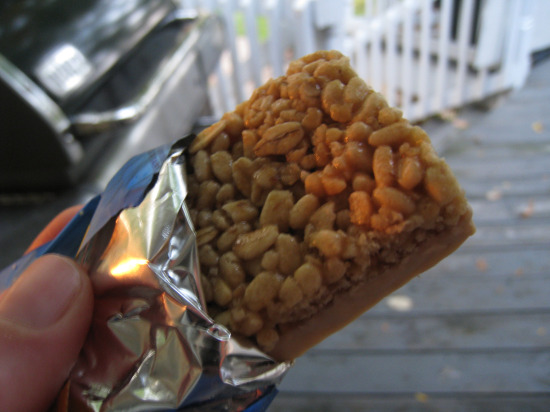 After church, we headed back home for an hour or so then it was back out to lunch at Go Roma. Between work and home, I eat at this place WAY too much – but it's so good and convenient – not to mention relatively healthy.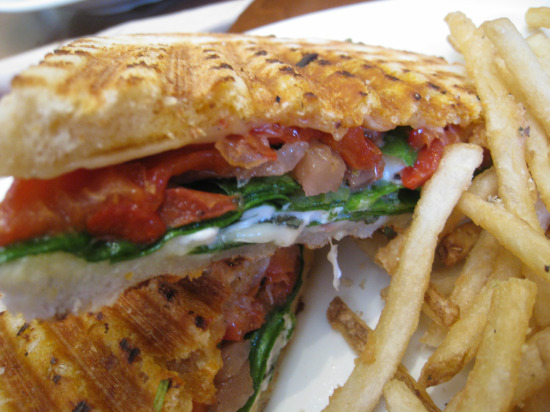 I had the vegetarian panini with spinach, red peppers, tomatoes, onions, and goat cheese. It was quite good, although I stopped eating about 3/4 of the way so I wouldn't get too full.
The rest of the day consisted of cleaning (outside and inside) and watching the Chicago Bears beat the Seattle Seahawks! Scott was very happy of course.
For dinner, Scott made his awesome turkey tacos with all the fixins…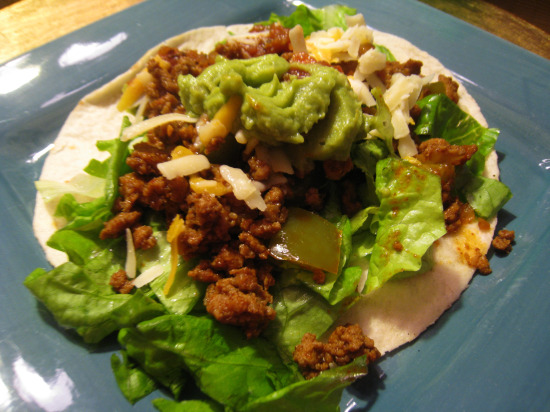 I only had two soft tacos – full of lettuce, meat, salsa, cheese, and guacamole – and I was pretty full by the end.
Now, I'm off to do a little light reading and then to bed. I have another early and jam-packed Monday planned, that starts with a 5 mile run!
Night all!