Running With Cake Fact: I used to work at Disney World (Magic Kingdom) on the College Program and that's where I met my husband. Anyone want to guess where I worked?
Hey All!
It's my day off today as usual and I've spent it running errands and cleaning the house! The fun just never ends 🙂
This morning I ran a very relaxing 4 miles. It was a typical "fall" morning, with leaves beginning to fall off the trees and a cool, crisp breeze in the air. I left the house around 7:30 AM which is prime school bus time in my area. I must have seen a half dozen school buses in a matter of 15 minutes.
After my run, I enjoyed a nice, leisurely breakfast. I forgot to mention last night that yesterday, while I was at work, I received a sample of Bear Naked's new banana nut cereal! Yeah- I love goodies!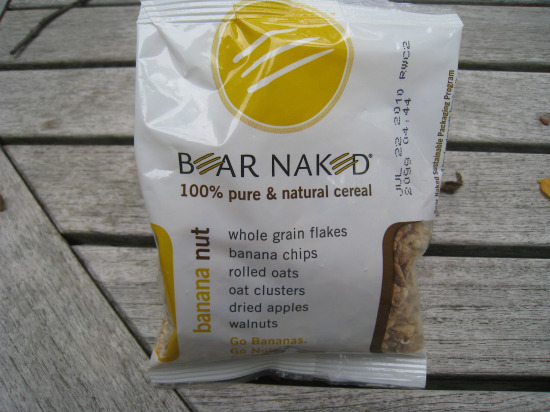 The cereal is 100 percent all natural and is made with banana chips, oats, dried apples, and walnuts – everything I LOVE! The cereal itself kind of reminded me of Kashi cereal, only with a little more sweetness and not as crunchy. Instead of just eating this as plain cereal, I decided to add it to some Trader Joe's nonfat vanilla Greek yogurt.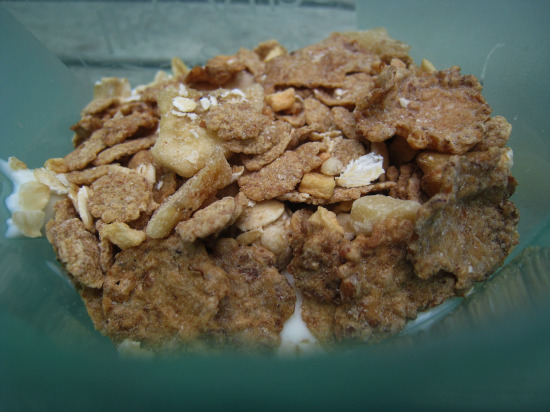 See it laying on my yogurt – all nice and crispy? Just before I took the plunge, I had a revelation – I should really add peanut butter to this, I thought! And, so I did! I added 1 tbsp of MaraNatha all natural creamy peanut butter right on top.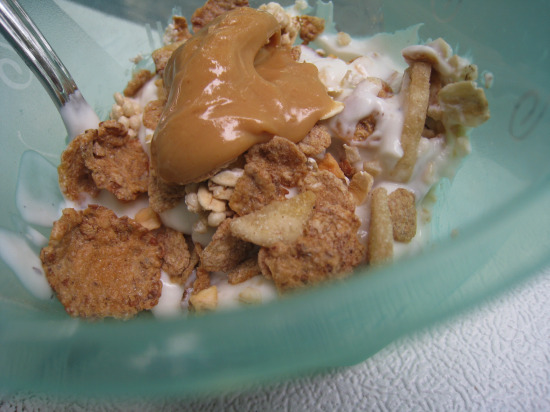 Oh my, this was just about perfection! The taste of bananas, chocolate, oats, and the yogurt were fantastic! And the mixture was so thick and creamy – like a little bowl of goopy heaven…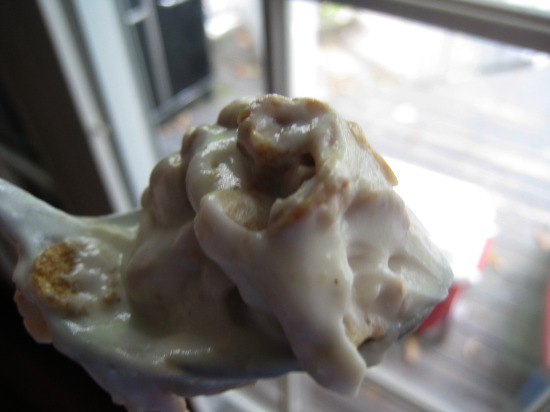 I washed everything down with Day 25 of Zola's Daily Wellness shot. Only 5 more days and I will have completed my challenge!
After running a few errands, it was time for a quick lunch. I grilled a homemade turkey-vegetable burger..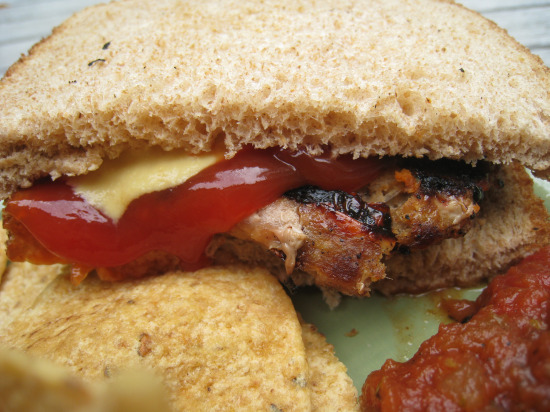 A few weeks ago, I took a 1/2 pound of ground turkey and mixed it with a bunch of finely chopped veggies, like carrots, onions, and peppers. I froze 4 very nice size patties from the bunch. Even though I slightly over grilled the burger, it was awesome – so full of flavor.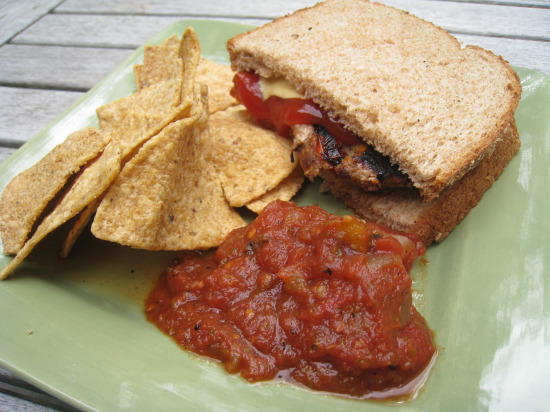 I paired the burger with a side of all-natural tortilla chips and Frontera salsa – so spicy and yummy!
Tonight, Scott and I are headed out to dinner to start our anniversary weekend celebration! As of September 28, we will have been married for 8 years – I can hardly believe it! Since our anniversary falls on a Monday, we thought we'd celebrate the whole weekend before our big day. 
For those of you who do not know me, Scott and I met while working at Disney World in Orlando on the College Program. He also proposed to me at the Magic Kingdom right when the fireworks were going off – he's such a Disney romantic. Ahh, so many fun memories!
All right, see you all tonight – or maybe tomorrow morning 😉