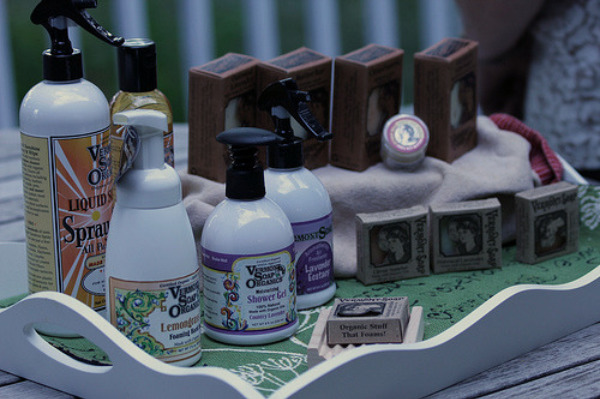 Vermont may be know for maple syrup and skiing, but it is also home to this organic soap company!
I recently received a box of homemade soap products courtesy of Vermont Soap Organics, the purveyors of everything soap – from cleaners to wash your counters to sultry body soaps for your shower and tub. If any of you follow my other site Bistro Chic, you know by now how much I love soap products, especially little guest soaps, so I just couldn't pass up a sample or two. And, after doing some research about the product, reading about the ingredients and history, and more, I was smitten with the little soaps.
Like the name says, the products are made from all organic ingredients, handmade from hypoallergenic vegetable bases like coconut and palm oil. The facial and hand soaps are made to fit any skin type from sensitive to dry. Plus – and this is my favorite part – many of their soap products come in a number of scents, including lavender, citrus, butter, and honey. Ooh la la!
Vermont Soap Organics Giveaway!
Now, I have quite a selection of soaps on hand, too many for me to use – so I have a great idea! Why not give some away and let you try them!
One reader will receive a selection of soap products from Vermont Soap Organics, including:
Liquid Sunshine for cleaning
Lemongrass Zen foaming handsoap
Shea nut butter to soothe chapped lips
Little bar soaps
To enter, go to Bistro Chic and leave a comment on Bistro Chic telling me which Vermont Soap Organics scented soap intrigues you the most. Or, you can always Tweet or Retweet the Bistro Chic post!  You must enter the giveaway by 9 PM Eastern on Wednesday, October 13, 2010.
Good luck!