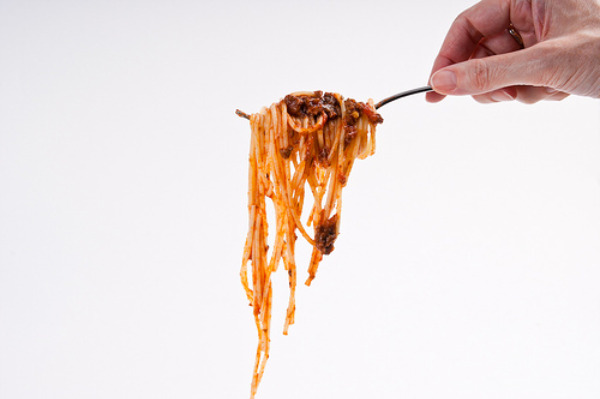 (Photo source)
When I was training for my first Half Marathon, I remember loading up on pasta, bagels, and breads a few days before the race. I ended up gaining a few pounds and looking awfully chubby and pasty – so NOT how a distance runner should look! But this practice of carb-loading before my race helped me run 2+ hours and still have energy to burn in the after party.
What is carb-loading?
Runners and endurance athletes have embraced the practice of carb-loading for years. Carb-loading involves maximizing your intake of carbohydrates in order to sustain long-term, intense physical activity, such as a triathlon, marathon, or century ride. But…
Why do we need all of those carbs?
Good question! High-intensity sports, like marathon running, take a significant amount of energy to perform. The energy that we need comes from the food we eat in the form of fat, protein, and carbohydrates. Our bodies need all three of these nutrients, but carbs (which our bodies turn into sugar) are our body's main source of energy and what sustains us the longest during exercise. Hence, carb-loading may help you maximize energy storage and boost your athletic performance.
When should I load up on carbs?
Before you start jumping for joy thinking you can eat every carb under the sun, STOP and read this. Carb-loading isn't necessary for recreational sports or activities, or even running a 10K! For runners, carb-loading is usually recommended a few days to several hours before a run that will last 90 minutes or more.
How do I carb-load my diet before a big race?
Mayo Clinic explains that traditional carb-loading is done in a two-step process the week before a high-endurance activity.
STEP 1: A week before your event, reduce your carb intake to 50 to 55 percent of your total calories. Keep in mind, 1g of carb equals 4 calories. Therefore, in a 2,000 calorie/day diet, you'll want to eat no more than 275g of carbs per day. During this time, increase your protein and fat intake to compensate for the calories lost in reducing your carbs. Continue training as normal in order to deplete your carb stores and get your body ready for the Step 2 – carb-loading!
STEP 2: Three to four days before your event, increase your carb intake to 70 percent of your total calories, or 4.5g of carbs per pound of body weight (your weight in pounds x 4.5 = number of grams of carbs). Decrease your intake of fatty foods and scale back on training to save your carb/energy stores for the big day.
What carbs should I eat?
Back in the day, all carbohydrates were given the same importance. Endurance athletes would stock up on any and every carb they could find before a big race or sporting event. Now, after years of research, we know that not all carbs are created equal.
According to Runner's World, before a long race, you want to take in carbs such as whole grains and fruits. These will give you slow-burning energy and help you avoid rapid fluctuations in blood sugar levels. During your long training runs or your actual race, you'll want fast-acting carbs that will convert immediately into glucose/sugar energy. Here's where bagels, sports gels and drinks, and even candy come in handy.
What about carb intake after my event?
As I've mentioned before, remember to eat within an hour of your event to replenish your energy stores. You'll want to eat a mix of carbs and protein, ie. whole wheat bagels/bread, bananas, protein bar, etc. Keep in mind, you'll want to reduce your post-event carb intake back to normal levels, about 50-60 percent of your calorie intake.
What are the risks of carb-loading?
1) Weight Gain: On this plan and many carb-loading plans, runners/athletes will gain weight, maybe 2-3 pounds – just as I did. But don't worry, it's just water weight and will easily be lost during your high-intensity workout, as long as you don't continue carb-loading post-race!
2) Digestion Issues: Limit the high-fiber carbs 1-2 days before your event to reduce gas, cramping, and overall digestive discomfort.
3) Blood Sugar Changes: Carb-loading can rapidly change your blood sugar levels. If you've had problems with your blood sugar in the past, be sure to check with your healthcare provider before indulging in the carbs.
Now, go forth and be smart about your carbs!
Happy running everyone!