Oh my, what a chilly morning and a chilly day! It feels like Fall and it's not even Labor Day yet. The Midwest is headed into a cool couple of days, with highs in the high 60s to low 70s. Although I'm not quite ready to say goodbye to summer, I feel like I should do something Fall-ish, like apple picking.
After my morning run – which was awesome by the way because of the cool weather, I had a little breakfast.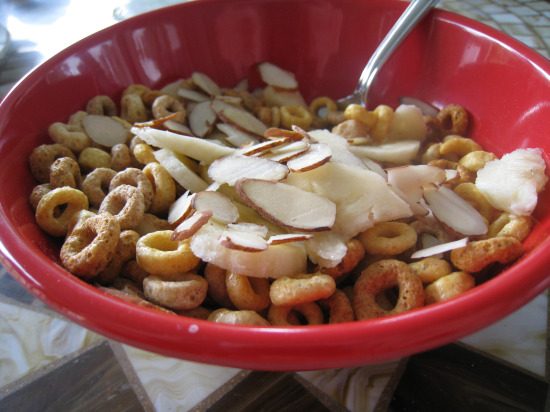 Cheerios Muligrain! If you've never been a Cheerios fan or have written-off Cheerios as old people cereal, I suggest you try this new kind. It's higher in fiber than regular Cheerios, is made with whole grains, and has a great flavor. Today, I added about 1/3 of a banana and 1 tbsp of sliced almonds for added monounsaturated fat (MUFA).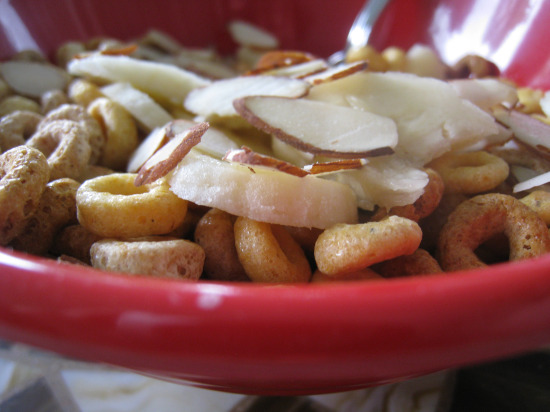 After breakfast, I had to run to Target to pick up a birthday present for my nephew, a task to which I was unsuccessful at completing. Target never seems to have the birthday gifts I need at the exact time I need them. Somehow, I still spent $30 and came out with things I had never intended on buying. Has this ever happened to you?
Next up was Trader Joe's. I always have a great experience at Trader Joe's, no matter what time of day or the day of the week. The people there seem to genuinely love their jobs – and you can't beat the all-natural food products! I stocked up on Trader Joe's Low-fat Greek  yogurt, as well as olive oil, walnuts, and jasmine rice. If you haven't been to TJ's in a while, they now sell these cool reusable shopping bags (Whole Foods has them too), that are made with 100% recycled materials. They're way cool and they have the typical Trader Joe's Caribbean themes. Plus, they are only 99 cents! I didn't get one today because they were all out of the specific design I wanted, but I plan to get one next time.
After TJ's my husband and I met for lunch at the local Red Robin. Not the fanciest place, but they have great sandwiches.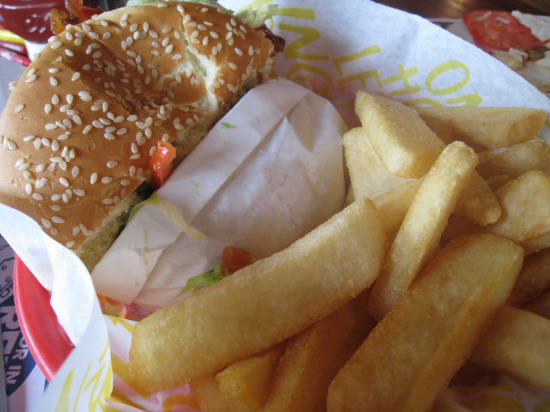 I had the California chicken burger which was fantastic! It was really a burger, but rather a grilled chicken breast topped with provolone cheese, guacamole, and pickles – everything I love. Red Robin's burgers are so huge that I only eat 1/2 and take the rest home. This is a great way to indulge in some great-tasting, but not-so-healthy, fun food, and not overdo it.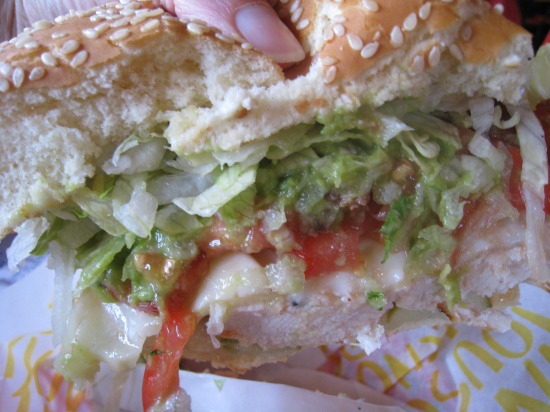 It's on the verge of raining right now, so I'm not sure what I'm going to do for the rest of the afternoon. Now that I think about it, a nap sounds like a great idea!
Have a great afternoon everyone and see you tonight.