RWC To Get New Theme!
I am so happy to be feeling better and to have my appetite back. But, I am even more thrilled to report that Running With Cake will be getting a new theme!! Yeah! I'm so excited. My husband, the technology guru (seriously, he had a story written about him in the newspaper that called him this), is going to be giving RWC a more updated and fresh look. I'm not sure when it will be finished, but look for it in the very near future.
As I mentioned above, I think I've finally kicked this flu bug that I've had for the last 3 days. So, when I woke up this morning, I decided to do my normal Sunday morning run. I started my run around 9:30 AM, which is nearly 3 hours after I usually start my run during the week. By that time of the morning, it was nearly 80 degrees outside. That was a big mistake. To add to my heat challenge, I felt like I had absolutely no energy – like I was running with a headwind, uphill, for the full 4 miles. I even had to walk about a minute to catch my breath. Some people would say that I should have skipped running today, until I was feeling 100% again. I rarely skip my run, even if I'm not feeling well. I have to be seriously ill – we're talking swine flu, to have me not run. I don't recommend this hard core running attitude for everyone. In most cases, it really is good to take a day off from running or other exercise when you're really NOT feeling well. Maybe I should following this advice next time.
Anyway, by the time I pulled my sweaty self onto the doorstep, I was pretty exhausted and starving. So, for breakfast, I made a huge Greek yogurt parfait…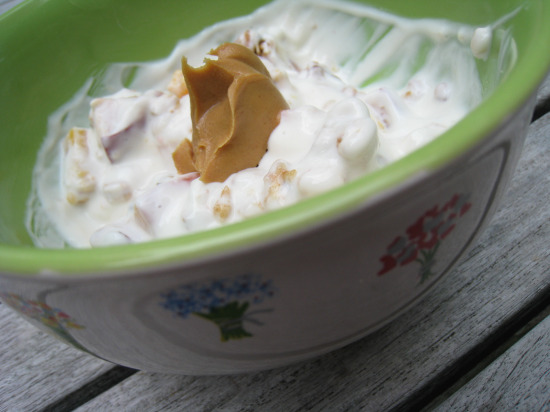 I started with one container of Oikos nonfat Greek vanilla yogurt, and mixed in a whole nectarine, about a 1/2 cup of Kashi Go Lean Crunch cereal, and a dollop of all-natural creamy peanut butter. I thought it would be a good combination because it was mix of all of my favorite things – yogurt, fruit, peanut butter, and crunchiness. Well, nectarines and peanut butter do not make the best flavor combination – lesson learned. It was still edible though.
After breakfast, it was little housecleaning and a discussion or two about my new blog theme. Then, it was time for lunch. Being gone last weekend really threw us off of our grocery shopping schedule – so our pantry is pretty bare. Thankfully, my husband whipped up a very simple but tasty lunch for us….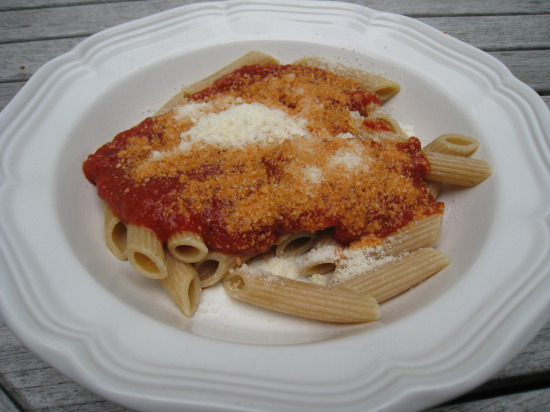 Trader Joe's wheat penne pasta with Newman's Own Organic Marinara. The sauce was a little bland – but that's marinara for you, so I added a ton of parmesan cheese. Much better.
Now, I really must get to the grocery store or I will be eating cereal for dinner tonight. Have a great afternoon all!