Good morning! It's a busy, busy day and a busy, busy week for me. I'm really hoping to take the afternoon off on Thursday so that I can either lay by the pool or go see Julie & Julia, a movie chronicling the life of a food blogger who experimented with Julia Child's recipes for a whole year, calling it the Julie/Julia Project. It looks so cute! So I guess I have to be extra focused from Mon-Wed this week, in order to leave early on Thursday!
I had a great 4-mile run this morning! I was sweating like crazy though because the heat and humidity were extremely high. I also seemed to be running in my own bit of hazy fog. I seriously was zoning out the whole time I was running. I guess I'm still trying to recuperate from my jam-packed weekend.
It was slim pickins for breakfast. I did find a blueberry yogurt (regular, not Greek) in the far back of the fridge that was still good to eat.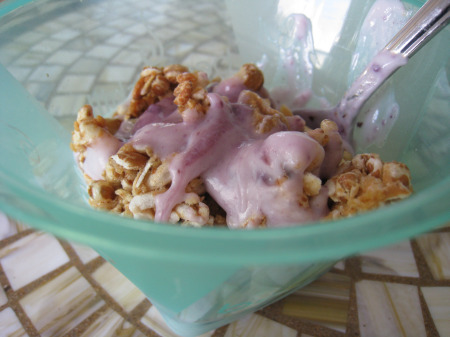 So I had the yogurt mixed with a few walnuts and some Kashi Go Lean Crunch cereal. It tasted sooo good! Especially because I had barely eaten anything from about 2 PM on yesterday.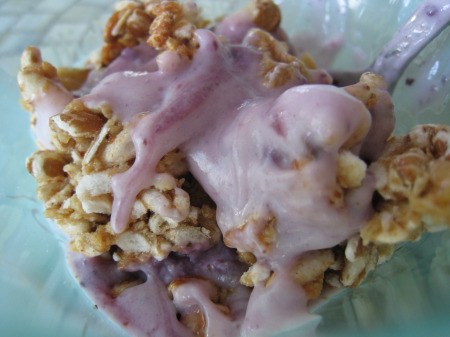 Just look at all of that creamy, crunchy goodness? After eating the yogurt, I did remember why I prefer Greek yogurt over regular. There's nothing wrong with the taste of regular yogurt, but the Greek version is so much thicker and creamier. I'm sure I'll be making a Trader Joe's run very soon to stock up on my Greek favorites. 
Have to sign off for now. Have a great day everyone!