Good morning! Yes – I'm actually at work right now and it's only 8:15 AM! All the stars and planets seemed align this morning so that I could actually get to work early rather than late. It helped that it was raining this morning so I didn't end up running. I'll be out there tomorrow though – bright and early!
For breakfast, I changed things up a bit. I have been eating cereal quite a bit, mostly because we bought industrial size boxes of Cheerios and Kashi so I feel like once they're open, I have to finish them before I open anything else. I decided to change things up today….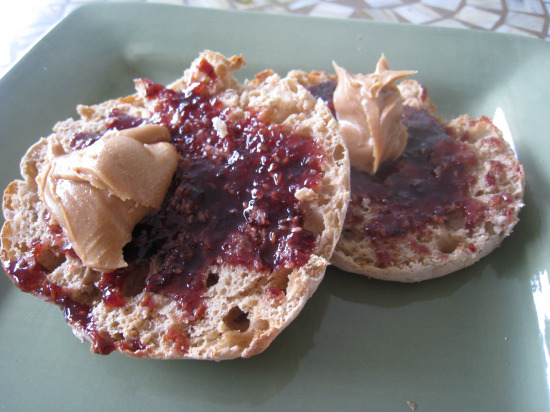 I had a Thomas Multi-grain English muffin. These little muffins only have 100 calories and are packed with fiber – 8 g, that's a LOT for a bread product. I topped my muffin with the last of my all-natural raspberry preserves and a couple dollops of all-natural creamy peanut butter. Too bad I didn't run this morning, because this would have make an excellent post-run breakfast.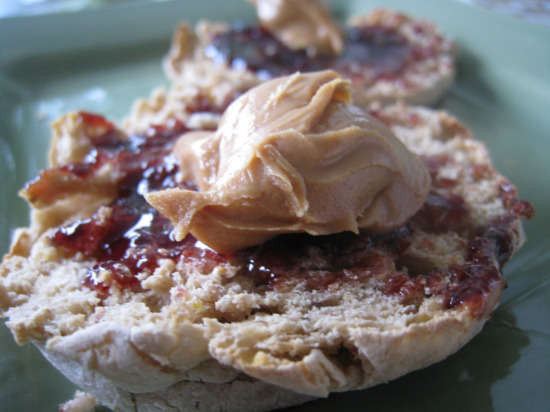 This got me thinking…as a runner, what exactly are the foods I should be eating to stay healthy and increase my performance? After doing a little research, I found 15 superfoods that Runner's World recommends runners eat, at least on a weekly basis to improve performance and maintan overall health. I then assessed these superfoods to see if I was incorporating them into my overall diet. Let's see how I'm doing….
Top 15 Foods Runner's Should Eat

Almonds – I definitely eat these on a weekly basis.
Eggs – Hmm, I'm not much of an egg person, but I can try to eat more.
Sweet Potatoes – Love these! But I don't find them as convenient to make as other side dishes.
Whole-grain cereal with protein – This is practically a staple for me!
Oranges – Could definitely eat more of this, but oranges are so expensive so I find it a challenge to eat them every day.
Canned Black Beans – Not a big fan of these unless they are part of another dish.
Mixed salad greens – No problem in this area.
Salmon – I do not eat seafood – so this is a big dilemma. 
Whole-grain Bread – Yes, this is an every day food for me.
Vegetables – Are you kidding me? I don't think a day goes by where I don't eat at least one vegetable.
Whole-grain pasta – At least weekly, but I try not to overload on carbs.
Chicken – This is a no brainer, I will likely turn into a chicken soon.
Mixed Berries – Hmm, I definitely eat these when they are on sale, but I could use more.
Dark Chocolate – At least weekly, if not daily. Now that I think about it, I probably eat a little too much of this!
Low-fat Yogurt – Oh my – how could I not eat this weekly?
As far as the ideal runner's diet, it seems that I'm not doing too bad. Although I do need to increase my intake of eggs, sweet potatoes (actually have these in the pantry right now!), oranges, and seafood (not gonna happen).
Whew, now that that's out of the way, I'm going to make some Tazo Awake tea – too bad that's not on the Runner's World list!
Have a great day everyone!