Hello everyone! My day started with a 60-minute session of yoga at my local studio. It was fantastic! I'm so glad that our regular yogini is back. She really makes us work but also takes her time with us. 
After class, I made a little breakfast…some apple-nut oatmeal!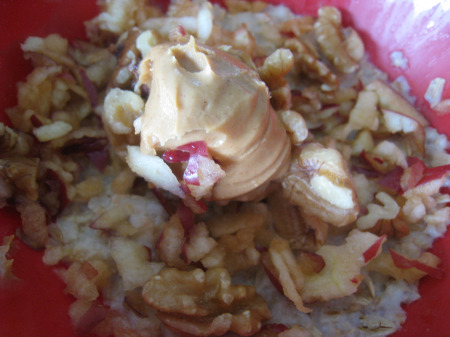 Here's what it included:
Energizing Apple-Nut Oatmeal

1/4 cup old-fashioned oats (not the quick cook kind)
1/2 cup skim milk
1/4 shredded red delicious apple
2 tbsp walnuts
1 heaping tbsp all-natural creamy peanut butter

Cook the oats as directed on the package or combine the oats and milk and microwave on high for 2-3 minutes. Add shredded apple and walnuts and top with peanut butter. Stir until peanut butter is melted and blended into the oatmeal. Enjoy!
My Energizing Apple-Nut Oatmeal was fantastic and so filling for just 1/4 cup oats! It really is amazing all of the things you can add to plain oatmeal and have the flavor change dramatically. It's also great for a post-run or post-yoga workout because it gives me a ton of energy with the nuts and peanut butter added it. I may try it as a pre-run snack to see if it makes me run faster or longer – ha!
With my oatmeal, I also sipped on some Tazo Refresh herbal tea…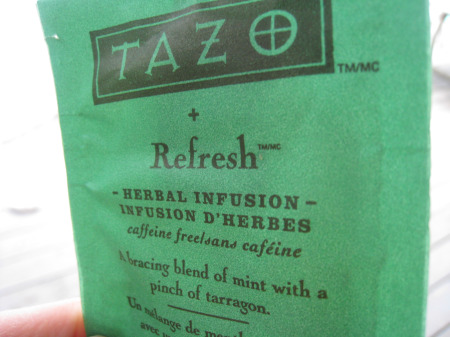 It's really just a fancy blend of peppermint tea, but it is good nonetheless.
After breakfast, hubby and I ran out to do some errands – one of which was going to Costco. What a zoo it was there! You would have thought they were giving something away – aside from the samples. Thankfully, we were able to get in and out in record time. It seems that everyone wanted to browse and not actually stand in line.
We headed home to make some lunch. Sandwiches are usually a weekend lunch staple in the RWC household, but today we made burgers. I had a t-burger and hubby had a regular beef burger.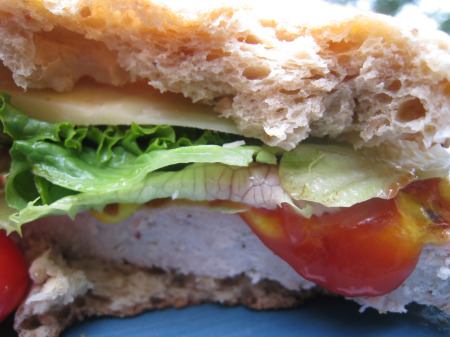 I only had about 2/3 of a turkey burger, topped with lettuce and white cheddar cheese, on a 100-calorie Thomas' multi-grain English muffin. I also threw in a few grape tomatoes as a side.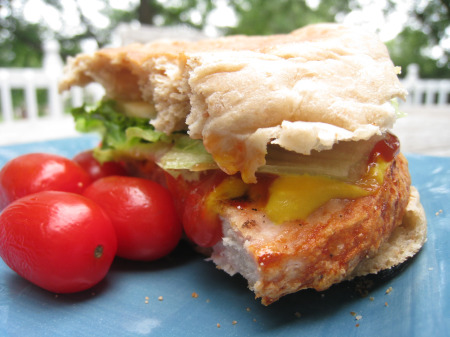 Now, after a filling lunch, I'm off to Barnes and Noble again to finish a few work-related projects.
Can't wait for tonight – we're making homemade split-pea soup!
Catch ya later all!