Evening everyone! Well, I am very happy to report that my first-ever homemade apple cake turned out great! Other than slightly over baking it, it was very moist on the inside and has a super yummy apple cinnamon and sugar flavor!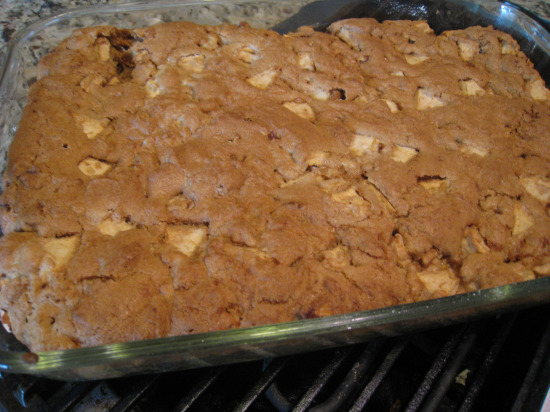 After an hour of baking, I let it cool for about 10 minutes and cut into it just to see what the inside look like. I was skeptical at first because the crust looked so thick and bland. But after cutting into it, I could see the very cake-like texture and was quite pleased with myself. 
Then, we were off to see Harry Potter in IMAX. I love this movie! It was incredible how much they were able to include from the book (although they did leave quite a bit of the unnecessary story lines out). I even became teary-eyed in a few parts. That was the first time I'd every gotten choked up at a Harry Potter movie – ha!
After the movie, I went shopping for a few hours as part of my last hurrah for vacation. I went to Lucy to see if the store had any good sales. The sales girl convinced me to try on one of their petite size new Hatha yoga pants. They looked fantastic! But, then I looked at the price tag – $88! I love yoga and Lucy, but $88 on yoga pants? I think I'll pass.
Scott was teaching again tonight so I made a few leftovers for dinner…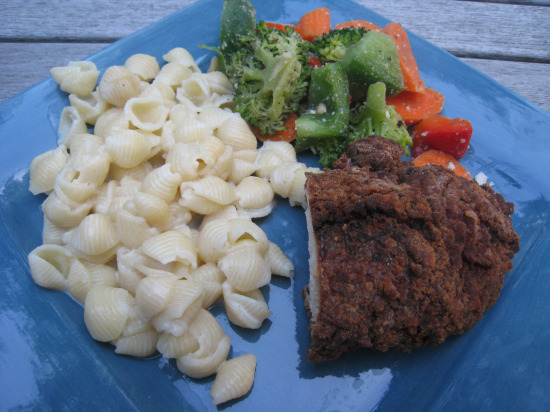 I had homemade fried chicken, veggies that I picked from the pasta salad, and some freshly-made Trader Joe's white cheddar shells and cheese. I really love mac and cheese, and Trader Joe's has one of the best all-natural, organic boxed mac and cheese that I've tried.
Then, for the BIG finnish… Apple Cake!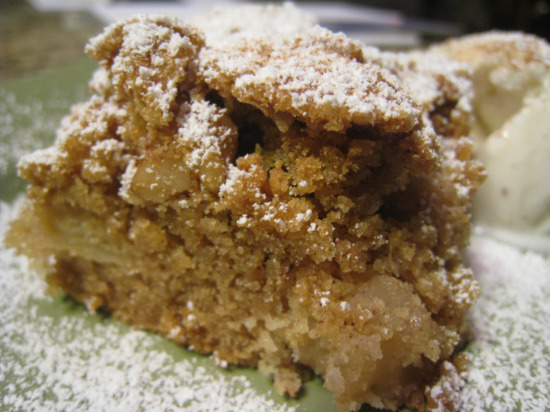 Ahhh, so yummy! Not exactly like my mom's famous recipe (in our family it's famous!), but it was truly very good. I took one small piece, dusted it with powdered sugar and added one small scoop of Breyer's natural vanilla ice cream. A practically perfect September dessert!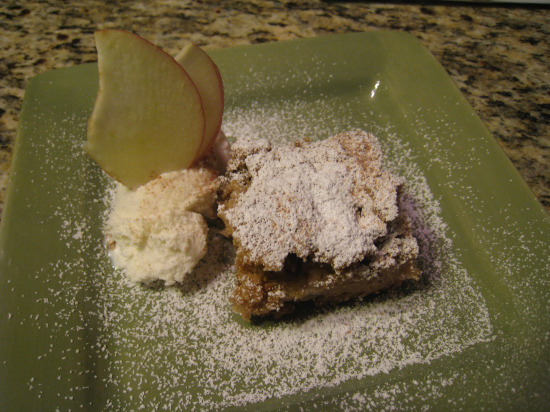 As for this recipe, I can't take all of the credit. The Betters Homes and Gardens cookbook did help me quite a bit. I took the BH&G recipe and modified it slightly to make my own version of the cake, ie. used walnuts instead of pecans, used nutmeg instead of allspice, etc. Not bad for my first time!
Now, I'm off to bed. It's going to be hard going to work tomorrow after being gone for 5 days!
Have a great night all!