Hey Friends! My hair is officially shorter than it was this morning thanks to a brand spankin' new haircut! I do like it, but it's styled a little too flat for me right now (and that's saying a lot since I like my hair straight) so I decided to wait until tomorrow to take a photo.
Prior to my haircut I ran to the grocery store and to Trader Joe's just to pick up a few odds and ends, including Yogi antioxidant green tea which my husband loves. For lunch, I originally made a simple sandwich, but then doctored it up with a few Mezzetta red pepper slices and provolone cheese…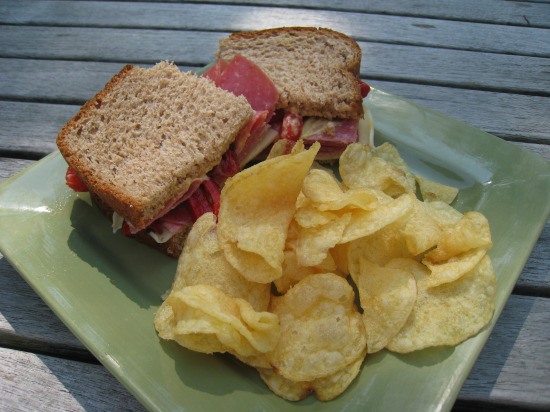 For some reason, I've been in a potato chip mood lately. Today, I had more of the Cape Cod low-fat plain potato chips – love them!
After lunch, I was able to get a little work done answering emails and even doing a little house work. Then, I actually sat outside in the warm sun and read my new Real Simple magazine – and I just happened to have a Starbucks mocha frap in my hand at the same time. I'm such a multi-tasker like that.
Friday nights are typically my night to cook. But, whenever Friday rolls around, I never seem to want to cook anything. Tonight followed that same pattern. So instead of me cooking the planned chicken stir fry, we opted for pizza takeout. I know, it's such a cliché Friday night dinner, but it was gourmet pizza!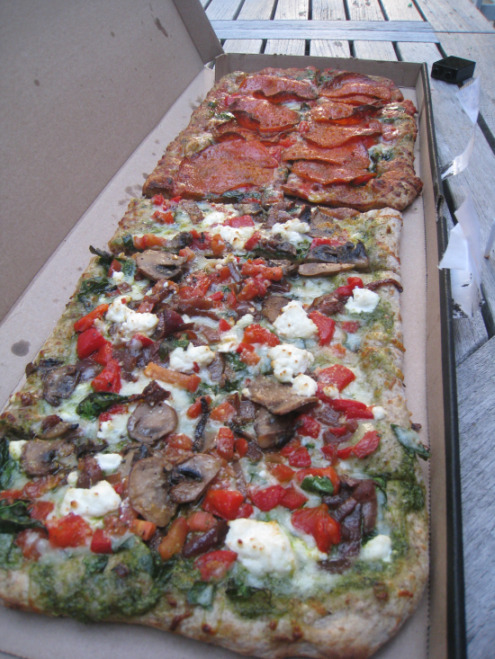 My husband and I split a plank-style pizza. His half had pepperoni, spinach, and red peppers; mine had spinach, goat cheese, red peppers, mushrooms, and pesto sauce. I've had this many times before and it is so awesome each time I order it.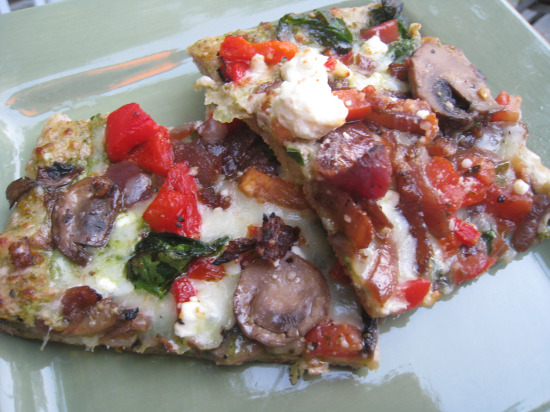 I was pretty full after I finished my pizza (all but two pieces) but just a few minutes ago I decided to end the night with a little spumoni….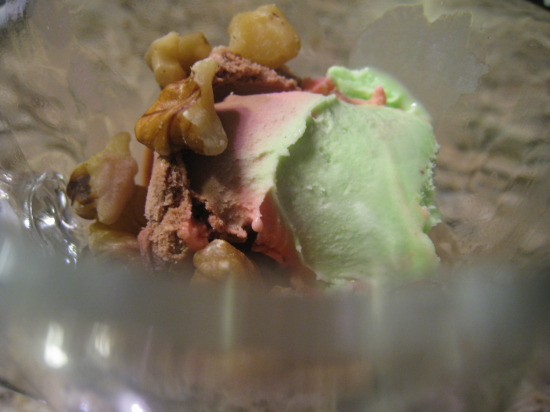 I had about 3/4 cup Edy's spumoni and added about 1 tbsp of walnuts to the cold, creamy treat. I've been adding walnuts to everything lately – well, nearly everything. Most people know that walnuts, and many other nuts, are high in fiber and good fats (MUFA). But, new research from the Journal of Clinical Nutrition shows that walnuts may actually help lower cholesterol more than fish. I am so glad to hear that news because I do NOT like fish, but LOVE walnuts. Finally, I have an argument for not eating fish!
Tomorrow, we are headed apple picking with my husband's whole family. It's a tradition we started a few years ago. After that, we all go out to lunch, then head home to start out apple-treat baking. I think a homemade apple pie is in my near future. Stay tuned for a recipe!
Have a great night all.