One of the best things about traveling is the great opportunity I have to run in fun and exciting places. I have been fortunate enough to run along a tiki-torch lit path in Maui; in balmy weather in Mexico; in and around Kensington Park and Palace in London; and along a Mediterranean beach front on the coast of Spain.
And this week, my job has been kind enough to indirectly support my travel and running habits because today, I ran along a fantastic pathway along the Pacific ocean. My 4-mile journal took me along cobblestones, gravel, and pavement, but all among the fresh, clean, and salty sea air. Not only did I have an amazing view of the water, but everything that comes with water, including sailboats, naval ships, and pelicans! Being away from home due to business is definitely hard. You're not sleeping in your own bed, you live out of a suitcase, and you have to deal with airport hassles. Yet somehow, running in the cool, crisp air along the Bay in San Diego –  hearing the waves hit against the rocks, makes being away from home that much easier.
And, on my way back from my glorious run, there just so happened to be a Starbucks across from my hotel. Perfect timing and a perfect convenience…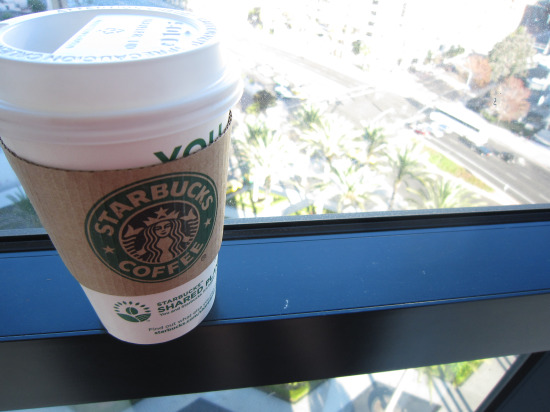 If you can't tell, I tried to take a photo that incorporated my lovely latte with the perky palm trees below. However, this was not the extent of my breakfast. Raisin Bran Crunch awaited me in the staff lounge, taunting me a little because I arrived too late for the hot breakfast.
After setting up my meeting room and doing "work" things, it was time to head back to the staff lounge for a bit of lunch…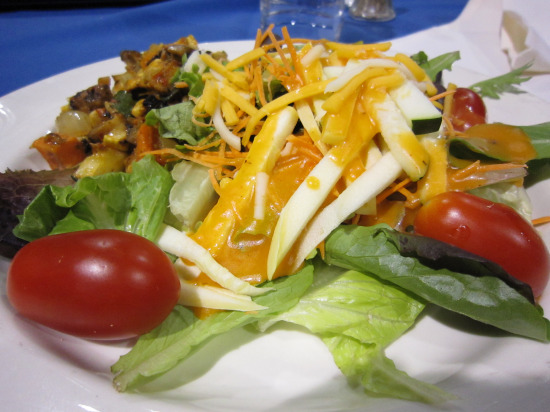 I started with my version of a cosmopolitan salad, which was a mix of green leaf lettuce, squash, roasted veggies, tomatoes, cheddar cheese, and bacon. It felt sooo good to eat a salad today, especially one with tons of goodies. My salad was quickly following by a cup of bake potato soup with a few fixins'…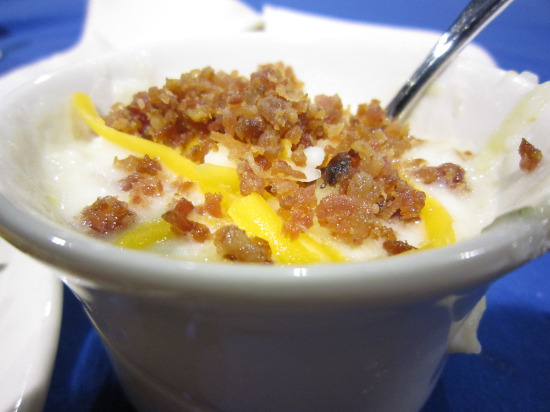 Hmmm… good, incredibly tasty and filling. 
There was no "dinner" per se tonight, only a series of buffet lines and pasta stations at an evening reception. I ended up having a little pasta with side of huge green olives and aged cheddar cheese. The food was actually really good – too bad I had to eat standing up – a situation I hate nearly as much as I hate eating in the car. But, when you're tired, hungry, and are threatened with a group karaoke song, you just have to eat and then get the hell out of there!
On the way back from the reception, I stopped in our staff lounge and found that there were still 3 cupcakes left from yesterday! How fantastic because I just so happened to be craving a cupcake – a chocolate peanut butter cupcake to be exact….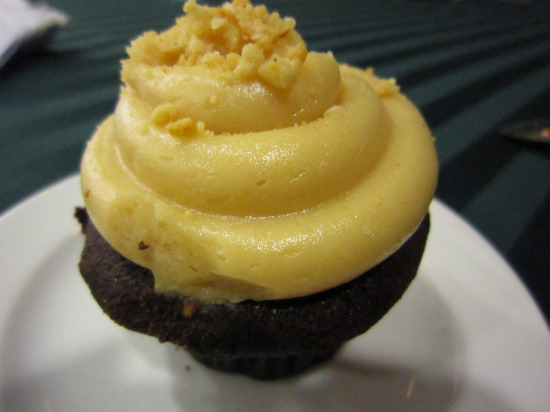 This was definitely NOT as good as it would have been last night when I actually bought it, but it was still a melt-in-your-mouth, peanut buttery cupcake.
Now I must leave you for the evening before I fall asleep. 
Night all!