Hello All!
How did your day go? I woke up at 3:30 AM and could NOT go back to sleep. Ugh – I hate that! I think it's anxiety related to my trip/meeting. So, as you might have guessed, too much anxiety and too little sleep = no running this morning. The alarm went off at 6 AM and after having only 5 hours of sleep, I decided to stay in bed for an extra hour.
Breakfast was a quick cereal bowl – only Kashi Go Lean Crunch this time…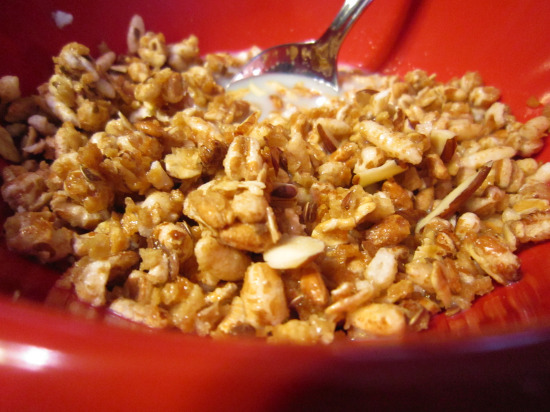 Then I was out the door so fast I left a trail of dust behind me. 
I was busy, busy, busy all day today. I was dealing with my projects but also helping my boss with his. All in a day's work!
Lunch was pasta and sauce leftovers….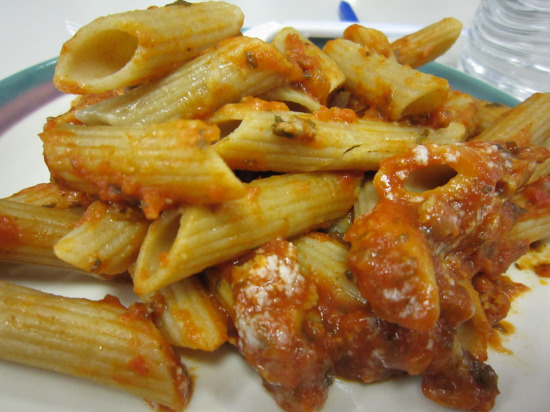 I swear I can never get tired of this meal! It is so amazing. I only wish I had a meatball to go with it!
After work, I attempted to call Disney's Dining reservations line to make our lunch/dinner reservations for our trip in the spring. I had to call 10 times just to get through. They had been having problems with their system all day apparently. So then I waited for 25 minutes on hold – on my cell phone no less – but there was NO chance of me hanging up for fear of not being able to get through again. It's kind of like calling for concert or baseball tickets. After being on hold, I spent about 30 minutes making all of my reservations. Whew! That was rough. Although we had planned out where we wanted to eat, making actual reservations was a little dicey when we weren't sure what park we wanted to visit on what day. But, after nearly an hour of cell phone minutes, I have 12 reservations to get me started!
Dinner was on my own tonight so I threw together a very yummy and flavorful grilled chicken salad…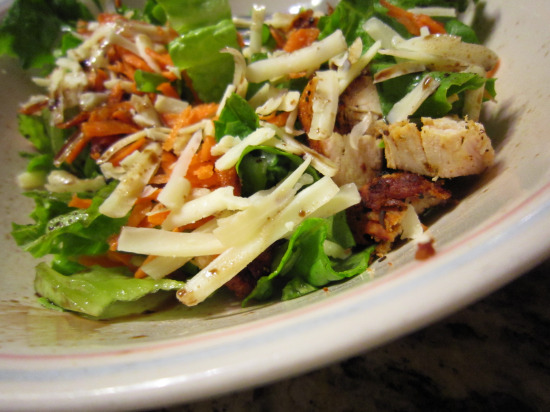 For my salad I included
3 cups of red leaf lettuce
Shaved carrots
White cheddar cheese
1/2 grilled chicken breast
And I topped it all off with a little olive oil and Trader Joe's Balsamic Vinegar. This was JUST what I needed tonight. Something light, yet pleasing to my tastebuds.
I'm off to do a little more work. I will hopefully have time to blog more and comment on all of your other blogs after next week.
Take care and have a great night!