Leave it to my office to serve dessert for breakfast. I arrived at work this morning, expecting a nice breakfast spread. So I was not surprised to see the standard bagels and lox and fresh fruit. But we also had two huge chocolate bundt cakes that were masked as coffee cakes. You've all heard the saying, call a spade a spade. Well, if your breakfast has chocolate, sugar, butter, flour, and frosting, just call it what it is – DESSERT!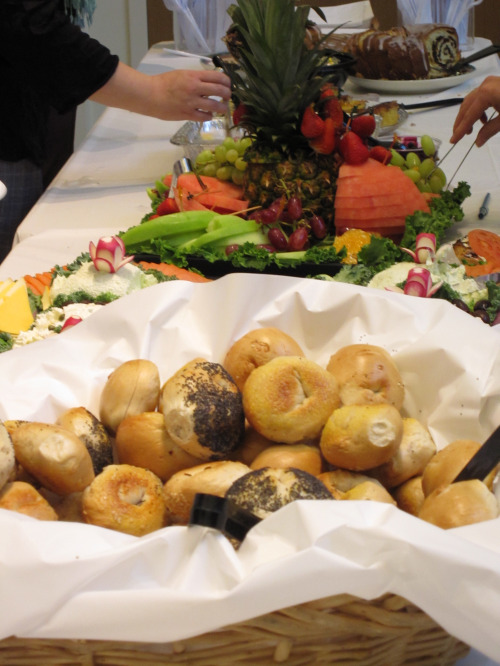 You can see the cakes at the FAR back/top of the picture.
When I arrived to the buffet, I immediately skipped over the bagels/bread and moved right to the fruit. The fruit was fantastic – I haven't tasted honeydew that good in a very long time. I really should have filled my plate up with fruit and stopped there. Next in line was a mystery dish, that a coworker told me had egg, pasta, and blueberries in it – are you serious? Ok, I had to try it just because it was so strange.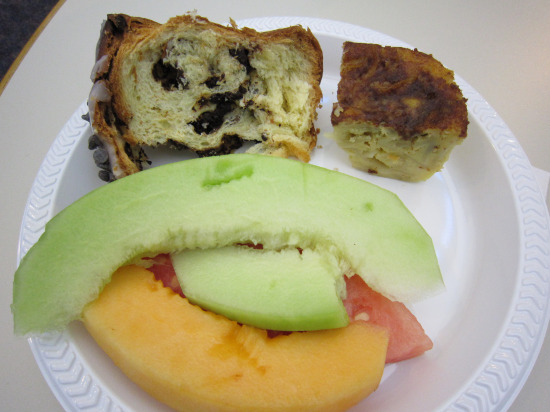 As for the mystery dish, after one bite, I did not care to see how that story ended. Now, onto the cake! I took a relatively small piece of the chocolate chip bundt cake. It was not as dense as I imagined it to be – kind of like a hefty croissant only shaped like a cake. Next on the breakfast menu were the obligatory cheese blintzes with blueberry and strawberry toppings. I've tasted these dandies before and did not care for them in the slightest, so it was bye bye blintzes.
Our kick-off meeting went very well. It even ended a tad early, which we were all grateful for. But, immediately after that meeting, I had another "meeting" to stuff welcome bags for all staff going to San Diego. We stuffed the bags with survival items like mini lint rollers, gum, hand sanitizer, granola bars, etc. In the past, our VIP's have always received a little something when they checked into our meeting. I thought it was about time for the staff to receive a little something too. Sorry, I didn't take a picture of the bag but I'll try to do that in San Diego next week so I can show you all the goodies I received!
For lunch, I made a quick trip to Go Roma for one of my fave soups – chicken and wild rice!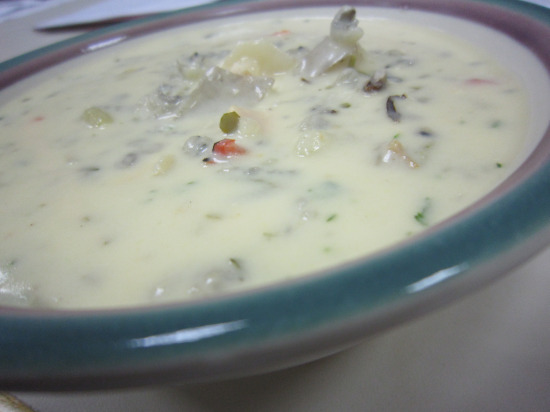 I really should have walked the 10 minutes to the restaurant instead of driving. It was 67 degrees and B-eautiful! I was really pressed for time so driving seemed the best option. 
Well, on top of our breakfast, and all of our welcome bag treats, our organization also treated the staff to gourmet cookies for an afternoon snack…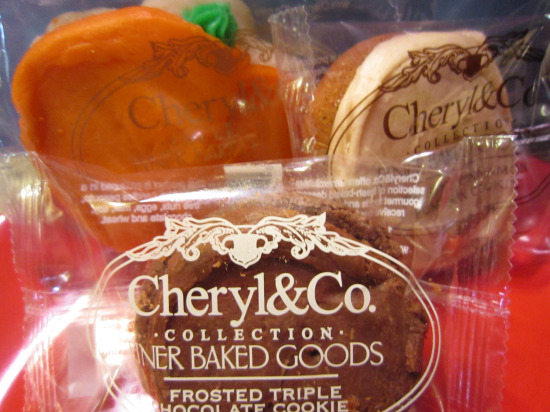 The cookies were the prepackaged kind (which I'm not a huge fan of) from Cheryl & Co. They came in several varieties, including pumpkin with cinnamon icing, double chocolate with chocolate icing, and a sugar cookie shaped like a pumpkin with orange icing. As you can see from above, I grabbed one of each – just for taste-testing purposes of course. I had a taste of both the pumpkin and the sugar cookies – oh my, I can NOT have the cookies in the house! They were so moist, sweet, and they nearly melted in my mouth. These did not taste like the prepackaged cookies that I remember – but then again, they are gourmet.
For dinner, Scott and I warmed up some Trader Joe's spinach and artichoke dip – hmmm, this is outstanding!! I think I have mentioned this dip before but seriously, you don't know what you're missing.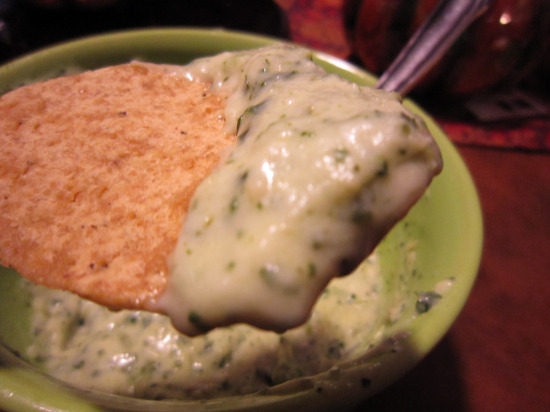 We also heated up some of the homemade minestrone soup Scott made a few weeks ago. Unlike pasta sauce, this soup actually seems to lose some of its flavor after freezing. It's still good (especially when loaded with parmesan cheese!), just not as good as the day you make it.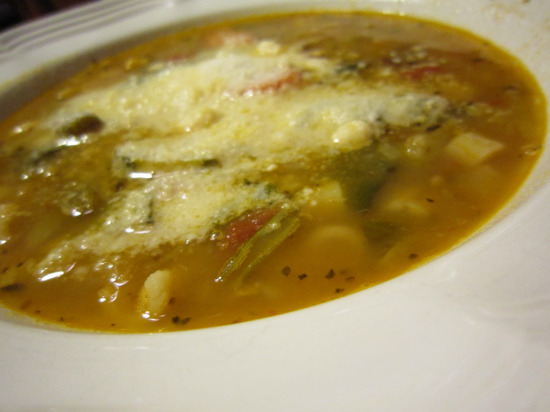 After dinner, I went out shopping again for about an hour and still didn't find anything. I keep going back to all my old favorites – JCrew, Banana Republic, Ann Taylor, etc. I have this image in my head that if I go to those stores enough the perfect piece will suddenly appear on the sale rack. Wishful thinking I'm sure.
OK, it's getting late and I must call it a night. Have a good evening everyone!