Hey there!
Well my headache from last night has continued through today, although I have had intermittent headache-free spells. I did take over-the-counter sinus medication last night. It really helped me sleep, despite being the daytime kind.
Getting a good night sleep really helped me with my run this morning. It was a gorgeous morning for a run as well, so I ran about 5 miles and felt GREAT! Only problem was that it has rained the past few days so when I ran through the grass, my shoes were a completely soggy mess! No worries though because tomorrow I'm heading out to buy new running shoes – yeah!
I was nearly starving when I returned from my run, so I made an awesome breakfast…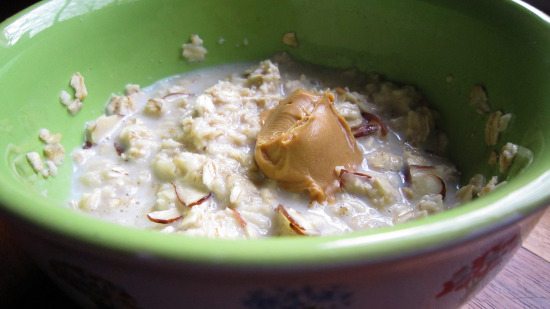 Nothing like a huge bowl of homemade oats to curb the appetite! I added a little brown sugar, sliced almonds, and of course, all-natural creamy peanut butter. I mixed it all together which promptly turned my oatmeal into a giant gooey, but very yummy, mess in a bowl.
I ran out to Target soon after breakfast to pick up more medicine and a few essentials for my upcoming trip. Then I stopped to take a walk in the park (rather a forest preserve) which was just lovely with all of the trees at their peak color.
Lunch was similar to yesterday…a simple and fairly small salami and ham sandwich, but this time I used the three-cheese bread that we bought yesterday.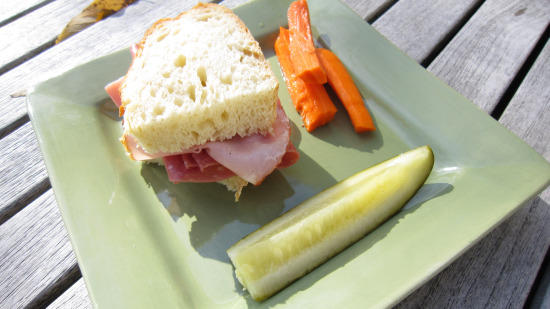 Oh my, high quality bakery bread makes all the difference in a sandwich!
I spent the afternoon doing MORE shopping for my big meeting. I still haven't found any new clothes to my liking, but my frustration was replaced with excitement as I purchased a few new pieces of jewelry! Bling, bling!
Scott and I decided to stay in for dinner tonight. I offered to make risotto to go with the mesquite chicken he was making. Come to find out, we had no aborio rice! Ugh! But, never fear, we had orzo, so I improvised.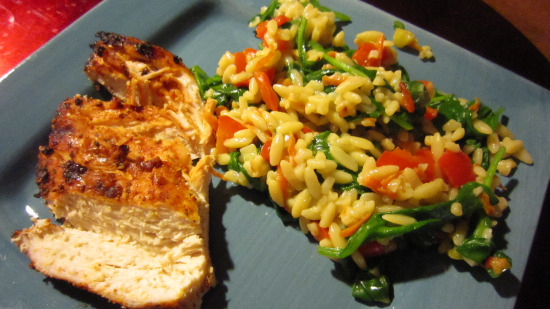 I boiled the orzo according to directions but added a cube of bouillon to the water. After it was cooked, I drained it and added sauteed red peppers, onions, shaved carrots, and baby spinach. Top this with parmesan cheese and it's good to go!
Almost forgot to mention that, while we were cooking, Scott and I polished off a box of Trader Joe's spinach and artichoke dip…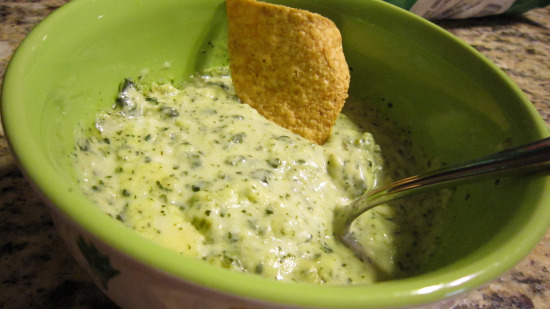 This is fantastic dip, as I mentioned before, and way cheaper than anything you could buy in a restaurant.
I still have a bunch of things to get done tonight so I will say my goodbyes now!
Have a great Sunday evening!