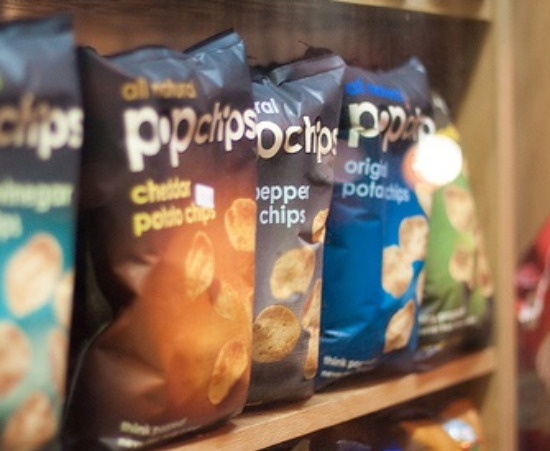 Last night, I came home from work to find that Scott had went to the grocery store. We were out of everything that I would consider essential – like peanut butter, Luna bars, vegetables, etc. Aside from getting our staples, he also surprised me by getting a new product – popchips. I'm sure many of you have already heard about this snack, but this is the first time I have consciously heard about them. I vaguely remember seeing them in the store and reading about them in a magazine. Scott said the chip was ranked very highly in his triathlete magazine as well as Real Simple.
I will completely admit – I am a chip person. If chips are in the house, I will eat them. And, I won't just eat them with a sandwich or at a meal, I will snack on them like crazy. In other words, I don't like chips being in the house! Most of the time, chips are loaded with fat and calories and practically zero nutrients. But these popchips are a little different. They are not fried, not even baked – they are popped. Apparently, they are pressurized so much that they just pop into a chip. Because they are not made with oil, they have just 120 calories per nearly 20 chips and they have less than 1/2 the fat of fried chips. Plus, they are all natural – no preservatives or artificial ingredients. Maybe I would actually feel good about eating these chips. But, how about the taste?
OK – sold. I tried them.
Hmm…to my surprise, they were actually good. The consistency of the chip was a little strange at first, kind of like eating a very thin rice cake. Still, in a very strange – I can't eat just one way – they were very good. However, I will not go as far as saying popchips will be making regular appearances in our house. Seriously, most potato chips – all potato chips – even popchips – have very little nutrients in them. And, if they are a snack food or even a mealtime food, then you would be eating nutrient shallow food, which equals filling up on needless fat and calories.
True – I would not hesitate to pick them over fried chips, but in all honestly, I just need to cut down on my chip habit in general.