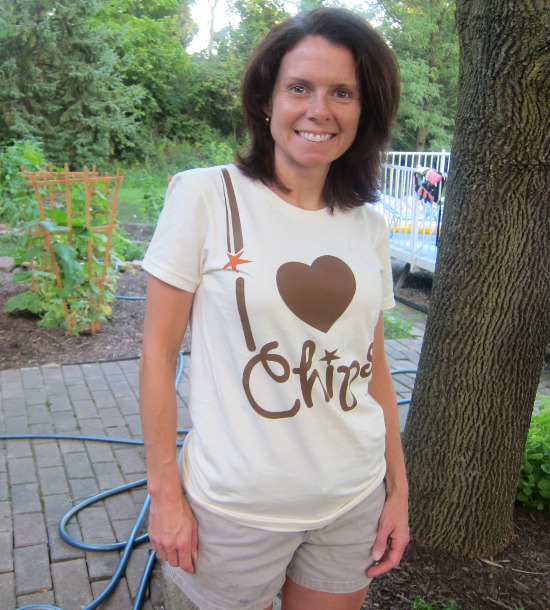 Have I ever told you how much I love chips? I don't mean just love , I mean LOVE!!!! Hi, my name is Jennifer and I'm a chipaholic. And this isn't a new love affair for me either. I've loved chips for as long as I can remember. I know what you're thinking – I'm supposed to write about how to live a healthy lifestyle – and chips are bad, aren't they? Well, it's true that chips have little nutritional value – aside from standard carbs, fat, and calories that our body needs. However, my feeling is that no food should be bad or good. Eat any food that you like, as long as you eat it in moderation and balance it with a variety of foods from all of the food groups. So, I can absolutely have my chips as long as I balance them with vegetables, fruit, etc.
In the last few years, Scott and I have been trying to eat foods in their most natural state – even chips. About 5 years ago, we were determined to find chips that had the fewest ingredients and ingredients we recognized. We settled on Cape Cod chips for the simple reasons that they tasted good and only had 3 ingredients – salt, oil, and potatoes. For years, Cape Cod chips were the ONLY chips we would eat, but we have since broadened our horizons.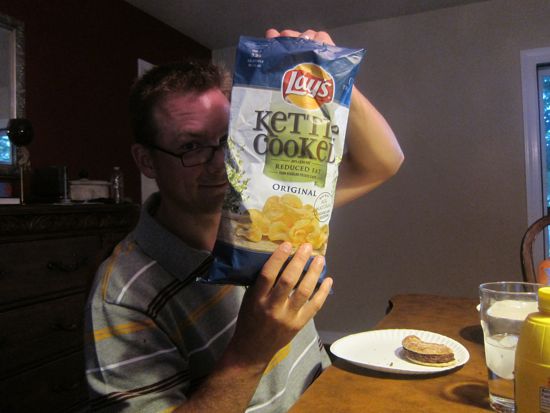 Last week, when I attended the Frito Lay tour, I learned that Lay's signature chips – the plain potato chips – have only 3 ingredients – oil, salt, and potatoes. Shocking! I mentioned this to Scott over the phone who believed the ingredients, but was skeptical about the taste. But something must have peaked his interest along the way because he went out and bought 2 bags of Lay's reduced fat all-natural potato chips made with sea salt. Tonight, while eating them with our turkey burgers and carrots, he said, "these taste better than Cape Cod, I don't know why". I admit, I felt the same way. Sorry Cape Cod, there's a new chip in town.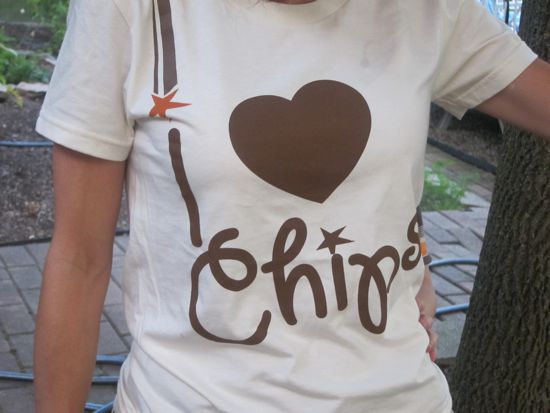 Anyway, after the Frito Lay tour, I begged and pleaded with the Frito Lay girls to give me a shirt, but alas, they had no more. Fortunately, they found a extra shirt back at the office and mailed it to me. Thank you!! It arrived today and I couldn't wait to put it on. The shirt actually has a dual meaning for me. Not only did I want the shirt because I love chips, but I'm also an alum of Central Michigan University, home of the Chippewas – or the "Chips" as we would call them.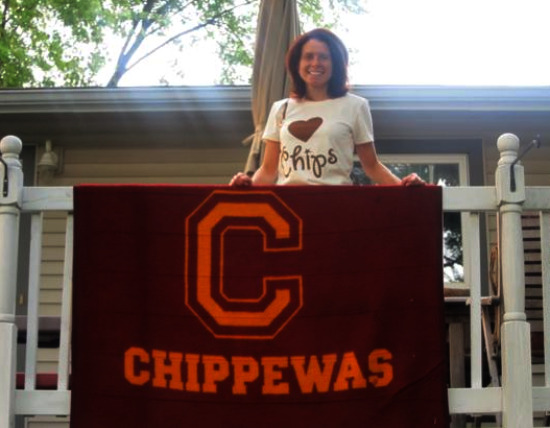 And, as they say at CMU – Go, Fire Up, Chips! Have a great night everyone.