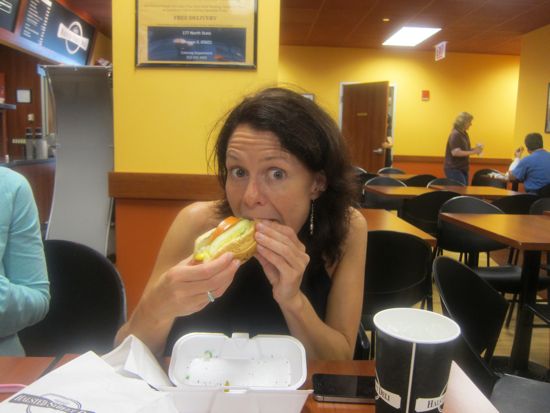 As you all know, I've been at the Healthy Living Summit in downtown Chicago for the last 2 ½ days. As many of you know, Chicago hosts the "Taste of Chicago" every year in June/July. It's essentially a HUGE taste festival of the many restaurants in the Chicago area. Seeing as I'm from Chicago, I thought I would offer you a "Taste of HLS" – a short recap of all of the things I experience and "tasted" at the conference. In just 2 1/2 days, I managed to:
1) Take a tour of Frito Lay in Beloit, WI, with about 25 HLS attendees, including Pickley Pear. Frito Lay products are awesome and healthy!
2) Hug Chester Cheetah – I know you're jealous!;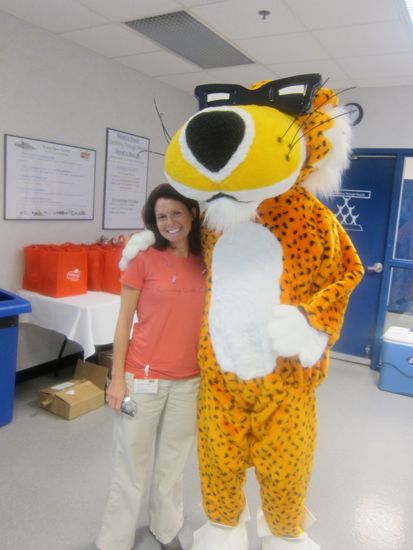 3) Attend a swanky cocktail reception hosted by OpenSky where I took some crazy pics in the photo booth with Fervent Foodie and Training To Live;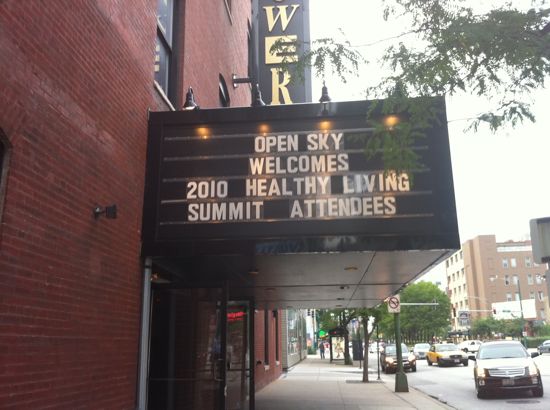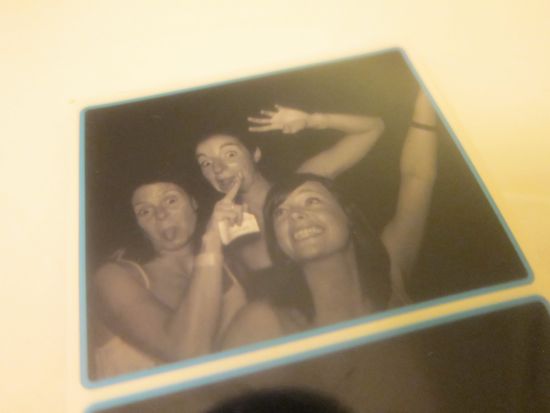 4) Take an early AM walk with some wonderful women around Chicago's "Bean" and even caught a glimpse of morning tai chi! Thank you to A Girl and Her Mutt for arranging! Sadly, I am the one taking the picture so I'm not in it 🙁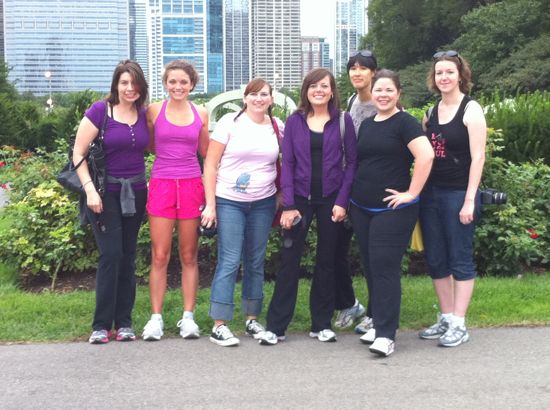 5) Enjoy a wonderful breakfast by Quaker Oats and Stoneyfield yogurt. 6) Listen to some amazing sessions about nutrition for athletes, food photography, and time management;
7) Have a fantastic lunch provided by Arnold and Oroweat breads;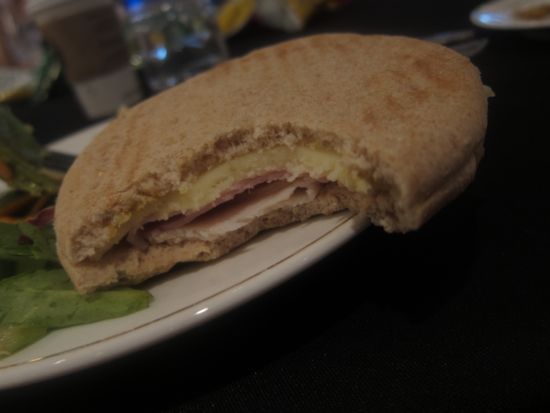 8) Actively participate in a kick-ass flow yoga session (my head is still spinning from trying to keep up!);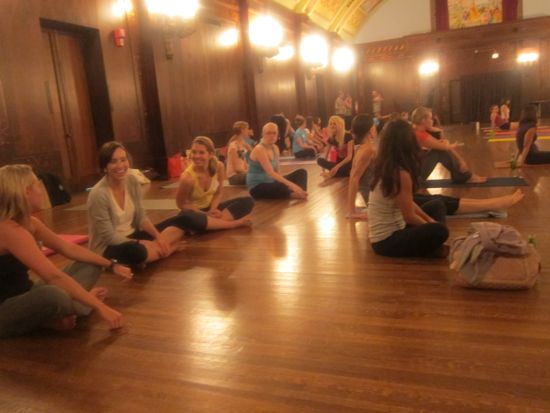 9) Munch on some super yummy Athenos products – OMG, everything is betta with feta – seriously, it is!;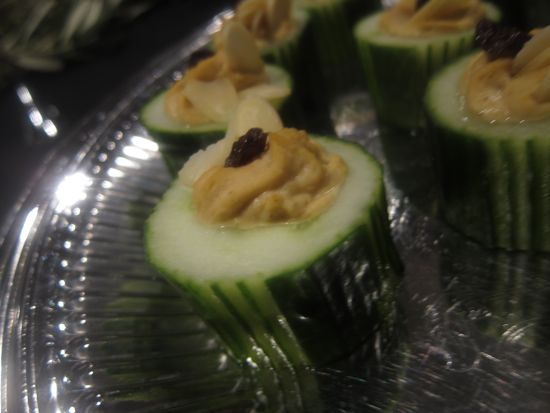 10) Get a little too friendly with some salad that ended up on my head. Thanks Chiaseedme!;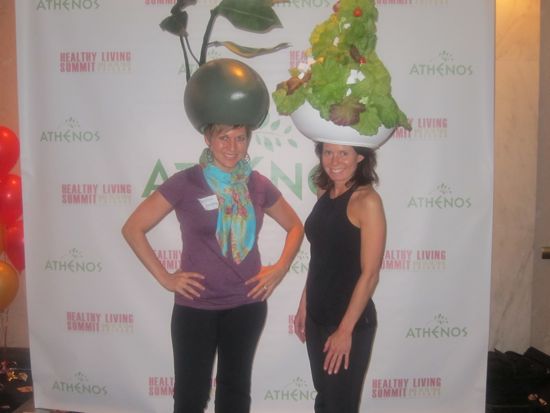 11) Go on a very cool 3-hour tour by Tastebud Tours sponsored by Arnold and Oroweat – Lynn, you rock! The tour included stops at the Bergoff and the Billy Goat Tavern (Cheezborger, Cheezborger, Cheezborger, no fries, Cheezborger);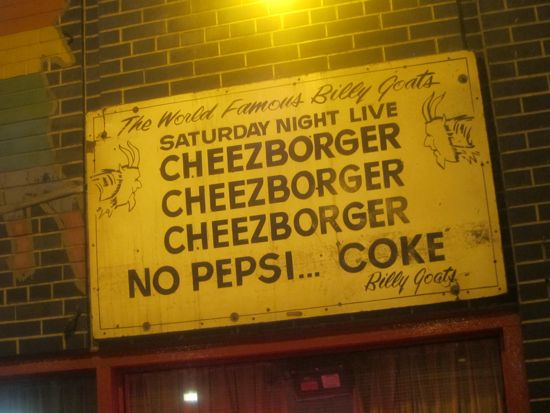 12) Run a fairly decent 10K on Sunday AM along the lake shore; 13) enjoy an outstanding farewell brunch by Thomas' bagel thins where we were encouraged to make a new cream cheese creation. I made a walnut, pineapple, and raspberry mix – fantastic!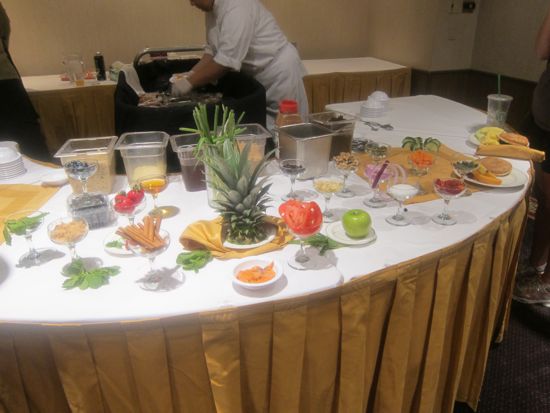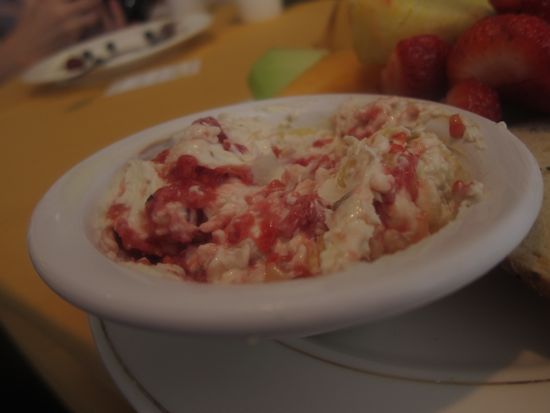 14) And, last but not least, say goodbye to some fabulous bloggers – I hope I will all of you again next year!
Thank you to all the sponsors and especially to the HLS planning committee for all of your hard work in making this a conference of epic proportion.
Now, for all of you non-attendees…The Healthy Living Summit Swag Bag Giveaway!
Before, during, and even immediately after the event I read about so many of you who wanted to come but could not due to work, school, finances, etc. I hope that you can all attend next year because this conference was truly worth the money.
And for all of you who could not make it to the Healthy Living Summit this year, you have a chance to experience a little piece of HLS via Running With Cake! As you probably heard, HLS attendees received some very hefty swag bags thanks to the many sponsors and the HLS planning committee. There's no way I'm going to use all of my swag so I'm giving some of my goodies away to you!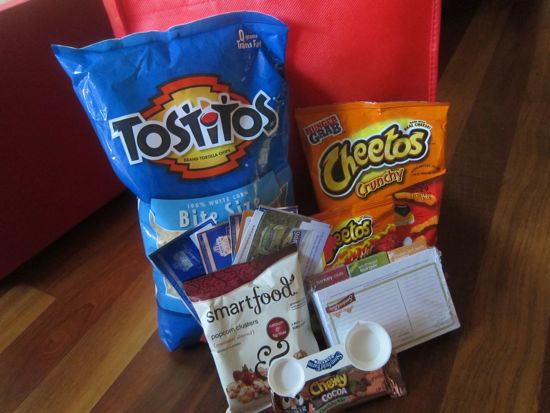 That's right – I'm giving away two HLS goodie packs to two fortunate readers. Here are some of the items that will be divided between the bags:
A reusable grocery/gym bag by Frito Lay or Oroweat
Oroweat travel coffee mug
$4 and $1 coupons for Arnold/Oroweat products
$10 giftcard to subway (only one of these, sorry!)
Free Stoneyfield yogurt coupon
Frioto Lay Chips
Quaker Granola Bar
Free Attune food coupon
Oh Nuts! cashews or peanuts
Arnold and Oroweat recipe cards and measuring spoon
A surprise gift from me!
How to enter:
Leave a comment on this post telling me what your favorite product/brand is from the ones I mentioned above. OR…
Tweet/Retweet this post over Twitter
Do either of those things by 9 PM Eastern on Thursday, August 19, and you will be automatically entered. I will then randomly select the two winners and let you all know who won!
Sound fun? OK, let's go!